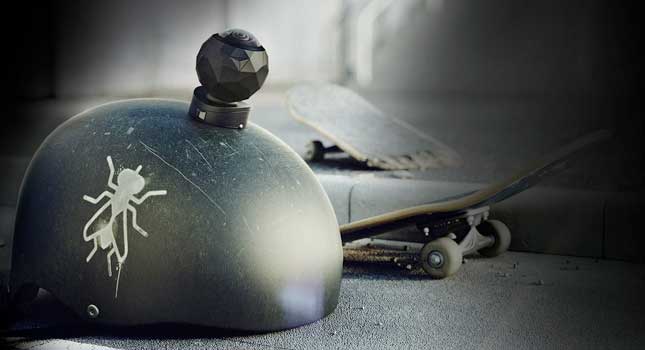 2016 may well have been the year that virtual reality landed on a commercial scale with the arrival of the Oculus Rift and the PlayStation VR, but 2017 is all about the magic of the 360 video camera. Surprisingly, a good number of these have made their way out in the UK with reasonable price tags, making them pretty affordable whether you're recording your big sports action moments, memorable drives or even more professional shoots. There are also a couple of new entries on the market, which add to the excitement, so here's a quick run through of the latest technology in video recording.
How does a 360 camera work?
Essentially there are three main possible components to the way a 360 degree video camera works; multiple lenses to cover the full spectrum of movement, fisheye lenses to stretch the potential spectrum of each directional lens and processing software that stitches all of this together on the devise. With that, you just take your 360 degree video camera, point and shoot. What you get at the end is a video that allows viewers to turn the direction of view within the video player to see the action from a different angle.
For 360 videos played on a desktop this means using the mouse to turns the viewpoint 360 degrees around the camera location as the video is playing. It's a similar case on mobile where you can interact with the video direction using the touch screen through a spherical video app or in YouTube by moving your phone around in front of you (check out the work of graduate artist Sue Austin to see some of the technology in action). However, things get really interesting when you add a virtual reality headset into the equation, like the Oculus Rift, which allows you simply to turn your head to see a video from a different direction.
All of the video cameras below also come with still photography capabilities to take 360 degree and wide angle pan images, but if we're being honest we'd have to say that it's not as important a feature as the video side of things, which provides a lot more opportunities for interaction. The still images just feel a bit contorted, but the videos are much more effective at conveying a feeling of presence when you move around during playback.
In addition to the commercial options that we've featured below, there are also a fair few professional 360 video cameras hitting the film industry, which will result in a number of VR movies arriving in the next year or so if the headsets are as successful as we think they'll be. Imagine a Marvel superhero movie or horror flick in 360 VR video and you're probably looking at one of the most exciting prospects in home entertainment technology.
What's the best commercial 360 camera out in the UK in 2017?
There are a few genuine contenders for the crown, which you can see below, but a lot of it comes down to what you want to achieve, what budget you've got to play with and how you're planning on using the 360 video camera.
360fly 4K single lens camera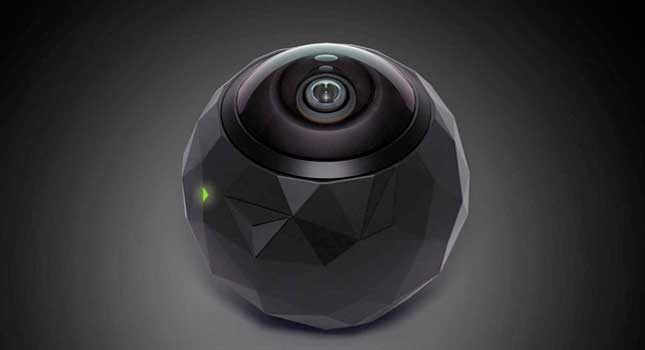 Straight away with the 360fly 4K Action Camera you'll need to up your budget a little over and above the Ricoh THETA S below, as it will set you back an extra £200, coming in at an estimated cost of around £500 following its launch in 2016 in the UK (it's $499 in the States). It bills itself as surround video and it does it all in 4K HD video from the comfort of just one lens on the top of the plinth golf ball style design.
One of its unique selling point is that it can be mounted everywhere with relative ease, so you can easily wear it, attach it to the dashboard of your car or even a helmet mount (check out the skate helmet above), and there will also be a specially designed range of sports helmet bundles to choose from too. If that isn't enough action potential for you, it also has sweat, rain, water, sand, and dust resistance, can withstand a fall from up to 1.5 meters and meets IP6X requirements for underwater submersion down to 3 ATM (90 feet). It's essentially The Terminator of the 360 video world.
This is a serious piece of kit for around the £500 mark, shooting at 30 frames per second with 2880×2880 resolution. It provides live streaming capabilities, along with Bluetooth, Wi-Fi and rapid upload to Facebook or YouTube thanks to the easy link to the 360fly mobile app. It uses a Qualcomm Snapdragon 800 processor with up to 2.3 GHz quad-core CPU to seamlessly create its incredibly detailed stitchless 360 videos, while the app also allows you to edit videos on the wing.
You get 32GB of memory space under the hood to give you plenty of room to get a number of 360 degree videos. You can switch it to front facing mode to capture standard videos at a 16:9 aspect ratio, create time-lapse videos, track your location, speed, altitude and depth thanks to its advanced telemetry system and build-in GPS. They're not done there either, as you can set it to begin recording using motion sensors, audio detectors and acceleration. Welcome to the future of 360 degree video.
360fly video example:
Check out the 360 fly Twitter page for more videos.
Ricoh THETA S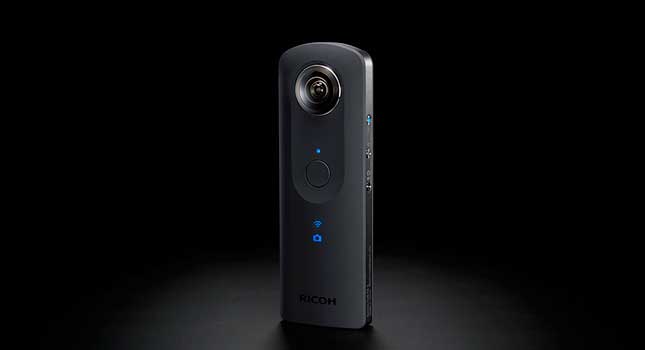 The latest model in the Ricoh THETA line-up is a little more expensive than the standard m15 version (£299 vs. £199 in the UK), but the S packs a lot more punch with 4gb more memory, double the frames per second and a very fancy 12m CMOS sensor for each of the two lenses. They're both f2.0 lenses, which means they perform better in low light conditions, and you'll have a lot of control over your shots when you use it for still photography with auto, shutter priority, aperture priority and manual modes, along with ISO 100-1600, shutter speed of 1/6400 to 60 seconds in manual mode and a lot of white balance options to play around with.
From a video point of view it delivers HD live streaming, a live view connection to your smart phone, and high speed wifi transfers. There's 8gb of memory on the S, which equates to between 65 and 175 minutes of video depending on the resolution setting. It records at 30fps to MPEG-4 file format with a maximum of 25-minutes of continuous recording for any one video.
In addition to all of the technical brilliance of the device, it's also super slick with a slimline design thanks to its two opposing fish eye lenses. As a result, it's easy to carry around in a pocket without any unsightly bulges, which you get with most of the other cameras on the market place at the moment. It's got a tripod mount connector, which can be used with ground mounted or handheld tripod units.
Ricoh THETA S video example:
See more vids at the Ricoh THETA Europe YouTube channel.
Samsung Gear 360
A little less is known about the Samsung Gear 360, which will be getting released later in 2016, but with the Gear VR virtual reality headset and link with its latest Galaxy entries, the s7 and s7 edge, it's one to keep half a fish eye on in the least. The price hasn't been released as of yet for a standalone camera, but it's bound to be a bundle option with phone contract deals, along with the Gear VR.
It's pretty small and compact, with a similar size to a chubby golf ball. It's got two f2.0 fish eye bright lenses to help with low light recording and it gives you a maximum of 3840×1920 HD resolution at 30fps through the dual CMS 15MP sensor. It's got Bluetooth connection to pair it up with your Galaxy smart phone and Wi-Fi to transfer files.
Like the 360fly 4K, the Samsung Gear 360 also allows you to just shoot from the front lens if you want more of a standard wide angle recording. However you record your videos, you'll have a certain amount of outdoor friendly rugged build that provides dust and splash proof protection.
The winner:
360 fly 4K
Taking everything into account, we'd have to say that the 360 video camera with the most potential for brilliance is the 360fly 4K. It's got incredible spec and while it's more expensive than the other two options, it's well worth the investment if you want to take things up a notch to 4K definition and more of a professional finish. You can see in the quality of the Action Camera video example above that it already produces the better films, and the added fire power of the 4K only nudges that upwards.
If the 360fly 4K is out of your price range, you can't go wrong with either the Ricoh THETA S or the Samsung Gear 360, although the 360 fly Action Camera is also worth adding to the consideration list with less spec than the 4K, but a £350 price tag that puts it much closer to the others.
An alternative option to our best 360 camera options is two new pieces of kit for the iPhone, which turn it into a fully functioning 360 camera. Find out more at www.tuppencemagazine.co.uk/the-pros-and-cons-of-a-360-camera-for-iphone/.
Share our pick of the best 360 camera in the UK with: