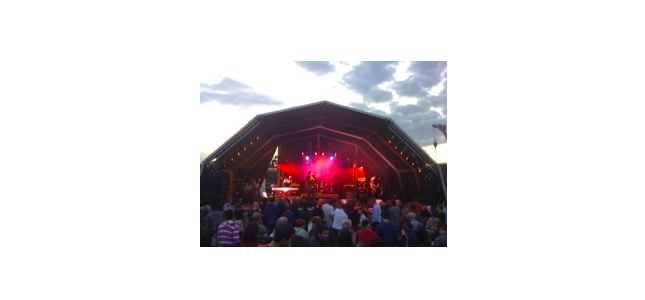 I've never really much liked Art Brut, but I've always sort of had a healthy respect for Eddie Argos after seeing them play the Great Escape Festival in 2007 where he said something along the lines of, "I can't agree with Jay-Z's misogynistic lyrics, but he's got a bit of a point; I got 99 problems, but my bitch aint one". Being able to see things from both sides of the coin is an under-appreciated characteristic and it's one that is at the heart of Eddie Argos' new side project, Everybody Was in the French Resistance… Now.
The band was formed on a road trip from San Francisco to Los Angeles when Eddie and his girlfriend Dyan Valdés (from The Blood Arm) heard Jimmy Mack by Martha Reeves and the Vandellas on the radio – Eddie has apparently always had an issue with the song, thinking it mean to sing a song to your boyfriend about cheating on him, especially when he was probably off fighting in the Vietnamese war (the original song came out in 1967). So to defend Jimmy they wrote a response to the song from his side of things. From this the idea of a concept band to create responses to other songs was hatched, leading to the creation of Everybody Was in the French Resistance… Now.
Live at the Indie Tracks festival, they lit up the stage with a set that included the infamous G.I.R.L.F.R.E.N (You Know I've Got A), a response to Avril Lavigne's Girlfriend and its morally questionable message promoting stealing boyfriends, along with Billie's Genes, a response to Billie Jean by Michael Jackson told from the side of Eddie Argos, being the illegitimate son of Michael Jackson and Billie Jean.
The gig was obviously propped up by a healthy dose of tongue in cheek, but there's definitely enough whit and musical class to make it all work. There's also more serious songs, like "Creeque Allies", the story of the early 40s French resistance movement and the formation of the freedom fighters who would eventually help to drive the Nazis out of France.
Everybody Was in the French Resistance… Now put on a low key extravaganza that included Argos climbing over the stage barrier and singing from the audience. They're a band you feel close to easily and the genuine effort that they've put in to create the songs for their debut album Fixin' the Charts Volume 1 is genius. Hopefully, volume 2 is already on its way.
Everybody Was In The French Resistance… Now live at Indietracks 2010 review: 4.1/5