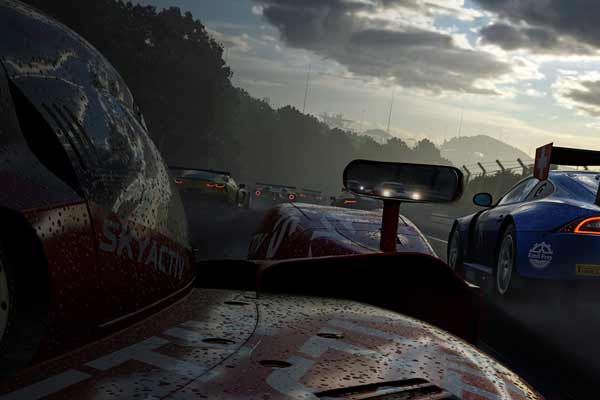 The time is approaching for racing fans to once again step out onto the track. Forza Motorsport 7, the tenth entry to the Forza franchise, is here and was revealed at E3 in a rather unusual way. Alongside the racing title came the reveal of the new 2018 Porsche 911 GT2 RS with the announcement of its inclusion in the game. Thankfully though, there were plenty of big in-game reveals.
Turn 10 are constantly determined to continue delivering the most immersive racing experience and the trailer certainly shows that. Beautiful graphics, more cars and tracks and a new dynamic weather system are just the starting line for what this game has to offer.
Release date
The UK release date for Forza Motorsport 7 is 3rd October 2017 for Xbox One and PC. Bear in mind that the game will run at its best on the upcoming Xbox One X, as it was developed alongside the powerful hardware.
Three editions of the racing sim are available, with each one including the pre-order bonus of two custom Driver Gears sets. The Deluxe edition will feature the Day One Car pack and a VIP membership, while the Ultimate edition adds the season pass known as the Car Pass.
Forza Motorsport 7 trailer:
Cars
Players will be spoilt for choice when choosing which car to use as their main vehicle, as there will be over 700 cars in the game. This will include the largest selection of Porsches, Ferraris and Lamborghinis seen in any racing game ever to date. There are multiple classes to check out, ranging from trophy trucks to JDM classics.
The cars have always been the star of racing sims, however Forza 7 now adds another star in the form of the drivers. For the first time, through the new Driver Gears feature, players can customise their driver with more than 300 sets to collect. Drivers are no longer just generic character models thrown into the game purely for realism. You can expect to see many, many drivers online looking like The Stig, but hey, at least on-foot gameplay in a Forza game will still never be a thing.
Graphics
Forza 7 has been built from the ground up to run in 4K and HDR so that it has the most beautiful graphics seen in the racing genre, also running at 60 frames per second. Players will see the smallest of details on the cars, drivers and environments, arguably making the game as real as it can possibly be.
One of the big new features is the dynamic weather system which helps take the graphics to another level. Every time a track is played, it will look, sound and feel different. Over the course of a race, the sky can change from bright and sunny to dark and stormy with occurrences of flashing lightning and brutal thunder. Gorgeous visuals created by this system may well threaten to distract players from the track.
Gameplay
The driving has received further improvements as a result of the developers exposing it to their ForzaTech simulation engine. Racers will hear loose parts in their car rattle as they race at high speeds, while cockpit mode will cause their screen to jostle which brings them closer to the action than ever before. Another note on the dynamic weather system is that changing tarmac temperatures will affect car handling and tire friction.
Along with the 700+ cars mentioned earlier, Forza 7 will feature 200+ tracks across 30+ different environments to race those cars on. One new track is the Dubai Autodrome but there will be returning circuits from past instalments like the Mugello Circuit from Forza 4.
Forza Driver's Cup is the new, reimagined campaign mode, featuring six different championships to play through with each series tailoring to different car classes. This campaign will use a scoring system to enable players to unlock new cars and Driver Gear sets as rewards. There will be exclusive reward cars, however, which are hidden in the returning Showcase Events. Rewards have been re-thought as a whole, with post-race rewards increasing as car collections grow, which will be reflected by the new in-game tier system. The higher the tier, the bigger the rewards.
The ever popular online multiplayer has seen some improvements in the form of new enhanced Leagues, enhanced spectator modes and Mixer integration as the game gets set to appear in ESports tournaments once again.
Returning customisation options are car paint and tuning as expected, but fans can now also choose what controller they wish to play with, something useful for PC gamers, and what assist they wish to use to fit their skill level. It may see like a small option, but it's one which will make the game even more accessible to people who may have never played Forza.
First impressions
This is a statement which seems to get slapped onto every new Forza game, but Forza Motorsport 7 is the most realistic racing sim yet (until Forza 8 gets its engine fitted). There's plenty of content with a big campaign, tons of unlockables and fun online to keep fans busy for a long time. It's safe to say that the pressure is on Sony's Gran Turismo Sport to deliver, especially since it's due to release later on in October. Forza 7 already looks set to rev up its engine and speed off to the racing genre crown.
Share the Forza Motorsport 7 UK release date, trailer and gameplay details with: