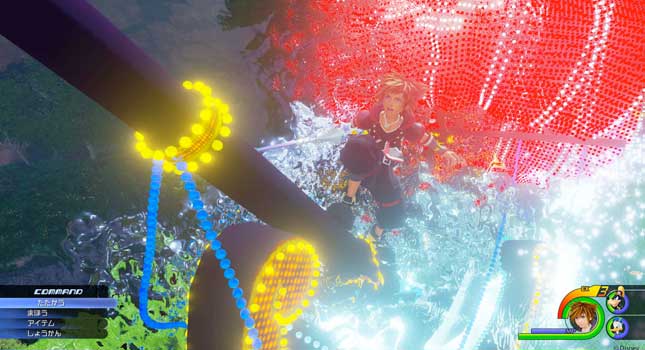 With E3 2017 in just about done and dusted there's a lot of news flying around from big upcoming computer games and the latest spark of magic is the arrival of the Kingdom Hearts 3 trailer. The much-anticipated third person adventure platformer has been on the development radar for a couple of years now, so fans of the series will be glad to finally see something more concrete from the game.
The series has been hugely successful over the years, combining Disney fun and Square Enix style to create its unique gaming experience, which you can see a lot of in the trailer below. However, it's been a while since a new game came out, which is why there's so much anticipation for Kingdom Hearts 3.
The trailer features a lot of battle sequences with Sora dishing out a lot of damage with slick movement a fast animation. He's got Donald and Goofy along for the action-packed ride as they take on enemies that have overrun Mount Olympus, helping Hercules bring back order to his otherworldly realm.
There are also a fair few oversized bosses for Sora to face off against as old Disney baddies like Maleficent from Sleeping Beauty and Hades conspire to increase their power base. The Titan he battles in the trailer is immense, which should be pretty impressive to play through when the game comes out on PS4 and Xbox ONE. There's no official release date, as of yet, but with the E3 reveal it shouldn't be too far away, so we're expecting it to be spring 2018.
Kingdom Hearts III trailer:
While you don't see him in the trailer, the story will have Master Xehanort back as the main antagonist for the game as he continues his bid to start a new war in the mixed worlds universe of Kingdom Hearts. It'll continue the storyline from previous games in the series, including Dream Drop Distance, which was a Nintendo 3DS exclusive back in 2012.
Kingdom Hearts III looks pretty cool with the might of the current generation of consoles behind it, although, it's a shame it isn't down for release on the Nintendo Switch with its play anywhere capabilities. With the previous game in the saga being a Nintendo exclusive, it kind of makes sense for the new title to get a port onto the Switch. It isn't on the cards as of yet, but we'll keep you posted on any changes for the better.
Share the Kingdom Hearts III trailer: