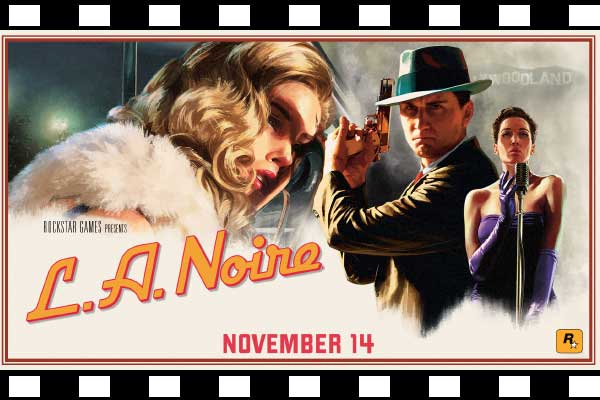 Right out of the blue, like a dramatic twist in a crime case, Rockstar Games has announced that L.A. Noire is coming to the current crop of consoles along with a separate VR release. The detective thriller game was a huge hit with gamers when it originally came out in 2011, and the announcement of a remaster has left fans overjoyed about returning to investigation duties in a technically enhanced 1940s LA.
As well as finally joining the remasters trend, Rockstar have also joined the VR trend with L.A. Noire: The VR Case Files which has intrigued many people. A Nintendo Switch version has also left people interested as to what console specific enhancements we'll see. This is undoubtedly a curious case that is well worth investigating.
Release date
The UK release date for the L.A. Noire remaster is 14th November for PS4, Xbox One and Nintendo Switch. As with every remaster, all the DLC will be included from extra cases to weapons.
The VR Case Files will also release on 14th November for the HTC Vive. It's strange that Rockstar has opted to not release the VR title on PlayStation VR or the Oculus Rift, but perhaps that could happen in the near future.
There is no official trailer yet for the remaster, but check out the trailer for the original game below which shows off some of the fun gameplay we can look forward to.
Story
Set in post-war 1940s, L.A. Noire's narrative takes place in Los Angeles where violence and crime is on the rise. Players take on the role of Cole Phelps, a decorated veteran turned rookie detective, as he goes on a journey of investigating multiple cases as he rises up the police department ranks.
The cases in the game are inspired by real-life cases. With each case that the player completes, Cole edges closer to the criminal heart of L.A. There are four different case desk departments – traffic, homicide, vice and arson – which Cole experiences throughout the story. Each case desk gives Cole a new partner who players will get to know as they take on new cases.
There is a main plot which develops as players progress, along with flashbacks of Cole's war past, which helps create a connection between the player and Cole. One or two major story developments do occur which change the course of the game for sure, so you should expect a series of twists and turns before the detective adventure is played out.
Graphics
The PS4 and Xbox One versions of the remaster is where Rockstar has put in a lot of work, with the game running in full 1080p with various graphical enhancements. These range from new cinematic camera angles to greater visual fidelity and authenticity. Enhanced lighting is also an important upgrade for when it comes to investigating.
For the wealthy owners of a PS4 Pro or Xbox One X, they will be able to play the game in 4K to get the best technical experience. 1940s L.A. will look grittier and darker than ever before with the, once revolutionary, facial expressions of suspects and witnesses being more detailed than ever.
While the Switch version won't look as impressive as the PS4 and Xbox One remasters, it is expected to look better than the original last gen versions of L.A. Noire which is still pretty impressive. However, we won't know for certain until screenshots are released by Rockstar. The same goes for The VR Case Files on the HTC Vive.
Gameplay
Throughout L.A. Noire, players run through story missions in the form of cases within the free roam world of Los Angeles, which also contains a host of other optional activities. During cases, players investigate crime areas for clues which are analysed to determine whether they're beneficial to the investigation.
Interrogation is one of the game's main features which was very well received after its original release. As a witness/suspect answers questions, players can choose whether to believe them, doubt them or accuse them of lying which requires evidence from a crime scene. Sometimes, two suspects may be interrogated at once at which point one of them can be charged. Make the wrong decision however, and there will be consequences.
At the conclusion of each case, players will be awarded 1-5 stars based on their performance. This takes into account how many clues were found and how well interrogations were carried out.
Fast-paced action sequences are blended in with the investigative elements of the game, with players engaging in gunfights, chases, combat and more. This is a Rockstar game, so of course there will be plenty of these enjoyable scenarios. However, if players aren't too keen on the action sequences and just want to investigate to progress the narrative, then there is an option available to skip them.
Once all of the cases have been completed, players will unlock the 'Streets of L.A.' free roam mode where they can go around picking up collectibles and doing the optional activities. This includes Street Crimes, which are optional minor investigations where past characters may be encountered. Remember the witness from that one case you did? She's had her purse stolen and you've got to retrieve it for her.
Nintendo Switch gamers have some console specific enhancements to look forward to. When in handheld mode, they will be able to use touch screen controls so they can continue with their investigation work while away from their TV. Joy-Cons will be supported in the form of motion controls and HD rumble is also supported.
As for The VR Case Files, details are sparse but we do know that it will feature seven cases from the main game which have been rebuilt to create a special virtual reality experience.
First impressions
The announcement of the L.A. Noire remaster was certainly unexpected, but it has left fans excited to step back into their detective shoes with graphical enhancements providing a more engaging experience. Switch players finally get a Rockstar title, which has posited the question of whether a GTA V port could be on the way. The VR game is intriguing and we'll keep you updated on developments here at Tuppence as they're announced.
It'll be interesting to see if Rockstar are releasing this remaster as a way to see how in-demand a L.A. Noire sequel is. Look what's happened with the Crash Bandicoot N'Sane Trilogy, sales and positive reception has got Activision deciding whether to bring Crash back for good. With immersive gameplay and upgraded graphics, we can say for certain that this game should tide gamers over until Rockstar's next big release, Red Dead Redemption 2.
The original L.A. Noire trailer:
Share the L.A Noire remaster UK release date and gameplay details