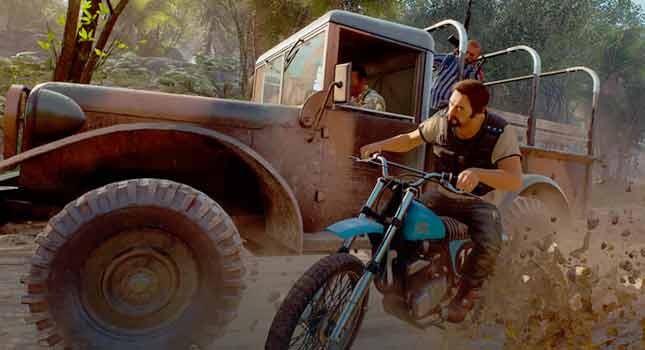 EA's press conference at this year's E3 was almost business as usual. There were the annual sports games and a new Need for Speed, along with the exciting new footage for Star Wars Battlefront ll. However, one newly revealed game which caught everyone's eyes was A Way Out, the latest addition to the EA Originals line.
A Way Out is a split-screen cooperative only game, developed by some of the creators of the popular Brothers: A Tale of Two Sons. It looks set to expand and improve on the foundation that was set by Brothers. Check out the trailer below to see what to expect from the game.
Release date
There is currently no official UK release date for A Way Out. However, the action adventure title is scheduled to release sometime in early 2018 for PS4, Xbox One and PC.
The game is likely to release digitally, although a later retail release is a possibility considering Brothers received that treatment.
Story
Two players will control Leo and Vincent, two convicted prisoners with Vincent being a recent arrival. Both characters join forces to break out of the prison and stay on the run from authorities. In the gameplay trailer, Vincent mentions wanting to go after an unknown character named Harvey but more information on this was not given. The story has been described as being an 'emotional adventure'.
Players are able to interact with NPCs throughout the game and the dialogue options they choose will ultimately affect the story. What's interesting is that one character can be controlled while the other is in the midst of a cutscene, so both characters' progress is not synchronized.
It was also announced that the roles of both characters in gameplay situations is not fixed, which means that their roles can be switched in another playthrough. This should help prevent arguments between friends as to who does which. One gameplay situation features the characters stealing a police car with one taking the steering wheel, which is the role everyone will want to take on.
Gameplay
A Way Out is considered to be an action adventure game played from a third person perspective. It has been highly recommended that it be played in split-screen couch co-op in order to get the best gameplay experience. However, online play is available.
To achieve the first objective of escaping the prison and beyond, players will need to cooperate with each other to complete each task. These tasks can be completed in a variety of ways which helps give the game more replayability.
Various gameplay sequences will be encountered as players progress, ranging from driving to stealth, which will result in different situations to keep the game interesting and exciting.
Graphics
A Way Out appears to use an improved graphics engine compared to what was seen in Brothers, but the graphical styles are very similar with the game retaining the cartoonish appearances of characters.
Throughout the game, players will encounter different environments. These will range from the dark, gritty looking prison to the bright, visually appealing wilderness.
First impressions
The concept of A Way Out is certainly very intriguing, and one which was met with a positive reaction from the E3 audience. It has great ambitions but judging from the trailer, these ambitions definitely have the potential to result in a fun game.
To ensure a successful playthrough, a trustworthy friend will be needed. This is a game all about teamwork, so someone who will have your back and always assist you will be a crucial asset.
By Ben Harris
Share the A Way Out UK release date, gameplay details and trailer with:
A Way Out trailer: