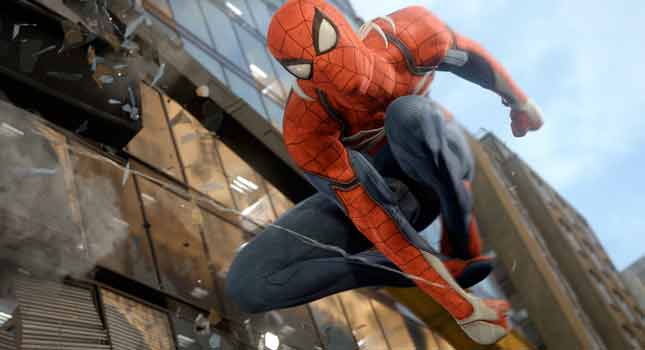 After a very long wait, Insomniac Games has finally pitched up with a lengthy gameplay trailer for Marvel's Spider-Man PS4, which looks every bit the exciting superhero adventure game that fans will have been hoping for. The gameplay trailer had its premier at PlayStation's E3 2017 presentation and it's already looking like it might just be one of the most exciting games to feature at the annual conference.
It was originally announced at E3 last year, which had led a lot of gamers to expect the game to arrive within a year or so of the initial reveal. However, it has now been confirmed for release in 2018, which feels like a long way away, so while PlayStation definitely appears to have some of the most exciting exclusive titles on offer, the lengthy wait between announcement and release is a little frustrating. It's a similar story for the other big exclusive games for Sony, including God Of War, The Last Of Us Part Two and Days Gone.
When Spider-Man PS4 was first announced, we were hoping for a Webbed Slinger variant of the genius behind Batman: Arkham Knight, which set the standard for superhero games, delivering a massive third person action adventure experience. From the look of the trailer this year, it would appear as though we're getting exactly that with a stunning New York City environment to explore, exceptional range of movement for Spider-Man and some great baddies to take on.
Marvel's Spider-Man PS4 gameplay trailer:
The nine minutes gameplay trailer shows off a lot of the action with Spider-Man trying to stop the Demons as they attack Wilson Fisk's building in a bid to overtake his operation. It's up to Spider-Man to stop the Demons, save the Kingpin's men and try to track down the leader of the operation with a little help from Wilson Fisk himself, who talks to Spider-Man on a mobile phone, which is pretty funny.
You can check out the action for yourself in the trailer, which shows off a lot of the incredible moves you have as Spider-Man. Unlike the reboot origins story of Spider-Man: Homecoming, here Spidey is a well-practiced superhero, so he's got a lot of skills up his skin-tight sleeves, not just the standard swinging from buildings and shooting a little silk. You'll be able to interact with your environment and the enemy as you take on the Demons with a lot of sophistication. There's a lot of variety to his web shooters, which can be used to incapacitate, defeat or silence them in a lot of different ways, so you'll be able to do a lot of freestyle crime fighting.
The gameplay video also shows off the range of movement in Spider-Man PS4, which will see Peter Parker with some incredible parkour and wall climbing skills, running up buildings and swinging through the city in a way that seems as close to being Spider-Man as is possible. It's a shame that the release date is still so far away, because the game is looking and sounding incredible, especially the Higgs Field weapons that feature in the video at the hand of Martin Lee, aka Mister Negative.
Share the Marvel's Spider-Man PS4 gameplay trailer and release