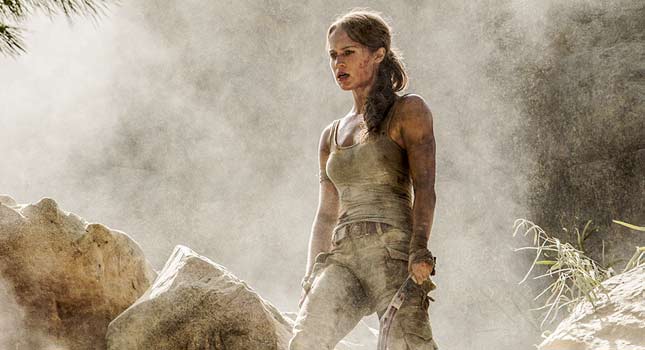 It may not feel like it's been all that long since Angelina Jolie's big screen foray as Lara Croft, but with a break of 16 years since the first film came out it's surely high time for another crack at the Tomb Raider cherry. This time around, Alicia Vikander (Ex-Machina) will be taking up the challenge of bringing the much-loved computer game character to life on the big screen.
The computer game has had a bit of a renaissance in recent years and the good news is that the film will be taking its cue from the storyline and adventure of 2013's brilliant Tomb Raider. The game has already had an epic sequel in Rise of the Tomb Raider, which had a release in 2015, and there's already talk of the film turning into a new series, so it will all come down to how well it lands next year.
Release date
Tomb Raider (2018) has been slated for a UK release date of the 16th March 2018, but it's also the same date that it's due to come out in the US, so it could shift a little. At the moment, the only other film slated for the same week in the UK is a 3D animation adaptation of Peter Rabbit starring Margot Robbie and Daisy Ridley, so Lara Croft should have the run of things.
Story
The plot for the film is essentially a new origin story for a young Lara Croft as she struggles with the disappearance of her father when she was younger. In a bid to tackle her demons she heads out to his last known location, a storm-lashed island called Yamatai out in the Pacific Ocean, well off the coast of Japan, despite her father's last wishes to the contrary.
In the game, this sets Lara on a path of ancient discovery mingled with savage, cult-like attackers and serious opposition when her team land on the island. It's a bloody and brutal road for her first trip in the field as she begins her journey to become the Tomb Raider that we know her as from the previous games and films.
Tomb Raider (2018) images:
Cast
Alicia Vikander leads the cast as Lara Croft and she'll be joined by Dominic West (The Square) as her dead father. The cast also includes Walton Goggins (The Hateful Eight) and Daniel Wu.
Production
Norwegian film director Roar Uthaug, who is relatively untested at the big screen in the US and UK, so it's going to be interesting to see how it all shakes out. However, Tomb Raider does have some Oscar-winning experience behind it with Graham King (The Departed, World War Z) producing under his GK Films. The team also includes director of photography George Richmond (Mission: Impossible – Rogue Nation), production designer Gary Freeman (Maleficent), editor Stuart Baird (Skyfall) and costume designer Tim Wonsik (Captain America: The Winter Soldier). You can see more from director, Roar Uthaug on his Twitter page.
First impressions
Having played the computer game reboot that Tomb Raider (2018) will be based on, it's got the potential to be an intense and terrifying opening adventure for Alicia Vikander as Lara Croft. The Swedish actress has put in some impressive performances in recent years with the likes Ex-Machina and The Man From U.N.C.L.E, so she's a smart selection for the lead role.
There's no trailer as of yet, so there's little to go on in terms of how it's coming together other than the images above. However, trailers can be deceiving, as Assassin's Creed proved, so we'll be holding out for the 2018 release date to make a more rounded judgement. Computer game movie adaptations have a troubled past, but Tomb Raider has got at least a chance of bucking the trend.
Share the Tomb Raider (2018) UK release date, cast and film details with: