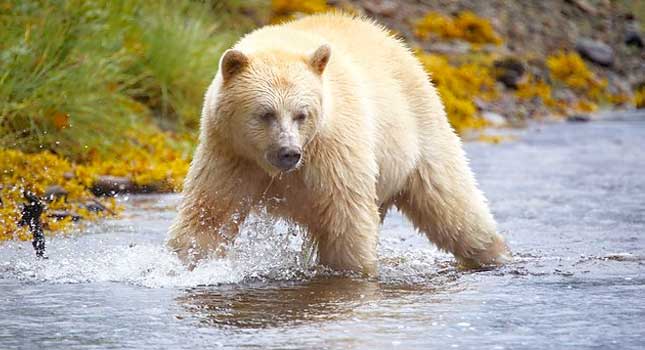 For wildlife lovers there's nothing thrilling than watching an epic BBC documentary and while David Attenborough's series often take the limelight – deserved though it may be – there's a lot to be said for the merits of BBC 2's Natural World. It's been on the telly since the 80s, delivering incredible documentaries for the last thirty years and the ten-part 2015-16 series has recently started to air, so if you've missed it for whatever reason it's time to get into the joys of the natural world.
The bad news though, is that the episodes don't stay on iPlayer for more than a month, so you'll need to move fast to catch much of it before it comes to a close. However, on the up-side, the BBC does occasionally repeat them, giving you a chance to see them when they air and also on iPlayer for the next month. A recent example that's well worth watching is an episode from 2013 that featured the first video evidence and first live filming of the elusive, near mythical giant squid. It's a brilliant piece of documentary film-making in its own right, but also a stunning insight into the life of the giant squid in its natural environment, so for nature lovers it's a must-watch (currently available until Saturday 8th August 2015).
The 2015-16 season is nearing its close, so there are already a number of episodes that are no longer available, but hopefully in reading this you'll be able to catch the rest of the series and also set the clock for future annual episode installments of BBC 2's Natural World. They're a close second to Attenborough's major series, so we can't emphasise enough how much you should add these to you watch list of you're a wildlife geek, like us, and in fact Attenborough hosts a number of the episodes, so they're a good way of seeing more of the legendary naturalist, who recently celebrated his 89th birthday.
The last programme to air was Ireland's Wild River: The Might Shannon, the eighth episode in the 2015-16 series, featuring the dolsed tones of Irish cameraman and naturalist Colin Stafford-Johnson (available on iPlayer until Saturday 15th August 2015). It may sound a lot less exotic than the giant squid example above, but it's a real joy to watch and while the Irish music is a little overdone, the camera work and narrative from Colin are exemplary, featuring a wonderful array of wildlife from the majestic kingfisher diving for dinner and massive starling murmourations to the rampant clamour of male frogs to greet a new female arrival during mating season.
Before that there was Mountain Lions: Big Cats in High Places, which travelled to the Wyoming Rocky Mountains to get an up-close and personal view into the lives of two mountain lion families (available until Monday 10th August 2015). This followed an equally brilliant episode entitled Attenborough's Big Birds, which saw Sir David Attenborough taking a look at the world's large, flightless bird species, including ostriches to kiwis, but you've only got until Wednesday 22nd July 2015 to catch it, unless it get a repeat in the not so distant future.
The next episode out will be the Ghost Bear Family, which is scheduled to air on BBC 2 on Thursday 23rd July 2015 with a further 30 days of availability on iPlayer. It journeys to the wilds of Canada to film a pretty cool Kermode bear family, a subspecies of the American black bear, which can sometimes stand out from the crowd due to the fact that around 1/10th of their population having white or cream-colored coats. This family consists of two black cubs and a pure white mother, and the documentary explores the unique environmental dynamic that the three will have to face with such a striking mother.
BBC 2's 2015/16 Natural World series has been very impressive and with a few episodes still to come there's a lot of mind-blowing wildlife documentary action still to come. There's also a few old episodes from earlier series to catch too, and they're all worth a watch if you can. However, if you miss them on iPlayer there are a few DVDs to catch up on available from the BBC's shop.
Natural World 2015/16 review: 4.4/5
Share our review of BBC 2's Natural World 2015/16 with: