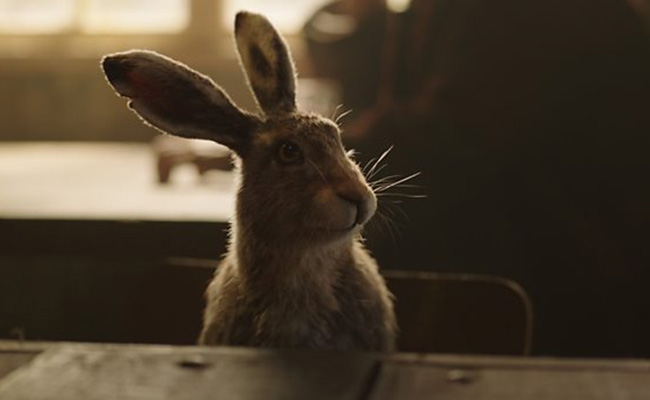 The BBC has announced the voice cast for its upcoming production of Philip Pullman's His Dark Materials, so we now know who plays Pantalaimon, Hestor, Kaisa and Stelmaria. The Daemons for the main characters Lyra, Lee Scoresby, Serafina Pekkala and Lord Asriel are pretty impressive in their own right, but the most important announcement for the series is who plays armoured polar bear Iorek Byrnison.
Advertisement You can see details for each below, along with more info on the characters and the voice cast that will be playing them. You can also read more about the series with our full post on the production covering the previously announced
cast for His Dark Materials and theme tune
for the TV series.
Iorek Byrnison
The Panserbjørne former king Iorek Byrnison is played by relative newcomer Joe Tandberg. The British actor doesn't have that many credits in his back catalogue, but his biggest previous performance was as Farren Blackburn in Netflix The Innocents, starring alongside Guy Pearce. He's pretty young for the role in His Dark Materials, but he's a big guy at 6′ 3″, so hopefully he's got the gruff tones needed to bring the Iorek to life for the BBC and HBO series.
Pantalaimon
Lyra's plucky little daemon is played by 15-years-old British actor Kit Conner, whose previous roles include young Elton John in Rocketman and Petya Rostov in BBC's War & Peace. The unsettled daemon starts out as a moth in the story, but changes into everything from an eagle to a white ermine, mouse and a wildcat, so the young actor has got his work cut out for him to deliver so much range.
Hestor
American comedian Cristela Alonzo plays Lee Scoresby's daemon hare Hestor following her big break starring in, writing and producing her own US primetime comedy show Cristela for ABC. She also voiced Shirley for The Angry Birds Movie, and Cruz Ramirez in Cars 3, so this won't be her first voice acting role for an animated character.
Kaisa
Serafina Pekkala's gyrfalcon daemon, Kaisa is played by the brilliant David Suchet Of Poirot fame. For any younger fans of the BBC and HBO adaptation of His Dark Materials, you might recognise the British actor as The Landlord from the Doctor Who Series 10 episode, Knock Knock. He also recently starred in BBC drama Press and played Rita's dad in the animated film Flushed Away.
Advertisement For anyone not too sure what a gyrfalcon is, it's essentially the largest bird of prey of the species Falcon. They're about half a metre in height with a wingspan in the region of 1.25 metres, so you'd know it if one of them made a dive for you.
Stelmaria
Perhaps the most impressive looking daemon in Philip Pullman's opening trilogy, Lord Asrial's snow leopard Stelmaria is played by Helen McRory who you'll probably know as Aunt Polly from Peaky Blinders. She also starred as Narcissa Malfoy in the Harry Potter film series, MP Claire Dowar in Skyfall and Mrs. Bean in the 2009 adaptation of Fantastic Mr. Fox.
You can follow the official Twitter page for the series at twitter.com/darkmaterials to see more on who plays the various characters, along with more images.
Who plays the other cast members in His Dark Materials?
You can find out more about the wider live action cast members here, but here's a quick run-through of who plays the core characters in the BBC and HBO production of His Dark Materials. Dafne Keen (Logan) plays Lyra, James McAvoy (Dark Phoenix) plays Lord Asriel, Lin-Manuel Miranda (Star Wars: The Force Awakens) as Lee Scoresby and Ruth Wilson (The Lone Ranger) as Mrs. Coulter.
A release date hasn't been 100% finalised for the upcoming series, but you'll be able to watch it when it does come out on BBC iPlayer in the UK and HBO Now in the US.