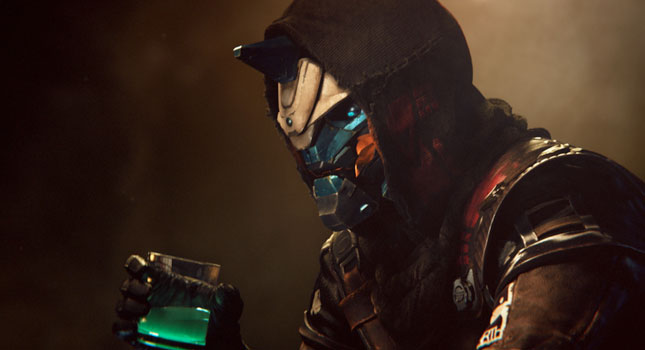 Ever since the long-awaited reveal of Destiny 2 back in March in the form of a blockbuster trailer, fans expected to be left waiting longer until June's E3 to see some gameplay. However, it's been announced by PlayStation that on May 18th in Los Angeles, a gameplay premiere for Destiny 2 will take place.
PlayStation announced the breaking news on Twitter in a unique series of tweets on Friday, where at first they revealed their LA headquarters had received a mysterious box from Activision, the publishers for Destiny. In a later tweet, after keeping many intrigued fans in the dark, they showcased the insides of this box. Inside was a figure of Cayde-6, the Vanguard Hunter who was widely considered to be the star of the reveal trailer. There was also a nice looking pin, and an invite from Bungie and Activision to the Destiny 2 gameplay premiere. While the event isn't open to the public to attend as part of the live audience, being invite only, Bungie's website will host a livestream of the special occasion when it commences in a few weeks' time.
So far we know that the sequel takes place with The Last City up in flames from the fighting still going on between the Guardians and the Red Legion. We're also expecting a new trailer to be released providing more details for the story. It'll be no surprise if the upcoming gameplay videos feature many shootouts among the war with new weapons and upgraded classes on display. With Cayde-6 involved, it's definitely going to be tense and make for some awe-inspiring gameplay. At the premiere event, invited guests will have access to early copies of the game so fans should see multiple media outlets give their opinions on the current state of the game.
Big news that has come out since the reveal trailer for Destiny 2 is a UK release date, which is September 8th 2017 for PS4, Xbox One and PC. This is also the same for the rest of the world. The release date is almost exactly the same as the UK release date for the first game. Several editions of the multiplayer shooter have been confirmed also, including a collector's edition, limited edition and a digital deluxe edition. The collector's edition is set to feature many special collectibles such as a Frontier bag, Cabal-themed collector's box of various goodies and a Frontier kit which also contain multiple items.
Destiny players all over the world, mark your calendars for May 18th and make free time for yourself when Bungie's livestream of the gameplay premiere is set to go live. If the reveal trailer is anything to go by, there could well be a lot of gunplay to take in to truly kick off the anticipation for September. We'll be covering it all here at Tuppence, so stay tuned.
By Ben Harris
Share the details for the Destiny 2 gameplay reveal