With the recent arrival on the big screen it's time to look ahead at the Doctor Strange in the Multiverse of Madness UK DVD, Blu-ray and digital release date (details below). It follows on from where things left off in Spider-Man No Way Home and WandaVision, so this is going to be one for a lot of home entertainment collections.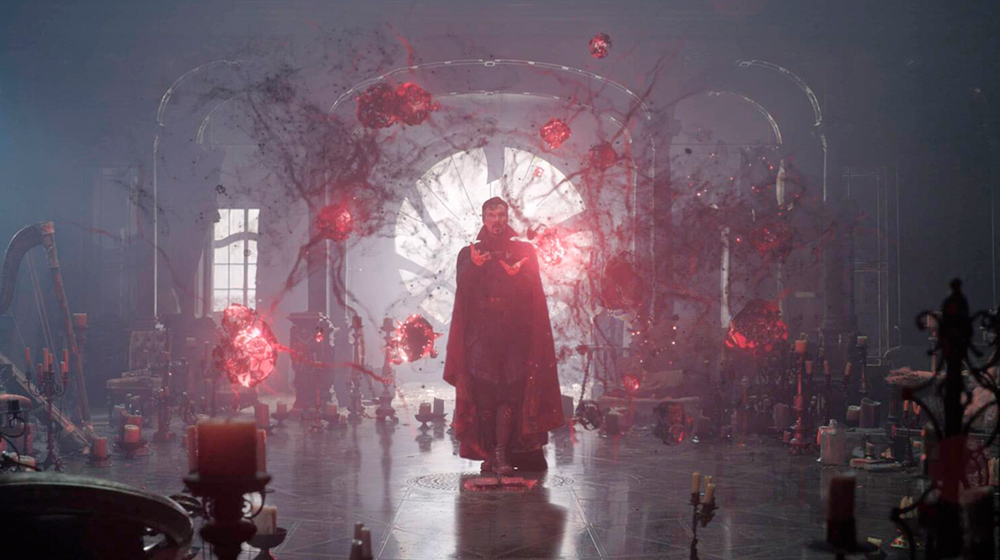 Your first opportunity to own the film will be the digital release, but there will also be a Home Premier early access release to rent the film before then. The DVD and Blu-ray will follow shortly afterwards and there's a decent amount of bonus features bundled with the latter, along with the 4K version.
Advertisement The name alone should've been a pretty good indication that things were going to get even more bizarre in the second stand-alone Doctor Strange film. With the multiverse breached thanks to the events of Spider-Man No Way Home, Stephen must journey through its many tendrils to stop a new threat to each and every one of them.
UK Blu-ray, DVD and digital release date
The Doctor Strange in the Multiverse of Madness UK digital release date should be around early July 2022, so you'll need to wait a few more weeks to buy it. However, details are still thin on the ground for the likes of Amazon Prime Video and iTunes and this could be to leave the focus on the Disney+ worldwide streaming launch on the 22nd June 2022.
Advertisement The film came out in cinemas on the 5th May 2022, which is a bit unusual for such a big blockbuster. However, with
Thor Love and Thunder
and
Black Panther Wakanda Forever
also out in 2022, thanks to the impact of COVID, it was always going to be slightly congested year.
The DVD, Blu-ray and 4K versions of the film will follow with a UK release date scheduled for the 18th July 2022. It might not be the best time for a home entertainment release, but with everything that goes on in the film it could still turn out to be one of the biggest films of the year.
Advertisement The pandemic had previously meant that there was less time between cinema and home releases, but that seems to have reverted to its pre-lockdown state. For example, The Batman came out at the box office in the UK on the 4th March and it has been confirmed for DVD, Blu-ray and 4K for the 13th June, which acted as a pretty good indicator for
Doctor Strange 2
. Although it's a shorter gap than expected and its possible that there's just going to be much more variation going forward in terms of home entertainment schedules.
The film's big home entertainment competition will be Downton Abbey A New Era, Sonic The Hedgehog 2, The Lost City and Fantastic Beasts The Secrets of Dumbledore with close release dates expected. These are all fairly chunky, but our money is still on the Multiverse of Madness to take the number 1 spot in the UK.
We'll update you with more details on the digital, DVD, Blu-ray and 4K release as they get confirmed. Don't forget to follow us on Twitter to see news and updates on upcoming releases, and you can see more on the film with the official Doctor Strange movie Twitter page at https://twitter.com/DrStrange.
North America release date
The North America market usually get its release date a few weeks earlier than over here in the UK, but as things stand there's no reference on the main sites. If you track that forward for the Doctor Strange in the Multiverse of Madness Blu-ray and 4K it means it should be out in the US and Canada around early-July. However, Disney and Marvel might be waiting on the streaming launch before confirming things.
One thing to bear in min, though, is that North American also gets early access purchase options at the same time as rental. Make sure you check that option out if you're planning on catching the higher priced Home Premier digital, because it should only be a few dollars more to buy it.
DVD and Blu-ray details
Age rating: 12A (UK) PG13 (US)
Runtime: 2 hours, 6 minutes
Director: Sam Raimi
Cast: Benedict Cumberbatch, Elizabeth Olsen, Benedict Wong, Rachel McAdams, Chiwetel Ejiofer, Xochitl Gomez, Michael Stuhlbarg, Patrick Stewart, Hayley Atwell, Lashana Lynch, Anson Mount, John Krasinski
You can also check out our movie news section to keep tabs on the latest upcoming films, or visit the Marvel website at https://www.marvel.com/movies/doctor-strange-in-the-multiverse-of-madness.
Review
Advertisement To keep this as spoiler-free as possible, we're going to keep this brief. Doctor Strange in the Multiverse of Madness is just as guano crazy as you might have expected, but it builds well on the original. It also fits in as a natural evolution for the Marvel Cinematic Universe, which has been playing with the many worlds concept for a year or so with the likes of Loki, What If? and Spider-Man No Way Home.
Visually stunning and with a strong cast, its going to be the kind of digital, DVD, Blu-ray and 4K release that will please most Marvel fans. Benedict Cumberbatch has the challenge of playing a number of versions of himself, which he did previously in What If?, and as before he makes it stick perfectly.
The addition of Elizabeth Olsen as Wanda Maximoff brings a lot of power to the film and while she was on a journey of self discovery in WandaVision, she's at her ground-shaking best in Doctor Strange 2.
It builds in intensity well with the usual huge special effects and mind-bending reality that the character's stories have become know for. The ramifications probably aren't going to be felt in the rest of this year's MCU releases (Thor Love and Thunder, Black Panther Wakanda Forever), but they're definitely going to come to roost the next time there's a big-screen team up, which really can't be that far away now.
DVD and Blu-ray review: 4/5