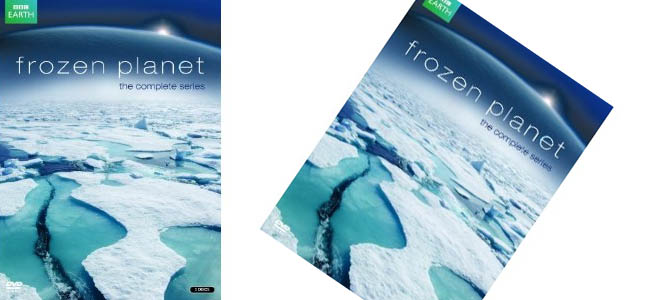 If you managed to catch just a little of the BBC's incredible Frozen Planet that aired in Autumn 2011 then you probably spent that time completely and utterly transfixed by its other worldly beauty, detail and dedication to wildlife documentary excellence. With a DVD and Blu-ray release date of the 8th December 2011 it had perfect Christmas gift written all over it and for anyone that missed it the release makes a good opportunity to catch up on some impressive nature visuals.
There are seven one-hour long episodes in the series including one for each of the seasons in the North and South Poles. There is also an episode on the human element of the polar regions, one featuring the space in between the Earth's two ice blocks and a final episode exploring the climate change and global warming that affects the environment and wildlife of the arctic.
As with The Blue Planet and Planet Earth, Frozen Planet is brilliantly narrated by David Attenborough and takes viewers from pole to pole in its quest to document the sublime excellence of life on the frozen areas of planet Earth. All aspects of wildlife are covered, from feeding narwhal and huddled penguins to the sheer intelligence of hunting killer whales and both the playful and deadly potential of fighting polar bears.
One of the most captivating shoots is of a group of beluga whales scrubbing their backs in shallow rocky waters to smooth off their pale skin. There's also plenty of the prerequisite slow motion imagery with penguins jumping out of the water, which is a particular highlight. There are one or two surprises too, like the mythical looking faces of beluga whales and musk ox. They literally look as though there were created for a cut scene in a yet to be released CGI reworking of the ice planet of Hoth.
The Frozen Planet DVD is split over three DVDs. Thanks to the advanced technology of the BBC team filming the series, as well as some brilliant editing, post production, music accompaniment and Attenborough's perfect narrations, each one is filled with some of the best nature documentary footage ever created.
It went on to win 3 British Academy Television Craft Awards for best sound, best editing and best photography, so expect to be wowed if you haven't seen the series before – although saying that you should probably expect to be wowed even if you're watching it for the umpteenth time.
Share the details for David Attenborough's Frozen Planet DVD with
Frozen Planet trailer