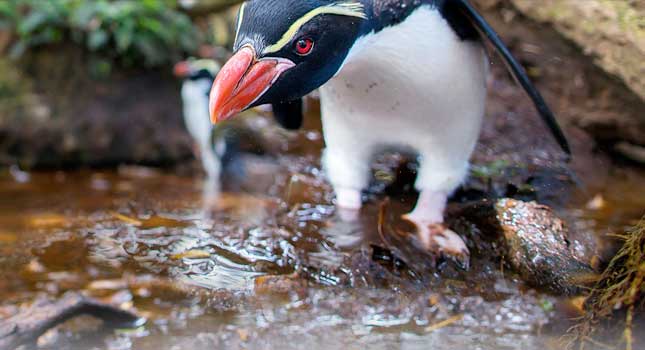 Rub your hands together with glee and get set for another stunning nature documentary from BBC 2 in the incredible, New Zealand: Earth's Mythical Islands. We're absolute suckers for Beeb-made nature docs, and it's latest effort manages to surprise and delight just as much as they always do and with Sam Niel narrating, it's got some great tones to back it up.
The new wildlife series started on BBC 2 on Tuesday the 19th July 2016 with three episodes to catch in total. The first two have already aired and they're a mesmerising combination of beautifully shot sequences, quirky perspective and unexpected discoveries for the viewer. The final episode in the series will air tomorrow (2nd August 2016) at 9pm, so there's just enough times to catch up on the first two episodes on iPlayer.
The series opened with Episode 1: Cast Adrift, setting the scene for the unusual set of circumstances that have led to the development of New Zealand's unique nature, thanks to its far out island status having separated from its larger ancestral land mass millions of years ago. It doesn't take long for the first wildlife wonders to feature though and they're complimented by impressive plant life, geology and even a little of the human story from the south pacific islands.
While New Zealand's most famous flightless bird, the kiwi, does get a little look in with a section on its evolution and presence in the wild, it's another, little-known flightless marvel, the snares penguin that, steals the show. Living on a forested island far away from the snow, this little genius has built up a brilliant haven for itself, setting out paths through the forest floor into a clearing in the heart of the island to rear its young. It's one of the defining sections of the series and well worth watching for its cuteness factor along. It also makes for a pretty funny behind the scenes of the filming section at the end of the first episode.
In addition to the main series, the BBC has also thrown in the genius bumper surprise of getting the Flight Of The Conchords guys in to voice their own unique narration to the series in short sharp snippets. Set to animation of themselves sat on their New York apartment sofa, it's pretty funny, and good to see Jermaine Clement and Bret McKenzie back together once again, even if it is only for a short burst of brilliance. The snippets don't feature in main series, but you can catch them at www.bbc.co.uk/programmes/p041yht5.
Episode 2: Wild Extremes takes us into yet more mythical reality with hyper-intelligent parrots and a monstrous snail with an Alien-like projectile mouth kill attack. It also features some stunning video work featuring New Zealand's glow worms in full beam. Sam Neil makes for another great choice of narrator from the BBC, following up on Ewan McGregor in Highlands: Scotland's Wild Heart.
The final episode in the series, New Arrivals, airs today (2nd August 2016) at 9pm on BBC 2, and will focus on the changing fortunes for the wildlife on the islands following the more recent arrival of human life. It'll cap off another spectacular series from the Beeb, and if anything it's a shame that there's not a few more episodes of New Zealand: Earth's Mythical Islands to watch.
New Zealand: Earth's Mythical Islands review: 4.4/5
Share our review of the New Zealand: Earth's Mythical Islands on BBC 2 with: