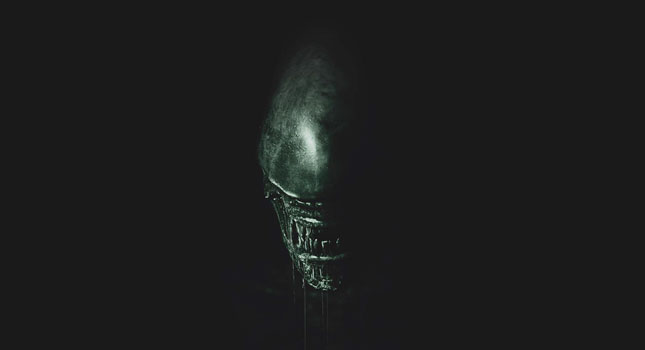 Despite our disappointment in Prometheus, Ridley Scott's last comeback effort, it was hard not to get caught up in the hype for the sequel to the prequel, Alien: Covenant, just a little. The first three Alien films are etched in movie history, with each one a standalone variant on the same genius sci-fi horror concept of being trapped in space with a seemingly unstoppable creature out to kill you. However, it's a formula that has become a bit too formulaic since the original trilogy with nothing that has followed coming close to their tightly wound intensity. That is until maybe now and with the upcoming release on DVD, Blu-ray, 4K and digital, it's shaping up to be one of the biggest sci-fi flicks of the year following an impressive showing on the big screen.
With the arrival of the trailer (watch below) for the latest installment in the series, you can see a bit more of how the film has come together. It picked up rave reviews, including our own, and a good response at the box office when it was released on the big screen, so it's going to be on a fair few DVD and Blu-ray wish lists when it comes out in September.
Michael Fassbender returned to the series following his part as David in Prometheus, although there's a bit of complexity about the role he's playing this time around. He's joined by Billy Crudup (Jackie), Katherine Waterston (Fantastic Beasts And Where To Find Them) and Danny McBride (Your Highness) and while that may sound like a slightly bizarre cast, the film delivers on the promise of the series. Check out our full Alien: Covenant review for more on what we thought of the film.
Release date
Cinema release
Alien: Covenant had a release on the big screen in the UK on Friday the 12th May 2017, which was a week earlier than its arrival in the US. It had a relatively clear window for its stint at the box office in the UK with no major films out on the same weekend, but with Guy Ritchie's King Arthur: Legend Of The Sword out on the 19th May 2017, it only have a week to land in a big way.
DVD, Blu-ray and digital release
The film will be coming out on DVD, Blu-ray and digital download in September 2017 with the digital release being the first opportunity to buy the film on the 4th September 2017 in the UK. The UK DVD release date has been confirmed for the 18th September 2017, and it'll also be available on 4K Ultra HD & Blu-ray at the same time, along with digital rental.
Story
The plot sees the crew of a space ship getting into hot soup when they discover a dangerous killer alien on a remote planet. OK, so that could easily be the story for a number of Alien movies, or at least the general gist, and that's going to be the difficulty this time around to do something different, while still keeping a strong link to the origins of the series.
The time around, the ship is called the Covenant and it contains a colony crew looking to find a new life on a remote planet on the outer fringes of the galaxy. It all goes savagely wrong for them when they discover what they believe to be an uncharted paradise that turns out to harbour a gruesome killing machine and a number of other nasties. As they start to drop like flies and the chilling situation starts to hit home, they're left with nothing but to attempt to get the hell out of there before it's too late for them all.
Alien: Covenant trailer:
Age rating
Alien: Covenant has surprisingly been given an age rating of 15 in the UK by the British Board Of Film Classification (BBFC) with strong bloody violence, gore and strong language. It's a step down from the 18 certificate of the original film, but it looks like it might be just as gruesome, so maybe we're just getting a little more tolerant of horror films in general.
Home entertainment special features
Blu-ray release:
Deleted and Extended Scenes
USCSS Covenant – Meet Walter, Phobos, and The Last Supper
SECTOR 87 – PLANET 4
Master Class: Ridley Scott
Commentary by Ridley Scott
Production Gallery
Theatrical Trailer 1
Theatrical Trailer 2
DVD release:
Deleted and Extended Scenes
USCSS Covenant – Phobos
Commentary by Ridley Scott
Cast
In addition to Michael Fassbender, 20th Century Fox has also confirmed that the cast will include Katherine Waterston (Fantastic Beasts And Where To Find Them), Billy Crudup (Jackie), Danny McBride (Your Highness), Demián Bichir (The Hateful Eight), Carmen Ejogo (Fantastic Beasts And Where To Find Them), and Amy Seimetz. Jussie Smollett, Callie Hernandez (La La Land), Nathaniel Dean, Alexander England and Benjamin Rigby have also been announced as starring in the film.
Alien: Covenant movie posters:
Production
Ridley Scott (The Martian) returned to direct the movie from a screenplay by John Logan, whose previous work includes Gladiator, Skyfall and Spectre. It has been produced by Scott, Mark Huffam, Michael Schaefer, David Giler and Walter Hill with music by Jed Kurzel (Assassin's Creed Movie). You can see more on the production with the Alien Anthology Twitter page.
Review
Where the previous film had a faultless trailer, but a disappointing release, the next outing has been given a questionable trailer, but an excellent film, which even helps to validate Prometheus. It begins with quiet intensity and unnerving decisions, looking every bit a part of the same horrific reality that made the first three Alien movies so great.
Our teen slasher concerns were mostly unfounded, and while we still think the shower scene was a bit cheap, there's more than enough brilliance to the rest of the film to compensate. Alien: Covenant is the best new film in the series since Alien 3 and we're already looking forward to the sequel, as well as its arrival on DVD, Blu-ray and digital later in 2017. Read our full review for more details.
DVD and 4K Ultra HD Blu-ray front covers:
Share the Alien: Covenant UK DVD release date, trailer and film details