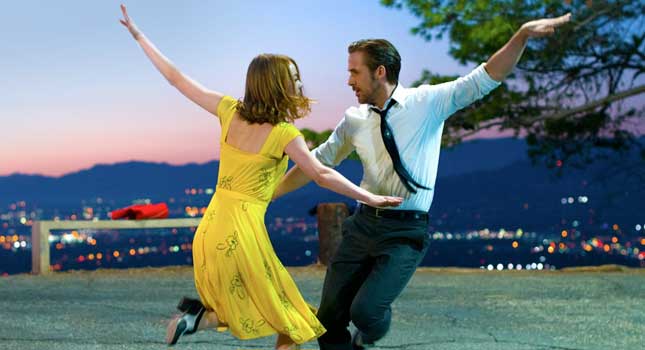 Having already picked up seven Golden Globe noninations, along with a hearty amount of critical praise following its debut at the 2016 Venice Film Festival in late August, La La Land was the hot tip for awards season. Emma Stone and Ryan Gosling lead the cast and with Damien Chazelle (Whiplash) in the director's chair, having also penned the script, it's easy to see why it's getting so much attention.
The Oscars arrived with fanfare for the film on the 26th Feb 2017, and with 14 2017 Academy Award nominations, equaling the all-time high of Titanic, it went on to pick up 6 awards, including including Best Actress for Emma Stone and Best Director for Damien Chazelle. It followed in the footsteps of the Golden Globes, where it won 7 awards, and you can see a little snippet of the magic that made it stand  out so well in the trailer below.
Release date
Cinema:
La La Land had a UK release date of Friday the 13th January 2017, following on from the arrival in US cinemas on the 9th December 2016. It had competition from Ben Affleck's prohibition crime drama, Live By Night, and Casey Affleck's family drama, Manchester By The Sea, which were both out on the same weekend in the UK.
DVD, Blu-ray and digital download:
The UK DVD release date has been confirmed for the 15th May 2017 and with all of the buzz about the film, and its haul at the 2017 Academy Awards, it should go on to be one of the biggest DVD releases of the year. It'll also be available to buy on Blu-ray on the same date, as well digital download rental, but you'll be able to buy it from the likes of iTunes a week earlier, if you're super keen.
Story
The plot follows the developing relationship between aspiring actress Mia (Emma Stone) and jazz pianist Sebastian (Ryan Gosling), who share a mutual desire to succeed in their respective fields. Singing, dancing and deep conversations ensue as they face up to the everyday challenges of trying to make their dreams a reality.
The film is set in modern day Los Angeles, but with a style that's reminiscent of the golden age of cinema, while trying to push the boundaries of the dynamic beyond the more simplistic "Hollywood" emotional confines. Conceptually there are links to the Coen Brothers' efforts on Hail Caesar!, but it looks like Chazelle has taken the idea to the next level with much more depth and specific intent as an original musical.
La La Land trailer:
Cast
Stone and Gosling are joined in the cast by John Legend, who plays Sebastian's jazz pal Keith, Rosemary DeWitt (Black Mirror (2017)) stars as Laura, Sebastian's sister, and J. K. Simmons (Zootropolis) plays Boss. Jason Fuchs – writer of Ice Age: Continental Drift and Pan – puts in an appearance too, along with Sonoya Mizuno (Ex-Machina), Callie Hernandez (Alien: Covenant), Josh Pence (Gangster Squad) and Finn Wittrock (The Big Short). Check out this brilliant Tweet to see Ryan Gosling giving out some dancing lessons to Jimmy Kimmel if you're looking to improve your own two step.
Film rating
La La Land has been given a film rating of 12A in the UK by the British Board of Film Classification, with infrequent strong language.
DVD release special features:
Audio Commentary with writer/director Damien Chazelle and composer Justin Hurwitz
Another Day Of Sun: They Closed Down A Freeway featurette
La La Land's Love Letter To Los Angeles featurette
Ryan and Emma: Third Time's the Charm featurette
Song Selection
4K Ultra HD, Blu-ray and Digital HD release special features:
Audio Commentary with writer/director Damien Chazelle and composer Justin Hurwitz
Another Day Of Sun: They Closed Down A Freeway featurette
La La Land's Great Party featurette
Ryan Gosling: Piano Student featurette
Before Whiplash: Damien Chazelle's Passion Project featurette
La La Land's Love Letter To Los Angeles featurette
The Music of La La Land featurette
John Legend's Acting Debut featurette
The Look Of Love: Designing La La Land featurette
Ryan and Emma: Third Time's The Charm featurette
Epilogue: The Romance of the Dream featurette
Damien & Justin Sing: The Demos
Song Selection
Production
In addition to Damien Chazelle taking on the directing and writing duties, the film has been produced by Fred Berger, Jordan Horowitz, Gary Gilbert and Marc Platt. The music and score has been created by Justin Hurwitz, who worked with Chazelle on Whiplash. Lyrics are by Benj Pasek & Justin Paul and choreography is from Mandy Moore.
Review
It's tough to argue with the vast array of award nominations and accolades the film has already picked up and you can see from the trailer above that La La Land is a very unique movie that has as much serious intent as it does captivating cinematography, song and dance. There's a real sense of it finding a place in reality with just a little dusting of the magic of cinema to encapsulate its "big dreams" focus to perfection. With the DVD release date planned for May 2017 it could be one to add to the collection.
Read our full review at www.tuppencemagazine.co.uk/la-la-land-film-review/ for more details, and see more about the film on the official Twitter page.
Share the La La Land UK DVD release date, trailer and film details with:
DVD front cover art: