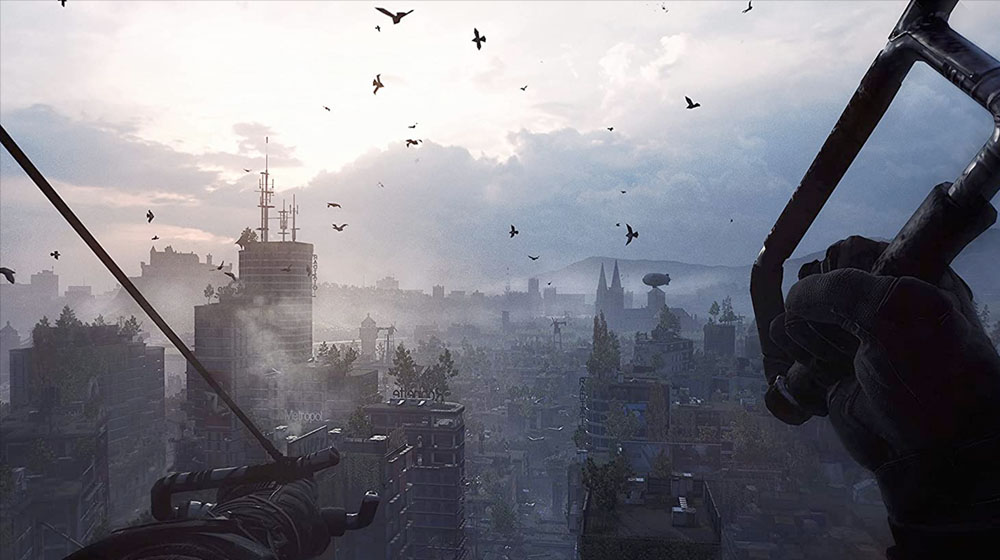 2022 is going to be a big year for survival horror and it all kicks off with Dying Light 2 Stay Human, so here's the latest on the age rating with our parents guide notes, along with the UK release date. You can also find out more about the story, cast and characters, gameplay action and setting for the game to see how the sequel continues on from the original, building on the melee action zombie survival aspects of the 2015 release.
The game is set in a European city more than twenty years after the first game with a new protagonist called Aiden, who has got his own set of melee combat and parkour mad skills. There's no word on the cure that was being worked on in the first game, so either it came to nothing, or it has been lost for years, leaving the second game with the challenge of either uncovering it or creating a new lifeline for humanity.
Advertisement To add to the the drama, there are dark secrets being kept by the powers that be in the city and you'll need to get to the bottom of them before the end of the action. If that isn't enough, Aidan also has flashbacks and memories that he can't work out, so as well as building factions and helping to decide the fate of the city, you'll also be on a mission to uncover the various mysteries there are to unfold.
Cast and characters
The lead character for Dying Light 2 Stay Human is Aidan Caldwell, who is played by Jonah Scott, whose last computer game outing was in The Elder Scrolls Online as Count Verandis Raven. He'll be joined by Rosario Dawson (The Mandalorian) as Lawan, another central character to the story who will be integral to Aiden's journey through the various factions of the city.
Advertisement We'll update you with more details on the cast as they're confirmed.
Don't forget to follow us on Twitter to see more on the latest video games releases, and you can see more on Ragnarok with the official Dying Light 2 Twitter page at https://twitter.com/DyingLightGame.
Dying Light 2 Stay Human UK release date
The good news is that the Dying Light 2 Stay Human UK release date isn't too far away now, despite the fact that has been delayed a little due to the COVID-19 and general scheduling constraints. It has now been confirmed for the 4th February 2022, making it one of a few games that had been planned for 2021, but have now been put back until the following year.
It joins the ranks of Horizon Forbidden West, God of War Ragnarok and Saints Row, which have all pushed into 2022, making things a little cramped in terms of releases. Although, DL2 was initially planned to come out in 2020, so it's delay may well be felt even more keenly by fans, but the hope is that all of the extra time means that it translates into exceptional gameplay action and a story that moves things on well from the first Dying Light game.
Advertisement The release date is the same for Windows PC, PlayStation 4 & 5, Xbox ONE and Series X | S, along with Nintendo Switch. That's a pretty big combination of systems to develop for, but with the delays it's definitely had enough time to hone things for each. Hopefully, it'll look good enough on the Switch, but step up in terms of visual impact and frame rate for high end PC, Xbox Series S | X and PS5.
Dying Light 2 age rating and age rating
With less than a couple of months to go until the UK release date, the Dying Light 2 age rating has been confirmed by PEGI to be an 18 certificate, which is the same as the first game in the series. It's a similar situation in North America, where is has been rate M for mature by ESRB, which comes with more detailed age rating detail of 17+, so this is clearly going to be just as savage a gameplay experience as the 2015 original.
What this means for the parents guide notes is a very high probability of yet more hard-hitting violence, blood and injury detail on both sides of the still human and totally infected battle lines. The violence is mostly melee-based, but there will be ranged weapons including bows and spears, which Aidan will be forced to use in fairly brutal circumstances against the undead beast and the people that make up the warring factions of the city.
Obviously, this means that the threat level is going to be through the roof for large proportions of the game and this will have a horror setting a lot of the time with so many infected monsters to fight or run away from. This will feel more relaxed during the day when the zombie-like creatures are slower and less aggressive, but at night it will crank up to 11 leaving you with a lot of tricky situations to navigate your way through.
Gameplay
The core gameplay mechanic for the action horror is parkour and melee combat in a large open world city environment focusing on the story of Aidan and his interactions with the various factions and characters. You'll have a similar day night switch to contend with as in the first game, but this will provide opportunities as well as threats as the real monsters leave their nests at night leaving you free to go through all of their stuff to see if there's anything food in there.
You'll be able to make and use traps and creative weapons to dish out the pain against anyone and anything stupid enough to get in your way. The decisions that you make will matter in a big way too, so whichever side you side with will result in the kind of butterfly effect that destroys whole communities.
The gameplay action can also be enjoyed with 2-4 player coop if you've got any real life pals hiding away in your rollerdex. It means that you'll be able to see different decisions played out without necessarily having to play multiple runs of the story campaign.
Keep tabs on things withour computer games section, or visit the Dying Light 2 Stay Human website at https://dl2.dyinglightgame.com/.