It feels like it's been a long time coming, but next year will the the God of War UK release date and while details are still a little thin of the ground here's the latest on everything you need to know about the finale to the Norse adventure for Kratos. We'll cover everything from the age rating in our parents guide section below to the story and when it's most likely to come out.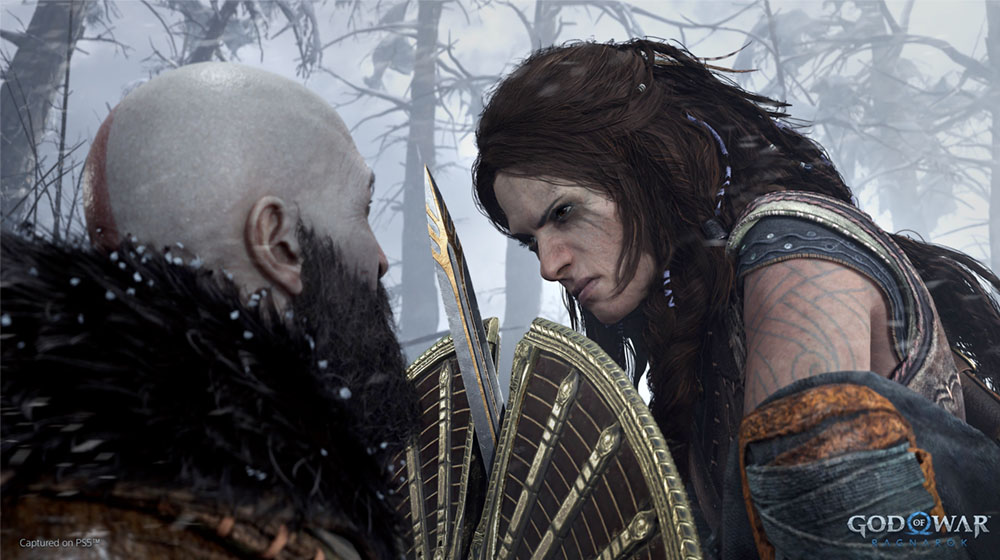 Firstly, the sequel is again a PlayStation exclusive at launch with the possibility of a PC release (more details below) at some point in the future, so if you're looking to take father and boy out for some troll killing then you'll need either a PS4 or PS5. 2018s God of War looked pretty amazing on the PlayStation 4 Pro, and Ragnarok looks set to build on this with yet more stunning visuals and visceral fight action, especially with the added might of the PS5.
Advertisement The story picks up a few years after the first game in the Norse Saga with Atreus a little older and keen to take the fight to Thor and his dad who appear to be out for blood with the prophecy of Ragnarok looming. They're not the only ones looking to avenge the death of Baldur either as the duo will also have to tackle the considerable might of Freya, his dear old mum.
Cast
The main cast members will return for God of War Ragnarok with Christopher Judge back as Kratos, along with Sunny Suljic as Atreus, Danielle Bisutti as Freya, Alistair Duncan as Mimir, Robert Craighead as Mimir, and Adam Harrington as Brok. New additions to the cast include Ryan Hurst as Thor (although, he did feature in the hidden ending for the first game), Ben Prendergast as Tyr, Richard Shift as Odin and Laya DeLeon Hayes as Angrboða.
Advertisement We'll update you with more details on the cast as they're confirmed.
Don't forget to follow us on Twitter to see more on the latest video games releases, and you can see more on Ragnarok with the official Santa Monica Studios Twitter page at https://twitter.com/SonySantaMonica.
God of War Ragnarok UK release date
Sadly, Sony PlayStation and developers Santa Monica Studios haven't as of yet confirmed the official God of War Ragnarok UK release date, but it is currently slated for 2022 worldwide, so it's not too far away now. However, it had initially been earmarked for 2021, so that doesn't 100% nail things down for next year. That being said, it will be a big surprise if there are any more delays to the release.
The real question is what part of 2022 we should expect it to come out. You might instantly expect it to be a Christmas target, but Sony rarely goes for this with the crush of other games releasing over the holidays. It's still a possibility, but it will be against the norm, so if not winter then maybe a better prediction would be a date similar to the first game, which came out on the 20th April 2018.
Advertisement Easter is on the 17th April, so it would kind of make sense from a sales point of view, but then that would be quite close to Horizon Forbidden Dawn which is out on the 18th February. It's not so close to be out of the question, but it could mean that it'll be pushed out further in the year. That would put it as a contender for early summer or Autumn, but neither one of these are great for sales.
However, Sony have had a lot of success with releases outside of the big two periods of Christmas and Easter and the fact that Horizon Forbidden West is coming out in February show how confident it is about it doing well. That's undoubtedly the case for God of War Ragnarok, which could release on a dark Monday on the other side of doomsday and it'd still be one of the biggest games of the year.
If you're waiting on the PC release, you'll need to park your expectations in the patient as it gets bay for now, because the first game is only just about to come out on PC in January 2022. If you take that as a rough guide for Ragnarok then you can track it forward to 2025, but a lot will depend on how successful the first game is on the format.
Age rating and parents guide
As with the release date, the God of War Ragnarok age rating won't be confirmed until it becomes available to pre-order, but there's a lot we can tell from the certification of the first game. The PEGI rating in the UK and Europe was 18 and the ESRB rating in America was M for mature with a 15+ recommendation, which acts as a good ball park for the sequel.
Looking at the trailer, there's going to be the same kind of intense violence that contributed to the previous certification. Things are more than likely going to get pretty brutal once again for Kratos and Atreus with epic death sequences for any big monsters that get in their way, savage fights with the Norse gods and the Leviathan Axe cleaving draugrs in half.
Continuing our parents guide, there wasn't any sex or language considerations with the first game and we'll be very surprised if that changes for Ragnarok. The old world language doesn't really leave that much room for modern day swear words and there's been nary a hint of romance. Even when you take into account the Norse mythology around Atreus and Angrboða that kind of only leads to the potential of young love, so the main consideration is the visceral intensity of the violence, which is a big selling point of the game.
Don't forget to check out our computer games section to keep tabs on the game, or visit the PlayStation website at www.playstation.com for more details on the game.
More God of War Ragnarok features: