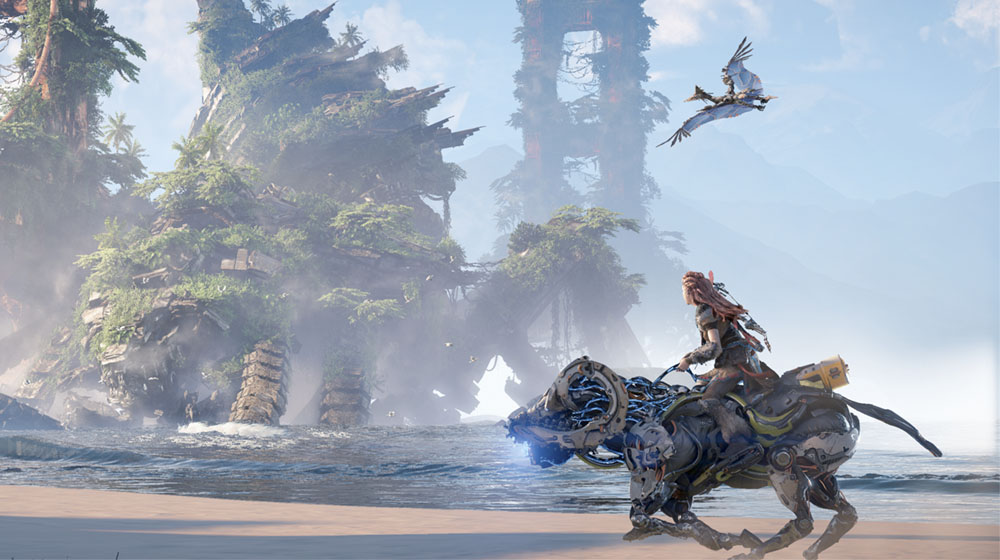 Aloy fans will already be excited about the prospect of Horizon Forbidden West, so here's everything we know about the UK release date and age rating, plus our parents guide. Now one of the most anticipated games of 2022, the release window was in contention for a long time, but with PlayStation finally laying out the details for what we hope is the last reschedule, we now know what we're aiming for.
The game follows on from the huge success of Horizon Zero Dawn, which introduced Aloy to the world in 2017, creating a brand new open world experience with epic robotic dinosaurs to face down. It also gave us that bow, which has fast become as iconic as Robin Hood's efforts with the ranged weapon.
Advertisement It looks like it's picked up a few mods since it last took flight, so there's going to be even more destructive power for the bow in Horizon 2. Aloy will also have some new traversal options with a cool high-tech glider and grappling hook, which she'll need with snowy mountain ranges, vast deserts and lush tropical forests to cross. The addition of underwater exploration looks incredible too and there's bound to be new fight mechanics to enjoy as a result.
Story synopsis
The story synopsis for Horizon Forbidden West picks up with Aloy a little after the events of the first game as she journeys, unsurprisingly, westward in a bid to stop a fatal disease spreading throughout the land. It feels a little close to home under our current circumstances, which is bound to have impacted the release date at least a little.
Advertisement However, the game has been in development for a good few years, so it pre-dates our own pandemic woes. It also seems to be more of a blight to animals and plants, affecting food sources for Aloy and her tribe. Either way you look at it, it's definitely going to be cathartic to overcome a destructive plague that threatens humanity when the game comes out.
Release date
With so much disruption as a result of the global COVID-19 pandemic, it's fair to say that the development of the game has been impacted. Things looked impressive during the State of Play presentation from Sony, so we had our fingers crossed for this to land in 2021 right up until the death. The cards are now on the table and we have a definite UK release date of the 18th February 2022, following up on earlier character tie-ins with Fortnite and Genshin Impact for Aloy and the advanced state of development of the game.
Advertisement While the head of PlayStation Studios, Hermen Hulst, took to the PlayStation Blog back in June 2021 to say that they were still aiming for a late 2021 release, things didn't pan out that way in the end. With just 6 months to go until the end of the year, it felt like a pretty sure bet at the time. Sadly, it didn't go on to be correct, and our wishful thinking November 2021 outlook proved to tough an ask for developers, Guerrilla.
It would have been PlayStation's only exclusive title available at Christmas, so without it Sony will find it more challenging to win the console war over the festive season. Xbox Series X will have the massive might of Halo Infinite, which has now been confirmed for the 8th December 2021. With HFW now out of the way until late Feb 2022, Xbox was green lit to choose their date and light the touch paper for a big Winter 2021.
Rumours started doing the rounds that Horizon 2 will be delayed into early 2022 in August '21, and as time ticked on they were looking more likely by the day and now we have confirmation. It's going to be a packed Holiday period, so that could be a big reason for Sony to delay, developer timing aside, but without any exclusives for winter 2021 and with Infinite and Forza Horizons 5 on the Xbox side of the battle lines, the PS5 seemed to need Aloy to beef up its prospects. Now we know that's not going to be the case it's going to be interesting to see how the big spending season pans out.
Obviously, we'll confirm things here for the UK as announcements are made, so you can follow us on Twitter to stay tuned and for more on the latest video games releases. You can also see more on Horizon Forbidden West with the official developer Twitter page at https://twitter.com/Guerrilla.
Horizon Forbidden West age rating certification and parents guide
With the recent arrival of the pre-orders on the PlayStation store, PEGI has officially announced the age rating for Horizon Forbidden West in the UK and it has been given a 16 certification. This confirms our pre-release date assumptions based on Horizon Zero Dawn, which also picked up a 16 age rating with the frequency of moderate violence being the main reason for the higher rating. This normally comes where the violence has a life-like quality and with the improved graphics for HFW it looked likely come in with a similar age classification.
In terms of a parents guide, the violence is the biggest consideration. There will be plenty of stealth kills for Aloy with enemy tribes and raiders threatening her as she tries to find the technology to save the world from the red blight. Her weapon options include the bow, ballistics and guns dropped by the machines, so there will be a lot of firepower during the game.
We'll update you with more details on the game as they get confirmed. You can also check out our computer games section, or visit the Horizon 2 PlayStation webpage at https://www.playstation.com/en-gb/games/horizon-forbidden-west/.
PC release date latest
As things stand, Horizon Forbidden West is expected to be a timed exclusive for the PS4 and PS5, but it should eventually get a release on PC. With the official date for the console version still unconfirmed, it's hard to pinpoint when to expect it to launch for Windows systems. However, if history is anything to go by then you might want to pencil in late 2024 or early 2025.
That might seem like an age away, but Zero dawn arrived for PC three years after the original PS4 release and with the second game landing early in 2022 then that makes 2024 the earliest front runner.