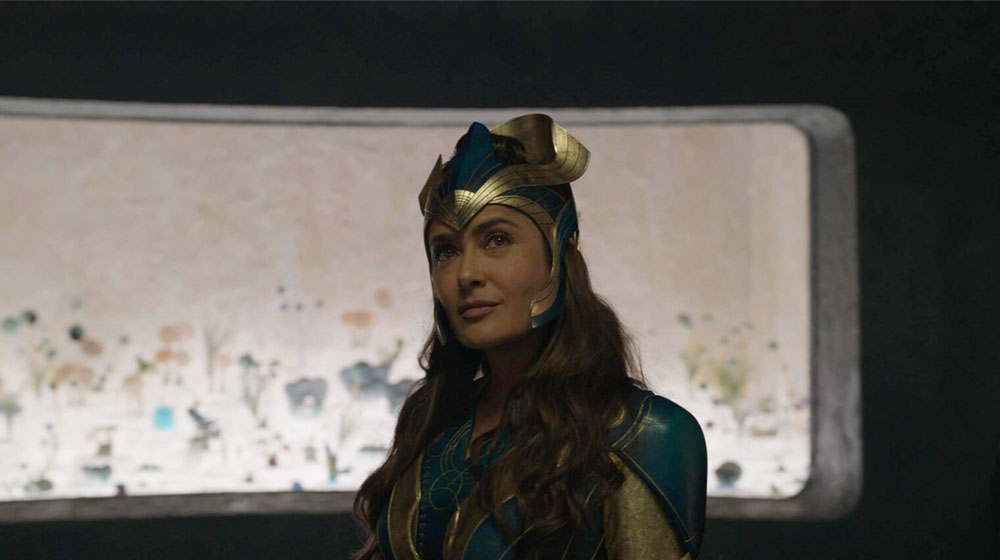 With its recent arrival on the big screen, here's everything we know so far about the Eternals UK DVD and Blu-ray release date for anyone looking to add it to their MCU collection. As with all films in the past year or so, it has been affected by the COVID-19 pandemic,which has added a little complexity into the mix, but we'll try to unpick all of that for you.
It's fair to say that the introduction of immortal superheroes sitting dormant on earth for thousands of years hasn't gone on to sit particularly prettily with critics. However, a lot of Marvel fans have been hooked on the action in the film, along with the potential twists and turns it brings to the future of the Cinematic Universe.
Advertisement The biggest of these came in the mid-credits and post-credits scenes, which hinted a lot about the long term plan for the MCU and a potential sequel for Eternals. If you've seen them both and you're still a little nonplussed about what it might mean, you can check out the links at the bottom of the page to find out more.
UK DVD and Blu-ray release date
With the film still playing in cinemas, the official Eternals UK DVD and Blu-ray release date hasn't been confirmed as of yet, but there's still a lot to go on in terms of the when to expect it for home entertainment. With the film's big screen release taking place on the 5th November 2021, the DVD and Blu-ray should be available to buy around March 2022.
Advertisement This will give it a pretty good shot at Easter gift purchases and holiday viewing, however, there's a minor caveat as we've seen some slightly strange date changes for the home entertainment market. The big examples for this are the
Shang-Chi and the Legend of the Ten Rings DVD and Blu-ray
, along with
No Time To Die
, which both have much shorter time periods between the big screen and home format.
This most likely just a blip on the radar as the two of them try to shoehorn a release out in time for Christmas sales, which isn't at all on the cards for Eternals. The caveat comes if this is a new release strategy for DVD and Blu-ray and nothing to do with the holiday, which would then have a knock on impact here, bringing things forward by a month or so.
Advertisement We'll update you with more details on the film as they get confirmed. You can also check out our
movie news
section to keep tabs on the latest upcoming films, or visit the Eternals movie website at
https://www.marvel.com/movies/the-eternals
.
US release
Going on what is usually the case in the US, it should come out on DVD, Blu-ray and 4K over there around February 2022. This will put it in contention for the half-term sales period with still a little residual impact going into Easter 2022. As mentioned above, the COVID-19 pandemic has shaken things up pretty significantly for the movie world, so it'll be interesting to see whether or not things stick to the norm in the US or we see something similar to the situation for Shang-Chi and No Time To Die.
DVD and Blu-ray details
Age rating: 12A (UK) PG13 (US)
Runtime: 2 hours, 37 minutes
Director: Chloé Zhao
Cast: Salma Hayek, Gemma Chan, Richard Madden, Kit Harrington, Angelina Jolie, Kumail Nanjiani, Brian Tyree Henry, Lia McHue, Lauren Ridloff, Barry Keoghan, Bill Skarsgård.
Don't forget to follow us on Twitter to see more news and updates on upcoming home entertainment releases, and you can see more on the film with Marvel Twitter page at https://twitter.com/marvel.
Review
Eternals may not have won over the critics in general with it's long and sprawling plot and wealth of back-story explanation, but there are plenty of Marvel fans that just enjoyed the action and character development that took place. It was always going to be a tough one to try to fit in so many character introductions in one place, but the job is sort of done now, so really the re-watch value is going to be in the special effects wizardry and epic stunts that take place in film.
You'll also need it as a bit of a reference point for future films. For example, if there's an Avengers crossover film at some point down the line then you're going to want to remind yourself of what the deal is with Sprite when she helps Spider-Man smash up Galactus.
Chloé Zhao may not have delivered the most cohesive film in the Marvel Cinematic Univers, but it is different and it is interesting. It pushes the franchise in new directions and stretches it emotionally with the first gay kiss and the first real love scene in the series' history. For that it deserves a lot of credit, even if it didn't pull off the impossible.
Some might say that James Gunn had a similar challenge with the Guardians of the Galaxy, but really that only had five main characters to introduce and a relatively short timeline to explain. Eternals has ten and aeons of back story to shape, so it had it way harder, without the benefit of previous character buildup that we saw for Avengers. Overall it does a decent enough job and sets things up for new developments in the MCU, with characters that will go on to be at the heart of it all.
DVD and Blu-ray review: 3.5/5
More Eternals features: