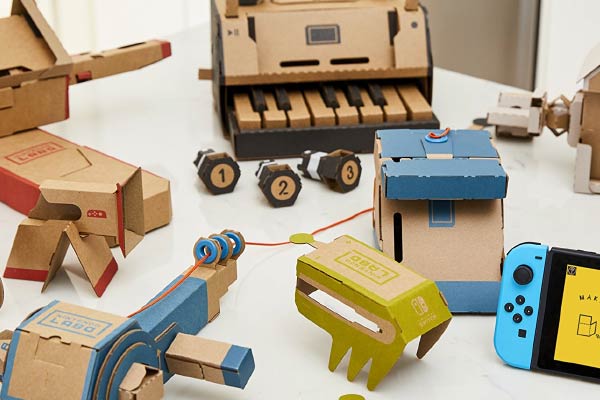 While the big N has always been a trailblazer when it comes to novelty gaming innovation, we're willing to bet any number of Mario's gold coins that no one save Nintendo Labo coming. However, it'll by getting its UK release date early this year with two packs available at launch and you can check out the UK price details for each below, along with all of the details about the new DIY/gaming/craft genius.
What is Nintendo Labo?
Nintendo Labo is essentially a cardboard construction set that will allow you to turn your Nintendo Switch into a number of different gaming experiences. There are two main packs to buy with the first being Toy-Con 01 Variety Pack, which includes cardboard construction sheets to turn your Switch into a piano, a house, a motorbike handle crossbar, a fishing rod, and a remote control rumble bug walker. It also comes with the game card to play a series of games with each of the cardboard creations.
The second pack is Toy-Con 02 Robot Kit, which gives you a series of cardboard sheets to construct a robot costume to stomp around in. This is to go with the robot game that comes with it, putting you in charge of a huge robot, which you can use to smash up buildings and rampage around the game environment in front of the TV.
It also looks like there are some packs that haven't been detailed in full yet with birds and little walker men featuring in the trailer below that aren't in the two packs. You can also check out the trailer if you're still a little baffled by the idea of Nintendo Labo as it does a pretty good job of showing off everything that you'll be able to do with it.
Nintendo Labo UK release date
The Nintendo Labo UK release date has been confirmed for the 27th April 2018, so it won't be here in time for Easter, unfortunately for anyone looking for something completely new to try out over the holidays. However, that should put it in line to be one of the big titles for the summer, as we kind of think it's something that might take a little warming up to.
It's worth bearing in mind that this is just the release date for the first 2 packs of Nintendo Labo. We're expecting more to come in the not too distant future with the possibility of an even bigger concept for winter 2018 if things go well for it in terms of initial sales.
Price in the UK
Toy-Con 01 Variety Pack will retail in the UK for £59.99 and Toy-Con 02 Robot Kit will be slightly more expensive at £69.99. This is pricier than your standard game release, but then it also includes a fair amount of cardboard hardware for you to play with.
In addition to the two main packs, Nintendo will also be releasing a Customisation Set on the same date. This will give you stickers, tape and pencils to put your own design mark on your Labo constructions, which you get a sample of at the end of the trailer. This will cost you £8.99 in the UK.
Nintendo Labo trailer:
First impressions
Nintendo Labo is clearly another piece of gaming innovation gold from the big N and the Variety Pack looks like it's going to be a lot of fun for younger gamers. The Robot Pack has got the potential to be one for everyone depending on the gameplay for the game itself.
The price is a bit on the high side and the release date is a bit in the middle of nowhere, so these issues could slow sales, but everything about the Nintendo Switch appear to be going from strength to strength. We'll be surprised if that doesn't apply to Labo in the end too.
Share the Nintendo Labo UK release date, price and details