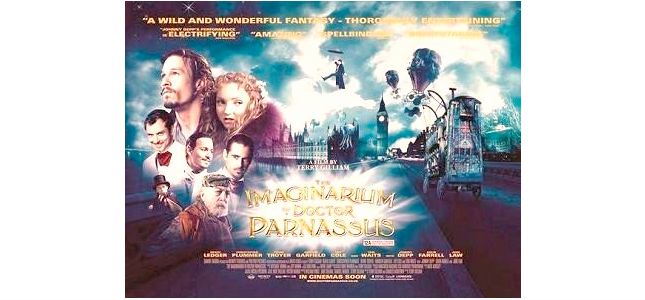 It's hard to mention The Imaginarium of Doctor Parnassus without talking about the death of Heath Ledger. It was the last film he worked on before he died in 2008 (which feels much longer ago than expected) and he never got to finish his role in the film. Left without one of their main actors, director Terry Gilliam et al managed to arrange for Jude Law, Jonny Depp and Colin Farrell (Total Recall remake) to complete the work.
Release date
The Imaginarium of Doctor Parnasus was released on DVD & Blu-ray on the 29th March 2010 and while it never really got the plaudits that Heath Ledger's Joker did in Batman The Dark Knight, it was another good effort from Ledger. The film picked up mostly positive reviews from its stint on the big screen, with just a few lower scores from aggregator sites.
Story
Telling the story of the Doctor Parnassus (Christopher Plummer) and his travelling 'Imaginarium', The Imaginarium of Doctor Parnassus follows the troop as they all try to save the Dr's daughter from the grip of the devil – AKA Nick – (Tom Waits). Having made an arrangement with him long ago to trade his first born upon their 16th birthday for immortality and youth. This is where the Ledger/Law/Depp/Farrell character of Tony the mysterious outsider comes in to help save the day.
The Imaginarium of Doctor Parnassus trailer:
Cast
Christopher Plummer takes on the challenge of the eponymous Doctor Parnassus with Heath Ledger playing the young Tony. Johnny Depp, Jude Law and Colin Farrell were added to the cast to complete the film as variants of Tony following Heath Ledger's death.
The cast also includes Andrew Garfield (The Amazing Spider-Man) as troupe member Anton, Verne Troyer (Austin Powers in Goldmember) as Percy, Doctor Parnassus' right hand man, Lily Cole as his daughter Valentina, and Tom Waits (Seven Psychopaths) as the devilish Mr. Nick.
Production
The film was directed by the great Terry Gilliam, who's previous work includes Montey Python And The Holy Grail, The Adventures Of Baron Munchausen, The Fisher King, 12 Monkeys and Fear And Loathing In Las Vegas. Gilliam wrote the screenplay with Charles McKeown, who he worked with previously on Brazil back in the 80s. He's also one of the producers along with his daughter Amy Gilliam, as well as Samuel Hadida (Sin City: A Dame To Kill For) and William Vince (Capote).
Share the release details for The Imaginarium of Doctor Parnasus DVD: