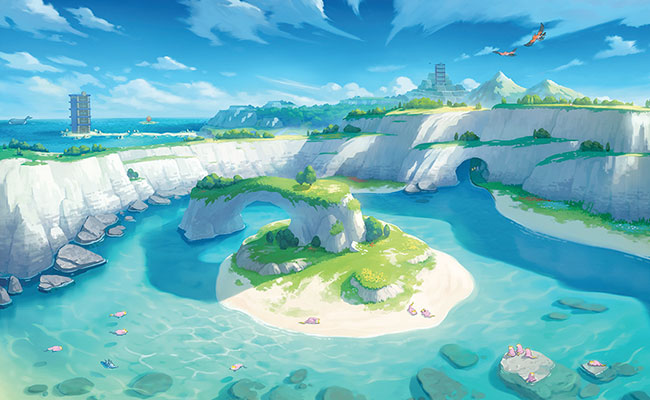 With the recent Nintendo Direct, we got our first peak of Pokémon Sword And Shield DLC 1, The Isle Of Armor, so here's a rundown of what's included. It's the first of two new DLC packs that will release in 2020, adding a timely injection of new elements to the popular game to see it through the summer and autumn months.
DLC 1 will arrive in June 2020 and it's got a lot packed into it, so there's a good amount of detail to go through. It'll then be followed by DLC 2, The Crown Tundra in September 2020, and we'll do a separate post on what's included in it to follow up this one.
Don't forget to check out our Pokémon Sword And Shield guide if you need any tips on the game and you can visit the official website at https://swordshield.pokemon.com/en-gb/ for more info on the game.
The Isle Of Armor
The environment for The Isle Of Armor is a giant island off the shores of the Galar region. As Galar is an island in itself, the location for DLC 1 could be in any direction, so it's going to be interesting to see where it gets placed. There is a small island to the west of the Slumbering Weald, but it looks far too little to be the location, so we're expecting it to be a pan reveal with the map getting bigger. The video seemed to indicate that the location would be out to the east of Hulbury, so we'll see how it all comes together.
This leaves the big question of how you'll get to the island. Obviously, you'll take a train to start with, as you'll find out more about below, but then will it lead to a trip over a bridge or a ferry ride to Armor via Hulbury. Either way, hopefully there will be a stunning cinematic to show you your first approach to the Isle.
The water-locked setting will offer up some new environments to explore and, as you'd expect, beach life will be a big part of it, which you can see in the imagery for the DLC. However, it will also offer up bogland, forests, caves and sand dunes to explore, so it's going to be more diverse than it might look to begin with.
Both DLC 1 and 2 will be large free roam environments similar to the Wild Area at the heart of Galar. The Isle Of Armor will be a self contained seamless map in itself where you'll be able to explore anywhere with character camera control, adding to the experience of the game, which is the first in the Pokémon series to deliver this kind of open world(-ish) environment.
This means that you'll be able to see and interact with other players online on the island, exactly how you do in the Wild Area. This will include Max Raid Battle dens for you to team up against and all of the berry and hidden item pickups that you get with them.
New Pokémon confirmed for Sword And Shield with DLC 1
The addition of the new area will also bring with it a host of Pokémon, but only a few of them have been confirmed as of yet. You can see Volcarona, Seadra, Dedenne and Lycanroc in the Nintendo Direct video, which will also see Horsea included as the prior evolution to Seadra.
If that isn't enough, the video also signalled the opportunity to catch Slowpoke straight away by meeting up with a new rival as she is about to catch a train to The Isle Of Armor. You'll then be able to evolve it into a Galarian Slowbro when DLC 1 gets released. You'll need an evolution item only available in Armor to make the transition and then you'll be able to do a similar thing to evolve into Slowking with an item from The Crown Tundra. You can check out the video below to see how to get Slowpoke now if you missed the Nintendo Direct video.
The other big Pokémon reveal was that Venusaur and Blastoise will be coming to Sword And Shield thanks to Part 1 of the Expansion Pass. It also shows them both getting Gigantamax variants, which look pretty cool. Obviously, if the Island is going to bring Galarian Venusaur and Blastoise then we're bound to be getting Squirtle too.
When combined, DLC 1 and 2 will introduce more than 200 "well known" Pokémon from previous titles in the series, which will take the tally for Sword And Shield up to well over 600. That may not be every Pokémon that has ever been created, because that's a grand total of 807, but it's definitely getting closer and with other free updates planned to coincide with both DLC releases, it's possible we might be getting the full compliment eventually.
If that isn't enough, end-evolution starter Pokémon, Cinderace, Rillaboom and Intellion, will all be getting new G-max forms and gigantamax moves to try out. This will depend on the Pokémon you picked in the game, unless you've been able to trade pickup all three somehow, and from the look of the video they all look pretty cool.
New friends on The Isle Of Armor
The island will introduce a Dojo for Pokémon battles and you'll get an apprenticeship under the Pokémon trainer who runs it. Mustard will become your mentor in The Isle Of Armor DLC and his last protege was former champion Leon, and he's a former champ himself, so hopefully he'll have some good tricks for you.
As mentioned earlier, you'll also get new rivals to go up against with Hop completely out of the picture with his research schtick. This will be Clara for Pokémon Sword, a poison type user, and Avery in Pokémon Shield, who is a psychic type challenger, and if you've already bagged yourself a Slowpoke, or you follow the steps in the video above, you'll have a chance to meet them for the first time.
DLC 1 legendary Pokémon
Pokémon Sword And Shield DLC 1 Isle Of Armor will also introduce a new legendary Pokémon at the heart of the story for the sub-region of Galar. It's called Kubfu, it's a fighting-type and it'll go on to evolve into Urshifu once you complete your training on the Isle.
Urshifu has two different styles. A single strike style that combines fighting and dark type to deliver a single devastating blow. The second is a rapid strike style that combines fighting and water type to smash out a torrent of rapid strikes in a single move.
It sounds like you'll only get to evolve your Urshifu into one of the two styles, so you'll probably need to choose which one you want to go for. However, it's a powerful Pokémon with a brand new ability, and new move for each of its two styles, so it's going to be interesting to see how it fares against the rest of the legendary Pokémon in Sword And Shield, like Zacian and Eternatus.
Urshifa will also be able to gigantamax and each of the two types will have different looks and different g-max moves.
More new features coming with the DLC
The Isle Of Armor will also unlock a load of other new features, as well as new outfits and new customisations for your trainer character. It'll also allow you to change the look for your Rotom bike, so you'll be able to extend your style beyond your main character's clothes, hair and glasses.
Other features that will arrive with the release of the Pokémon Sword And Shield DLC 1 are Tutor Moves, which will bring a new set of moves to the series, and Apricorns, which can be collected and made into Poké Balls. The Isle Of Armor will also introduce Exp. charms, which can be applied to help you earn more experience points for your team, which will help you to level up any new 'mon that you find.
Follow us on Twitter to see more news and updates on upcoming films, and you can find the official Pokémon Twitter page at https://twitter.com/pokemon/.
Full Pokémon Sword And Shield DLC Nintendo Direct presentation