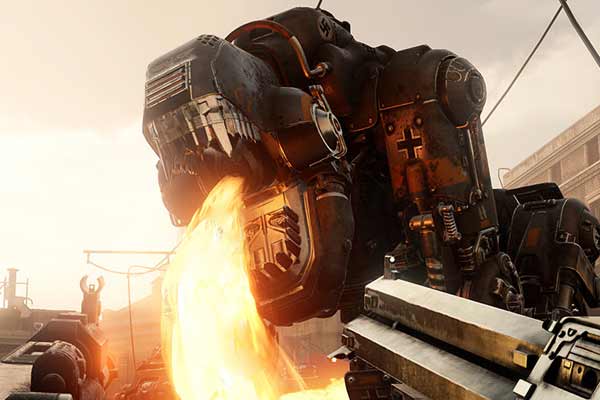 It's time to prepare to jump back into the war against the Nazis. The sequel to the popular Wolfenstein: The New Order is coming, titled Wolfenstein ll: The New Colossus, and there will be a second American Revolution to lead. It's the series' eighth entry, but can it be the best one yet?
Revealed at E3 with a lengthy story trailer, Wolfenstein ll aims to improve on the gameplay formula built in the previous game and give players a riveting story to go along with it. This may be a game which garners controversy, but that's something this legendary franchise has never shied away from.
Release date
The UK release date for The New Colossus is the 27th October 2017, which is the same for the rest of the world. It will be released for PS4, Xbox One and PC but there will be no last gen release unlike The New Order. Unfortunately, the war has already ended for people still stuck with last gen consoles.
Players who pre-order the first person shooter will receive a special mission, Episode Zero. There will be a season pass available containing three more missions, as well as Episode Zero. These are called The Adventures of Gunslinger Joe, The Diaries of Agent Secret Death and The Amazing Deeds of Captain Wilkins. It looks like each mission will focus on a specific important character from the main story.
In addition to coming out on the Xbox ONE, PS4 and PC in 2017, Bethesda has also announced that it will be porting the game for the Nintendo Switch. It doesn't have a specific release date as of yet, but it's planned for 2018, so we'll keep you posted.
Story
The story of The New Colossus is set in a 1961 Nazi occupied America after their victory in the Second World War. It certainly makes for an interesting alternate scenario. Players will once again take on the role of William 'BJ' Blazkowicz, who is recovering in hospital after suffering injuries at the end of the previous game. This was as a result of his battle against his, now deceased, nemesis General Wilheim 'Deathshead' Strasse.
After BJ eventually heals, he decides to try to reform a militant American resistance to ignite the second American Revolution to continue the fight against the Nazis. In order to have a good chance of succeeding, however, there will be a reliance on multiple technological weapons.
This time, things are a bit more personal for BJ, as he has twins on the way, so he's got their future to think about now. He's set his heart on an America that is free of the reign of the Nazi regime and he's going to do everything he can to make it a reality.
Wolfenstein ll: The New Colossus trailer:
Gameplay
As expected, the gameplay in Wolfenstein ll is very similar to its predecessor, with few changes currently known. The biggest update is arguably the ability to dual wield any mixture of weapons. New melee weapons have been added, with a hatchet being one of the new ways to execute vicious kills. Also, commanders can now call in multiple reinforcements to help even the odds when needed.
One interesting addition is that BJ, the main protagonist, has been given more character to make players feel like they are him. This is something experienced in other games like Batman Arkham, where player mechanics are so good that players always feel like they're Batman.
As well as having new technological weapons available to play with, at certain points in the game, players will control this walking, mechanical weapon called Liesel to cause certain destruction. Imagine a robot dog that shoots fire out of its mouth, that's what Liesel pretty much is.
You'll be able to play in a number of different styles – stealth, tactical and all-out attack – with weapons that will help you to hone your preferred style. For example, there will be a set of battle walker stilts that will allow you to shoot down on people or get to higher points in the game more easily.
Graphics
The New Colossus runs on Id Software's newest game engine, id Tech 6, and from the trailer it looks like this new powerful piece of software is being well tested. Environments and characters are more detailed than what was seen in 2014's The New Order, with the effects of the story's seemingly never-ending battle on full display.
Throughout the game, players will encounter cities that have experienced a brutal war. Buildings will be broken down with flames everywhere like the cities have been transformed into Hell. There will also be good old-fashioned American hometowns of the 1960s with Nazi parades and bunting, so it's going to be as surreal as ever.
First impressions
Wolfenstein ll: The New Colossus may just seem like more of the same with a new story and some neat gameplay additions, but that's not necessarily a bad thing. The New Order is beloved by fans who just care about being able to easily jump into this sequel and continue to fight this battle. From the trailer, it looks as if there will no shortage of tense, explosive action.
The end of the year for gaming is packed with major releases as always, with The New Colossus at risk of being swept under the rug by other shooters like Call of Duty: World War 2 and Star Wars Battlefront ll. However, with the game's fanbase and solid potential, it could well end up becoming one of the big surprise hits of the year, much like Fallout 4. Come October, be ready to put an end to the Nazis' reign of terror.
Share the Wolfenstein ll: The New Colossus UK release date, trailer and gameplay details