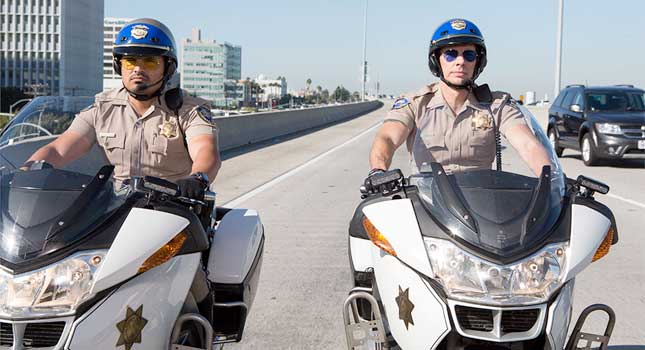 The classic late 1970s early 1980s TV drama on police bikes, CHiPs, had its big screen reboot release earlier in 2017 in the shape of a very silly comedy starring Michael Peña (Ant-Man) and Dax Shepard (Employee Of The Month). In a surprise twist Dax is also the director and writer of the film, continuing on from similar setups for his earlier, lesser known films, Brother's Justice and Hit And Run.
It's obviously not going to be in anyone's best films of 2017 list, but it's one of the next daft comedies planned for DVD, Blu-ray and digital download, following on from Fist Fight, which was out in cinemas a couple of weeks earlier than CHiPs in the UK. For anyone that still remembers the original TV series, you should be warned that the movie adaptation has only a passing resemblance, but you can see it a little for yourself in the trailer at the bottom of the page.
Release date
Cinema:
The CHiPs (2017) UK release date was on Friday the 24th March 2017, which coincided with its arrival at cinemas in the US. It had competition from big budget sci-fi horror, Life, and the Power Rangers reboot, which were all out on the same weekend in the UK.
DVD, Blu-ray and digital download:
The UK DVD release date has been confirmed for the 31st July 2017, but film doesn't appear to be coming out on Blu-ray in the UK, so it looks like DVD and digital are your only options. iTunes has got the film scheduled to own on the 17th July 2017, and we're expecting it to be available to rent on the same date as the DVD release.
Story
Two inane California Highway Patrols (CHiPs) take to the mean streets of LA, bumbling their way from one catastrophe to another. One's an experienced officer and the other is the newbie on the force, but contrary to the norm, they hit it off well when they're thrown together as partners
Things get pretty wild for the duo when they're faced with their toughest challenge to-date as a savage former LAPD cop turned bad rises up in the local crime scene. Stolen cars is his racket, so there should be just as many highway pileups in the movie as there were in the TV series.
CHiPs DVD front cover: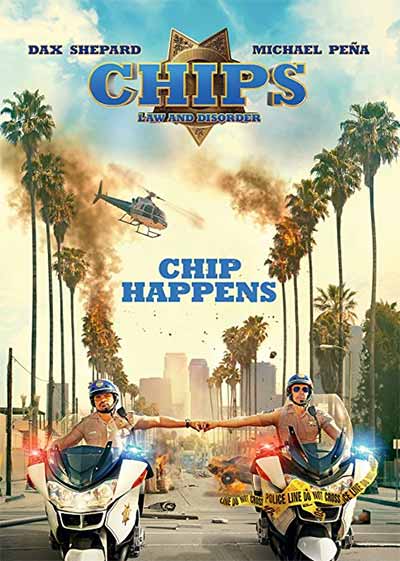 Cast
Dax Shepard plays Officer Jon Baker and Michael Peña plays his partner Officer Frank "Ponch" Poncherello. Kristen Bell (Frozen) plays Jon's wife, matching reality pretty well with Shepard and Bell married in real life too. Jessica McNamee plays Lindsey Taylor, one of their California Highway Patrol compadres, and Vincent D'Onofrio (Daredevil) takes on yet another bad guy role as Vic, the leader of the stolen car gang.
The cast also includes Maya Rudolph (Sisters), Jane Kaczmarek (Malcolm In The Middle) and Justin Chatwin (Doctor Who: The Return Of Doctor Mysterio).
Age rating – 15
CHiPs has been given an age rating of 15 in the UK by the British Board of Film Classification with strong language, sex references, sex, nudity, and violence.
Production
With Dax Shepard writing, co-producing and directing the film, that doesn't leave much for anyone else. The other producers include Ravi D. Mehta and Andrew Panay, and the executive producers are Robert J. Dohrmann, Nate Tuck, Rick Rosner, Michael Peña, and Dax Shepard. Mitchell Amundsen (Transformers) is the director of photography, Dan Lebental (Ant-Man) the editor, Maher Ahmad (Get Hard) the production designer and Diane Crooke the costume designer.
First impressions
You've only got to see any split second of the trailer below to know instantly that the CHiPs movie is going to be an irreverent comedy that will be trying to make you laugh with zero intentions of taking itself seriously. However, the addition of Vincent D'Onoforio into the cast as the destructive crime lord puts a slightly different spin on things and if he captures any of the brutal and intelligent intent that he had in Daredevil and Broken Horses then he could well be a game changer.
If you missed it on the big screen, it'll be out on DVD, Blu-ray and digital download in July 2017, so you'll have another chance to catch it then. Review scores have been pretty stingy, averaging just 1.6/5 on the first page of Google.
CHiPs (2017) trailer:
Share the CHiPs (2017) UK DVD release date, trailer and film details