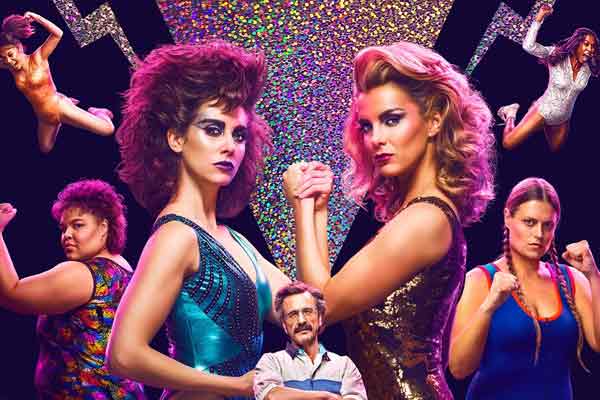 The latest original comedy/drama TV show to arrive on Netflix is the wrestling genius that is Glow and it's well worth checking out for its brilliant take on the Hollywood dream in the middle of the 1980s. For anyone that hasn't caught an episode yet, Glow stands for Gorgeous Ladies Of Wrestling and while there are some gorgeous ladies doing some wrestling, it's got a lot more mat depth than the name implies.
There's just ten half-hour episodes to make it through, and they're a joy to watch with great pathos from start to end, challenging storylines and characters, strong performances and a fair few laughs. It covers everything from fame and ambition to friendship, infidelity and sexual equality in a cleverly subtle way that makes you think a little differently about each of the issues introduced.
That makes it all sound very deep, and there's an element of that to the way things play out with the kind of drama that you might see on a soap opera, but there's also a lot of fun in watching Glow, which keeps you smiling and laughing throughout each episode. It's essentially a sitcom soup drama with great 80s throwback qualities and a very smart modern structure and character development.
The story is cleverly woven together around struggling actress, Ruth Wilder, who, in the desperation to land a job as her rent money dries up, takes an audition for a ladies wrestling TV show called Glow. We don't want to give too much away, because it's well worth watching for yourself, but essentially things get a bit complicated with a straight talking director, wild producer and a burning rivalry as she tries to find a place on the show.
It's a big cast with a wide variety of performance and style of delivery, which suits the show within a show nature of the dramedy. It ranges from Ruth's insecurities, determination and unintentional seething rivalry with soap star dropout Debbie, to a wolf lady, wrestling legend runaway, no nonsense action high kicker, rich party girl and director obsessed kid. They're all well developed characters that you get to see evolve as the show moves towards its pilot episode, despite none of them having any professional wrestling experience.
Glow trailer:
The lead role of Ruth "Zoya The Destroyer" Wilder is played beautifully by Alison Brie (Get Hard), bringing equal measures of comedy genius and dramatic bombshells to string together the pathos laden plot. She's got some great support from Betty Gilpin as Debbie "Liberty Belle" Eagan, Marc Maron as director of the show as Glow director Sam Sylvia and Chris Lowell as producer Bash.
There are plenty of surprises along the way as things look good one moment and rocky the next with the storyline keeping you gripped to binge through the 10 episodes as quickly as you can. Just like the wrestling shows it takes a lot of its inspiration from, it leads you in with what appears to be predictability only to crush you with a clothes line before sending you in a completely different direction.
Glow is a great new show and well worth taking the time to make it through. Each of the episodes are only half an hour, so unlike many original shows on Netflix it doesn't take long to make it through to the end. It's at this stage that you realise that you already miss the characters, but luckily a sequel followed and you can check out the Season 3 music to track the hits to the episodes.
Glow review: 4.5/5
The success of the opening series led to Season 2 and Season 3 continuing the story with more great songs, pathos and wit.
Share our review of Glow on Netflix: