It's been a long time since the wizarding world had a game to get excited about. With the 2023 Hogwarts Legacy UK release date (details below), it's time to dust off your wand and cape and get set for a return to the school of witchcraft and wizardry. You can also read the latest on the story, gameplay and age rating certificate to help you catch up with the rest of the class.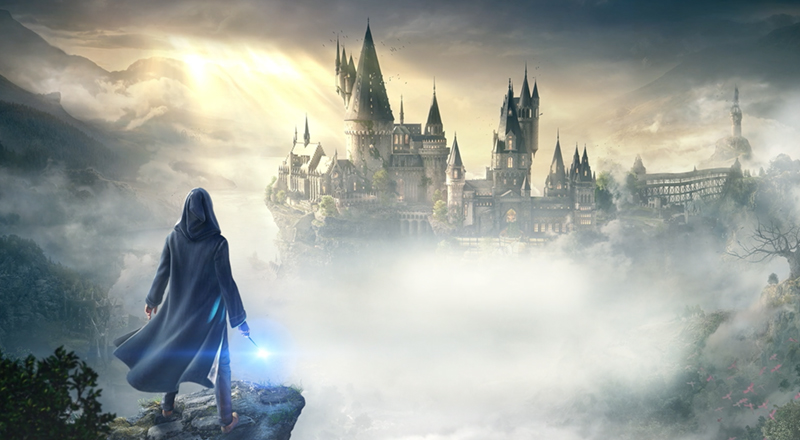 Plot
The plot sees you taking on the role of a student that joins Hogwarts as a fifth year. As you're starting late, you've got a lot of catching up to do with the other pupils having years of teaching already. You've also got a mysterious ability to track and control ancient magic. It's a very rare skill in the wizarding world. As a result, your progress gets a lot of attention from the teachers at Hogwarts.
Advertisement If you're wondering when the game is set and how it fits in with the story of Harris Potter and Fantastic Beasts, it's a whole lot earlier than you might expect. The games takes players back to the 1800s as a Goblin uprising is about to come to a head. To leverage the upheaval, dark wizards are fueling the conflict, which adds another layer to the challenge.
Gameplay
Hogwarts Legacy is an open world 3rd person adventure game set in the famous school of witchcraft and wizardry. You'll also get to explore the grounds and the surrounding countryside and villages, including Hogsmeade. It'll give you access to places that will conjure up the world of the Harry Potter stories.
Advertisement As mentioned above, the game sees you joining Hogwarts as a 5th year student. You'll be able to customise their features before you start your adventure. You'll then need to attend classes to learn as much as you can to catch up with the rest of the year. There's also a lot of exploration to do. This will lead to the mystery behind your powers, the Goblin uprising and the dark witches and wizards that are working against you.
3rd person action
You'll be able to learn a lot of the famous spells to duel it out with your wand whenever you find yourself in danger against wild magical beasts, dark forces or Goblin foes. You'll also learn an abundance of potions to help you along the way. These will range from health and protection to buffs to help you take down your enemies even quicker.
Advertisement If that isn't enough, you'll also be able to fly on a broom or magical creature to get around quicker. There will be Quidditch matches, along with side quests and puzzles in addition to the core story gameplay. This will provide a lot of secretes in Hogwarts Legacy, so there's a lot crammed under the hood.
Don't forget to follow us on Twitter to see more on the latest video games releases, and you can see more on the game with the official Twitter page at https://twitter.com/HogwartsLegacy.
Hogwarts Legacy UK release date
When the deep dive video arrived in spring 2022, the Hogwarts Legacy UK release date was initially scheduled for Holiday 2022, but it has now been put back until the 10th February 2023. The latter was confirmed on the Twitter page linked above with reference to providing enough time to get the game 100% ready to meet fans' expectations.
That gives us the release date for PlayStation 4 and PS5, Xbox One and X | S, and PC, but we're still none the wiser about the when it will come out on the Nintendo Switch. The latest details refer to it being soon, but we might not get anything concrete until the new year.
There are also no details as of yet whether or not the Nintendo Switch version of the game will be a straight release or cloud-based. We'll keep you posted here at Tuppence as more details come out. Open world games run on the console with The Legend of Zelda Breath of the Wild as a good example. But you don't get triple A games like Assassin's Creed Valhalla or Far Cry 6.
Other big titles like Control, Marvel's Guardians of the Galaxy and Assassin's Creed Odyssey have had cloud releases. As a result, it's going to be interesting to see if the Switch version of Hogwarts Legacy does the same when it comes out next year.
Age rating latest
We'll have to wait until we get closer to the release date before we get the age rating in the UK from PEGI, or ESRB in North America. However, as it's a 3rd person action adventure it's easy to compare it to the likes of Marvel's Guardians of the Galaxy. This had a 16 certificate, but with a guns and melee style of play whereas Hogwarts Legacy relies on wand magic to fight.
Perhaps a better comparison would be with the likes Kingdom Hearts 3, which has an age rating of 12. But then even there melee attacks with Sora's Keyblade were a big part of the combat mechanics. There is no sign of this for the open world witchcraft and wizardry release, so it could affect the certification.
Advertisement The most recent Harry Potter is the Lego collection, which is rated 7 and above. It's definitely possible that Hogwarts Legacy might well sneak in under a 12 rating. However, the lifelike graphics and darker threat elements make this a little less relevant. A safer expectation would be a 12.
We'll update you with more details on the game as they're confirmed. You can also check out our computer games section to keep tabs on the game. Visit the Hogwarts Legacy website at https://www.hogwartslegacy.com/ for more details.