The third installment of Colin Trevorrow's trilogy may well have been scythed by critics, but if you just can't get enough dinosaur action then you might still be interested in the Jurassic World Dominion UK DVD, Blu-ray and digital release date. It introduces a wide range of new dinosaurs into the mix and for that might compensate somewhat for the over reliance on action sequences and CGI.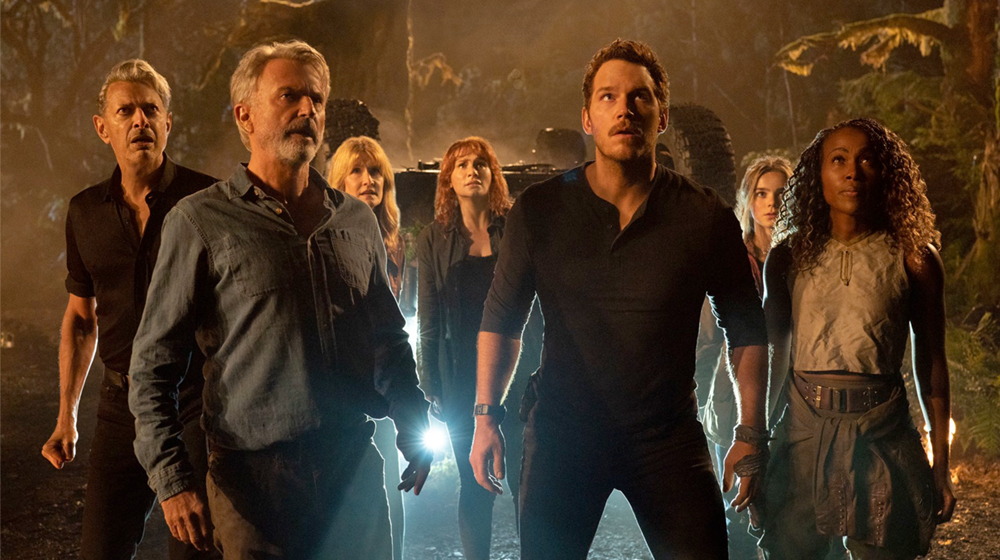 The film is set around a year after the events of Jurassic World Fallen Kingdom and it picks things up with the dinosaurs loose on every continent and ocean as everyone tries to deal with the big beast influx. Claire is an intrepid dinosaur campaigner trying to stop illegal operations from exploiting and hurting the escapees from Isla Nublar and Owen is doing a similar job to protect dinosaurs in the wild from poachers.
Advertisement However, there are larger forces at play with big business at the centre of a catastrophe plaguing the world and the responsibility of looking after Maisie Lockwood, the genetic clone of her mother Charlotte. It all comes to a head with more dinosaur action and the addition of Jurassic Park legends Ellie Sattler, Dr. Alan Grant and Iain Malcolm into the mix for a shot of nostalgia for the final entry in the Jurassic World trilogy.
Jurassic World Dominion UK Blu-ray, DVD and digital release date
Jurassic World Dominion had its big screen debut on the 10th June 2022, so the UK Blu-ray, DVD and digital release date is going to be later in the year to give the film time to make the most out of its cinematic run. However, tracking forward it should come out for home entertainment around late September with digital version of the film going on sale first.
Advertisement The physical versions will come out a week or so after digital, so that should give you Blu-ray, DVD and 4K at least by October 2022. However, it could land towards the end of September too, but either way it'll be available in time for Christmas if you're stuck for prehistoric gift idea.
The movie industry is slowly getting back to the normal run of things in terms of the gap between cinema and home entertainment. It had opted for a shorter release window during the later stages of the pandemic, but this started to creep back up with the success of Spider-Man No Way Home.
Advertisement The only caveat to this for Jurassic World Dominion is that the negative reviews the big screen release picked up might have a know on impact on when DVD, Blu-ray and digital will come out. It doesn't look like the critical response has had that big an impact on the box office success of the film, so as things stands the estimates above should give you a ball park to aim for.
The home entertainment formats will have some residual competition from Bob's Burgers the Movie and Top Gun 2 Maverick, which will be coming out a little ahead of JW3. It'll then face the might of Lightyear closely afterwards.
We'll update you with more details on the release as they get confirmed, so don't forget to check back here as we get closer to the date. You can also follow us on Twitter to see news and updates on upcoming releases, and you can see more on the film with the official Jurassic World Twitter page at twitter.com/JurassicWorld.
North America release date
The release date for North America is often a few weeks prior to it coming out in the UK, and with the franchise's roots in the US that should be the case here. If that's the case then the Jurassic World Dominion Blu-ray and 4K could be out in the US and Canada in early to mid September with the digital version possibly as early as late August.
There have been some changes in North America, though, with early access Home Premier digital rental also being accompanied by a purchase option much higher that at the later date. If you're looking at renting the film instead of going to the cinema, then you might want to see if its also available to buy for a few dollars more.
DVD and Blu-ray details
Age rating: 12A (UK) PG-13 (North America – US & Canada)
Runtime: 2 hours, 26 minutes
Director: Colin Trevorrow
Cast: Chris Pratt, Bryce Dallas Howard, Sam Neill, Laura Dern, Jeff Goldblum, BD Wong, Omar Sy, DeWanda Wise, Mamoudou Athie, Campbell Scott, Isabella Sermon, Justice Smith, Daniella Pineda
Advertisement You can also check out our
movie news
section to keep tabs on the latest upcoming films, or visit the Jurassic World website at
www.universalpictures.co.uk/
.
Review
It doesn't take long into Jurassic World Dominion to see that the brilliance of Jurassic Park has been lost along the way. The two positives to take from the film are that there are a lot of new dinosaurs that sometimes look cool, and you also get to see Alan and Ellie getting together.
It's a bit cynical as a plot device but this old romantic was cheering it on at least a little. However, it's definitely the Pyroraptor that stole the show with a move set that would make Chun Li proud.
The problem is that there is no slow, mesmerizing buildup that made the Jurassic Park franchise so good. Even Jurassic World had good elements of this, but sadly Dominion lacks this key element and replaces it with way too much overblown action.
It's like Colin Trevorrow made a pitch video in an effort to land a big James Bond or Marvel gig instead of a continuation of the Steven Spielberg magic of yore. There's also an over-reliance on CGI, which looks more like a crutch than a device to give wonder to the audience.
In general, Jurassic World Dominion has been well and truly trounced by the vast majority of film critics and it's easy to see why. However, it isn't without the occasional redeeming moment and the film does get better in the second half, so if you're a big dinosaur fan and you just want to watch the Pyroraptor dance then the Blu-ray, 4K or UHD digital versions are the best bet.
DVD, Blu-ray and digital review: 2/5