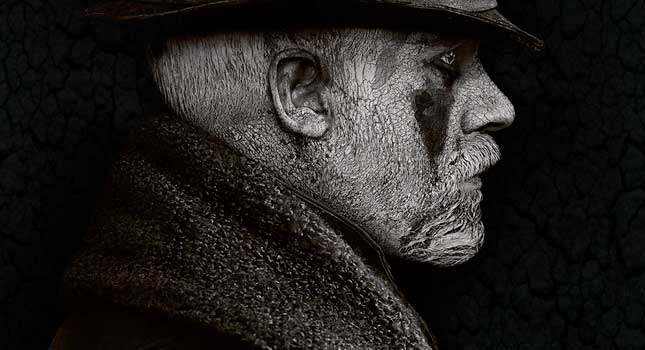 Tom Hardy in the lead role of a BBC production? It's definitely a new dawn for Auntie dearest, but with the success of Peaky Blinders, which Hardy appeared in, the way has been paved for the dark, clever and brutal period drama, Taboo. Maybe having Benedict Cumberbatch's growing stardom in Sherlock started it all off, but this is arguably the most impressive production the Beeb has put together in a while.
It's War And Peace adaptation was pretty far reaching in terms of its recreation of Tostoy's classic, but Taboo takes production values to the next level as it manages to recreate an awe inspiring view of pre-Victorian London. Great set design, fantastic costumes, seamless CGI, smart characterisation and solid casting combine to make this a very credible opening series for the graphic drama.
Tom Hardy (The Revenant) leads the cast as James Delaney as he returns from Africa out of nowhere to attend his father Horace's funeral. It's an arrival that shakes the very foundations of London, from his half sister, who thought he was dead and long gone, right the way through the nefarious East India Company and up to the head of state, the Prince Regent (the future King George IV) played with brilliant self-importance, pomp and power by Mark Gatiss (Sherlock Series 4).
Tom is as dark, savage and clever as the series itself and his performance brings a lot of weighty grit to the drama. He delivers razer-wire dialogue through gravelly tones that are almost as ominous as his intentions for anyone that gets in his way. He's got a lot of presence as he walks the streets of London and his action skills are as intimidating as they come.
There's also a strong stand-out performance from David Hayman (Macbeth (2015)), as Brace, the Delaney household servant, who's loyal efforts switch to James when he returns home. The rest of the supporting cast stand up well amid the big performances with Jessie Buckley bringing a lot of momentum to the series as Horace's young wife Lorna Bow; Oona Chaplin is as pointed as her killer needle as half sister Zilpha; Stephen Graham is dependable, brutal and humorous as James' underworld right-hand-man Atticus; and Jonathan Pryce is the bullish and remorseless director of the East India Company. If that isn't enough, there's also a little dark comedy from Tom Hollander (The Night Manager) as Delaney's reluctant chemist and gun powder scientist Dr George Cholmondeley and Jason Watkins (Nativity) as the Prince's private secretary, Solomon Coop.
The story takes us back to Regency era London as James returns to claim his birthright, shocking his half sister, who thought him dead in Africa. Confessing his love for Zilpha almost as soon as he gets a moment alone with her, it wastes little time in setting out the complexity of the situation that is about to unfold.
The thing he's returned for is the title deed for a patch of land just off the coast of Vancouver called Nootka Sound, which he believes will grant him the trading rights to all the tea in China. It makes for a complex and intelligent setup that keeps on digging right the way through to uncover yet more skeletons, ghosts and treasures as James takes on the might of both the Crown and the East India Company, while also treading a tightrope wire with the Americans.
James makes for one of the darkest anti-heroes we've ever seen. Despite his savage nature when attacked, or his weird insestuous relationship with his half sister, or even the horrors he's purported to have done in Africa, you still find yourself hoping he manages to pull it all off. A part of this is the villainy of the East India Company, but it's mostly down to the skill with which Hardy has managed to build a concealed heart into his character.
Visually, Taboo is flawless with great sets, costumes, special effects and makeup, but it's the cinematography from Mark Patten that really makes it come to life. Perspective is manipulated to draw you into the thick of the story and the excellent shot composition tells as much of the narrative as the dialogue a lot of the time. All of this is structured around a high saturation and detail filming technique and post production that gives Taboo a very unique look and feels, which fits incredibly well with its dark and twisted story, characters and setting.
With such an all-consuming first series it's easy to see why Series 2 has already been announced and if the final episode of the series is anything to go by, it may well have been picked up before it had even aired. Taboo is an exceptional period drama that breaks the mold, picking at the unfettered and ghastly seams of the establishment of the day and delivering an edge of your seat story. It's attention to detail, unique visualisation and excellent performances have sealed its place in TV history.
Taboo review: 4.5/5
Share our review of BBC 1's Taboo with: