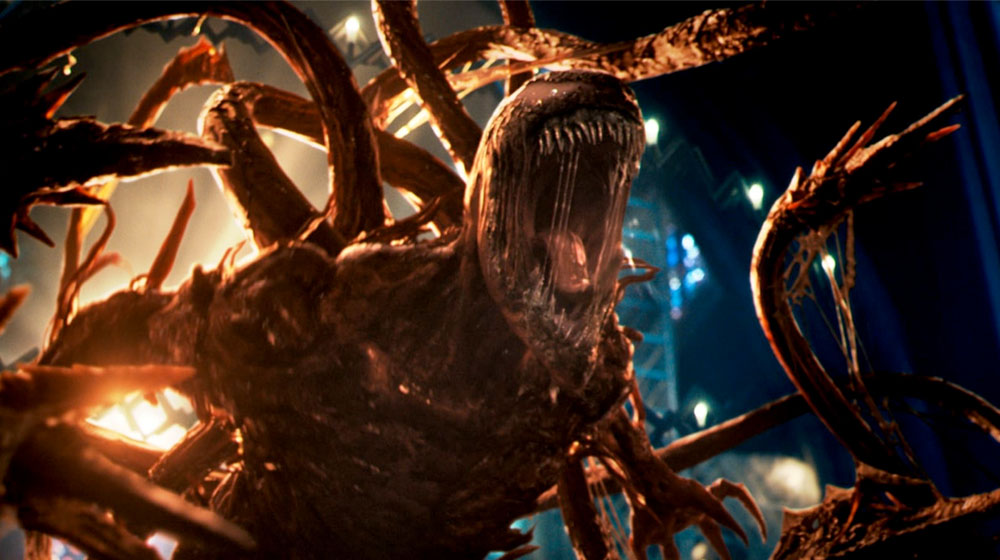 If you've seen and loved the film on the big screen then you might be keen to find our when the Venom 2: Let There Be Carnage UK DVD and Blu-ray release date is. You can get the latest on the details below for the home entertainment release, including our DVD and Blu-ray review, age rating, cast list and runtime.
The plot picks up with Eddie Brock (Tom Hardy) as he continues to deal with life entwined with a violent alien that he has been symbiotically fused with. His problems continue in the sequel as a convicted serial killer – Cletus Kasady (Woody Harrelson) – managed to get his own live-in alien monster, Carnage, and they go on a rampage of destruction that only Brock and Venom can stop.
Advertisement He's also still dealing with the reality of losing his old girlfriend Anne (Michelle Williams) during the events of the the first film and she's got a new guy in her life, who Venom dislikes intensely. If that isn't enough, the killer Cletus and Carnage combo have managed to find their own love interest in Frances Barrison / Shriek – played by Naomi Harris (
No Time To Die
) – and she's got vocal superpowers that hurt Venom, so there's a lot to get through before the credits roll.
UK Blu-ray and DVD release date
Advertisement Going on its October '21 run in cinemas, the Venom 2: Let There Be Carnage UK DVD, 4K and Blu-ray release date should should have been some time in February, but it has been brought forward to the 3rd January 2022. There has been a number of other very quick turnarounds in recent months between cinema and home entertainment release, and it looks like that's the case again for the second part of Eddie Brock's story.
It follows Shang-Chi and the Legend of the Ten Rings, which also had only 2 and a half months between big screen and home release and it's a similar case for No Time To Die. The only caveat had been that both Shang-Chi and Bond 25 have been condensed to land in time for Christmas 2021, which initially seemed like it could be the real reason for the speedy turnaround.
Advertisement However, the confirmed date for the Venom 2 points to a more seismic shift change to UK releases getting closer to the US system where DVDs and Blu-rays come out closer to the cinematic run. There is an outside chance that it's the closest it could get away with for the tale end of the Christmas vouchers and New Year sales, but that's looking less and less likely the more films we see with short turnarounds.
We'll update you with more details on the film as they get confirmed. You can also check out our movie news section to keep tabs on the latest upcoming films, or visit the Venom movie website at https://www.venom.movie/.
North America release
Going on the norm for North America, Venom 2 should come out on DVD, Blu-ray and 4K over there around January 2022, which doesn't give it any of the Christmas sales or the Easter pickup. It was obviously delayed in cinemas due to the COVID-19 pandemic, so it's going to be interesting to see whether or not they stick to the norm or break it in line with the UK release or Shang-Chi and No Time To Die.
DVD and Blu-ray details
Age rating: 15 (UK) PG13 (United States of America)
Runtime: 1 hours, 37 minutes
Director: Andy Serkis
Cast: Tom Hardy, Michelle Williams, Woody Harrelson, Naomi Harris, Reid Scott, Stephen Graham.
Don't forget to follow us on Twitter to see more news and updates on upcoming home entertainment releases, and you can see more on the film with the official Venom Movie Twitter page at https://twitter.com/VenomMovie.
Review
Venom 2: Let There Be Carnage is a dark and seriously over-the-top comic book adaptation with big CGI and stunts in the mix. If you liked the first film then you're going to be just as big a fan of the second installment of Tom Hardy in the title role.
For anyone that hasn't seen the first film, that really should be your starting point for the franchise and will help you to work out whether or not 2 is good for you. They both have a lot of action and there's a certain type of buddy humor that will work for some, but not for others.
There's no word as of yet in terms of the special features, but we're expecting deleted scenes and gag reels to be pretty funny with Tom Hardy transitioning between Eddie and Venom. You'd probably get a similar thing if you spliced his parts of Dunkirk with the best Bane quotes from The Dark Knight Rises.
The film is irreverent, which won't work for all Marvel / Spider-Man fans, and obviously having Venom and Carnage without Spidey could be a sticking point for some old school comic book and TV show aficionados. However, once you get past that, V2 is a fun flick that doesn't require too much grey matter to get into.
DVD and Blu-ray review: 3.5/5
Related Venom: Let There Be Carnage features: