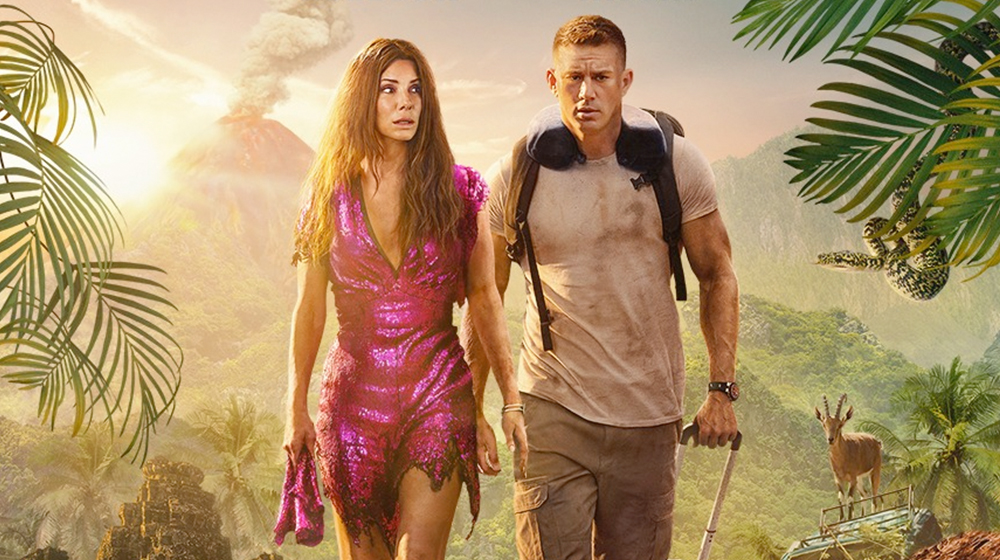 For fans of old school adventure romances like Romancing the Stone, the prospect of The Lost City UK release date is going to be pretty high up on your radar, so here's what we know so far about the film. We'll cover off the story, cast and the latest on the age rating in our parents guide to help you make a call on whether or not this is one to catch on the big screen.
The story leads with romance novelist Loretta Sage (Sandra Bullock) who gets sideswiped by a crazy adventure while she's on a book tour with her cover model, Alan / Dash (Channing Tatum). Things get real when wealthy and slightly deranged treasure hunter, Fairfax (Daniel Radcliff), kidnaps the writer and forces her to help him find his lost hoard.
Advertisement In a bid to prove he's more than just the pretty boy cover model, Alan channels his inner dash (his character's name in the book) and heads out to rescue her. Its a pretty far-fetched setup, but things get even more complicated when a real special forces operative played by Brad Pitt turns up to help with the rescuing too.
Cast
In addition to Sandra Bullock (Minions) as Loretta, Channing Tatum (Free Guy) as Alan / Dash, Daniel Radcliffe (Swiss Army Man) as Fairfax and Brad Pitt (Ad Astra) as the real action here, the film also stars Da'Vine Joy Randolph (Dolemite Is My Name) as Loretta's assistant, Beth. The Lost City cast also includes Oscar Nuñez, Patti Harrison and Bowen Yang.
Advertisement We'll update you with more details on the cast as they're confirmed.
The Lost City UK release date
The UK release date for The Lost City has been scheduled for Friday 25th March 2022, which will give it a long lead in to Easter. It's due to come out on the same date in North America too, so there shouldn't be much in the way of spoilers to avoid before the release.
It doesn't have any new films to compete with on its opening weekend, so it could well take the number 1 spot in the UK. However, it will have to contend with Operation Fortune and Downton Abbey: A New Era, which are out a week earlier, so it's far from a forgone conclusion.
Advertisement It will then have Sony's Spider-Man Universe movie
Morbius
to face at the box office a week after its initial release, so if it does manage to outpace the other films then it might struggle to hold on to it once Morbius arrives.
With the March plan for the big screen, it should then go on to come out on DVD, Blu-ray and digital in the UK around June 2022 going on the current schedule for films.
Don't forget to follow us on Twitter to see more news and updates on upcoming films, and you can see more on the action adventure rom-com with the official Paramount Pictures Twitter page at https://twitter.com/ParamountPics.
Age rating and parents guide
The Lost City age rating won't be finalised by the British Board of Film Classification (BBFC) for the UK until the release date is in touching distance, but you can take a lot from the trailer and comparable films. It doesn't look much like there's too much to be concerned with, so this should come out with either a PG or 12 certificate, which is equivalent to PG or PG-13 in North America.
In terms of the parents guide, you can expect some stylised violence, which Brad Pitt leads on, along with a little rude humor – for example the trailer includes a section where Channing Tatum needs leeches removing from what he describes as his "big old jamba juice". It's the highest level of cringe in the trailer, so hopefully it's as bad as things get in the film.
You can also see in the trailer that there are a fair few silly stunts, a little mild threat and at least a modicum of gun wielding. We'll update our age rating and parents guide with more details on the film as they get confirmed. You can also check out our movie news section to keep tabs on the latest upcoming film releases, or visit the Paramount Pictures website at https://www.paramount.com/.
Runtime
As with the age rating, The Lost City runtime will be unveiled around a week or two before the release date, but romantic action adventures don't tend to be too long, so we're expecting it to be around the 2 hour mark.