If you don't have Netflix and you've been catching the show on either DVD or Blu-ray then you might be interested in the latest on The Umbrella Academy Season 3 UK release date. The 3rd run for the show has recently had its launch on the streaming channel and it's arguably the best yet.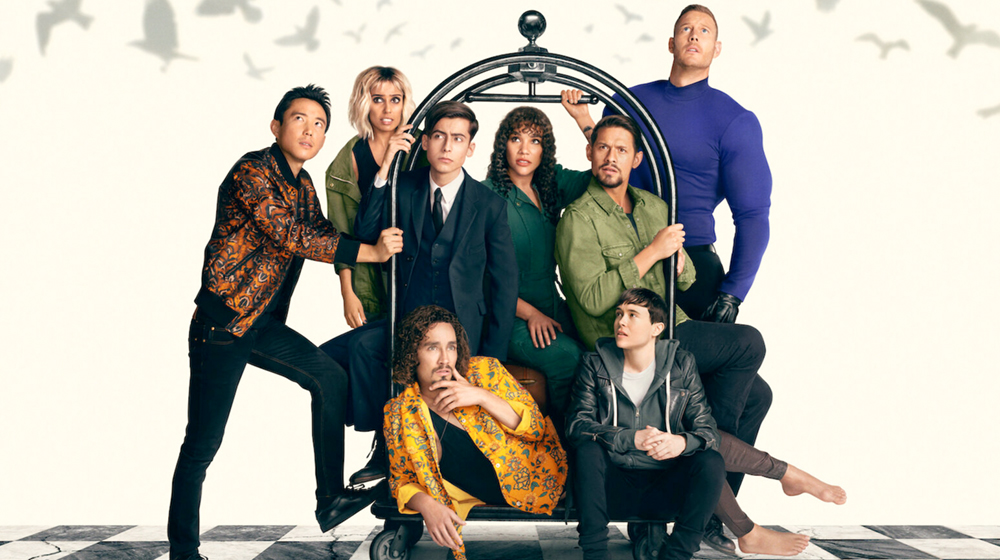 However, as things stand, only the very first season is currently available on DVD and Blu-ray, so we're going to try to put things together without giving away too many spoilers for anyone that hasn't seen the 2nd season yet.
Advertisement The general story is that The Umbrella Academy are a group of superheroes that have been raised and trained by billionaire Sir Reginald Hargreeves. They were all born to mothers who mysteriously became gave instantly on the 1st October 1989. There were 43 children born simultaneously this way, but only seven of them are adopted to form the Academy.
Season 1 ends with the team heading back in time using 5's powers as Vanya destroys the moon and triggers the apocalypse. Season 2 picks things up from there as Umbrellas try to use their knowledge to avert the disaster and get back to the future once again.
Season 3 UK DVD and Blu-ray release date
Advertisement Things are far from official, but looking back on the schedules for everything else The Umbrella Academy Season 3 UK DVD and Blu-ray release date should be around June/July 2024. This will be a good two years after it first arrived on Netflix on the 22nd June 2022, so there's clearly a fairly lengthy wait before it comes out.
However, the good news for anyone that has only seen the first season is that Season 2 has just had its DVD and Blu-ray release, so you can console yourself with ten episodes of pure genius in the meantime. It hit the shelves in the UK on the 27th June 2022, so around a week prior to writing this.
Advertisement Season 2 first came out on Netflix back in July 2020, so it's been a little under two years between streaming and physical formats. It's one of only a handful of Netflix shows that go on to become available on DVD and Blu-ray with the majority of the streaming service being completely exclusive.
Don't forget to follow us on Twitter to see more news and updates on upcoming animated films, and you can find the official Netflix Twitter page at https://twitter.com/netflix.
North America release date
The release date in North America should be very close to the UK, so The Umbrella Academy Season 3 DVD and Blu-ray should come out in the US and Canada around June/July 2024. Season 2 came out a week earlier Stateside compared to the British release, so there won't be much in it when you're looking at a two year wait anyway.
DVD and Blu-ray details
Age rating: 15 (UK) Not rated (North America – US & Canada)
Runtime: 10 episodes at approx. 50 minutes each
Director: Jeremy Webb, Cheryl Dunye, Sylvain White, Jeff King, Kate Woods, Paco Cabezas,
Cast: Elliot Page, Tom Hopper, Genesis Rodriguez, David Castañeda, Emmy Raver-Lampman, Robert Sheehan, Aiden Gallagher, Adam Godley, Colm Feore, Justin Min, Ritu Arya, Britne Oldford
Review
Every episode of The Umbrella Academy is a work of perfection, but Season 3 just about pips it to the best yet post. It's got even more character development, which is incredible seeing as this is the third outing for them all, and the story works brilliantly as a continuation from the epic ending of Season 2.
As with the entire series, the visuals are amazing with some incredibly striking sets, costumes and special effects. However, its the cinematography that allows all of this to shine through as well as it does.
Even when you've seen all of the episodes (back to back in our case) you'll still want to see more. To go back and watch the best bits again and to try to see if you've missed something important about Reg, the timelines and the future of the show.
What this means is that both the DVD and Blu-ray are going to have a lot of re-watch potential, especially with the exciting prospect of Season 4 on the cards. The 3rd season for The Umbrella Academy is up there with Stranger Things as one of the best sci-fi shows of the years and helps to confirm Netflix as the outright leader of the genre at the moment.
DVD and Blu-ray review: 5/5
Check out our movie news section to keep tabs on the latest, or check out the official show page on the Netflix site at www.netflix.com/gb/title/80186863.