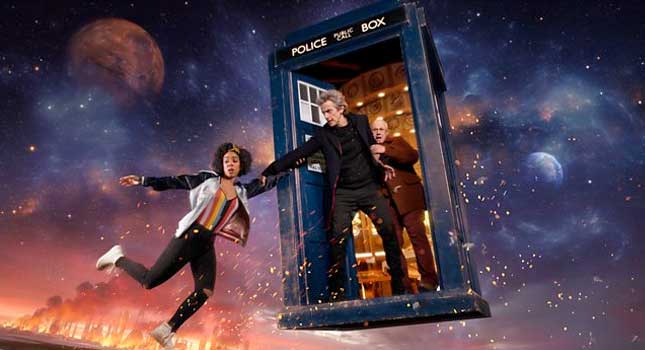 Now that we're three episodes into Doctor Who Series 10, it's probably fair enough to put together a review of the opening action from the sci-fi fan favourite. Knowing that it's going to be Peter Capaldi's final series puts a lot of emphasis on the importance of the episodes that follow, as it closes off one chapter and opens up another, but it's already showing promise.
Putting that unknown aside for one second, we can say straight away from the first three episodes that it's already working out to be a lot of fun to watch. There's an exuberance to the series which kind of takes the edge off the most serious elements that have gone before it, which makes for a positive fresh start, or at least the start of one.
There have been deaths and irreparable separations to deal with over recent years, so it kind of feels good to reset the clocks a little.
The episodes have been a strong mix, taking us from the Doctor's university hideout in the present day, to a futuristic Earth colony out in space and back to Regency London. We've seen water monster body snatchers from outer space, a quick jaunt to see the Daleks, a tragic love story, killer microbots in the far reaches of the galaxies and a giant monster underneath the Thames. All-in-all, it's been one wildly spinning ride and we're still only three episodes into the series.
Peter Capaldi continues to be a great Doctor, combining the wise head of the more traditional incarnations with the "run into the face of danger" action of the more recent Timelords. He tackles weighty questions with serious intent and excellent delivery, but still manages to be a good laugh most of the time.
He's joined by Pearl Mackie as his new companion who seems to be doing a pretty good job following her scholarly introduction in episode one. It didn't take her long to develop a pretty good on-screen dynamic with the doctor with some good jokes, great questions and a strong challenge. She may not be the greatest actor we've seen in the TARDIS, but she's been doing a pretty good job with the array of interesting stories in the opening episodes.
She's got good balance as she deals with the realities of being a Timelord companion, whether it's the death of an innocent bystander, the killing of an enemy or the loss of a potential love. She's made it through all of the challenges fairly well up until now, but it's clear that things are going to get tougher before the end of the series so she'll have more than a few real tests to come.
The continued presence of Matt Lucas as Nardol adds a decent amount of comedy value into Series 10, but it also introduces a little mystery to it all. The vault that the doctor has been sworn to protect is starting to become an integral part of the overarching plot for the entire series and although we only get fleeting shots and minor references as of yet, it feels like it's only a matter of time before things boil over.
Visually, the series has been pretty impressive with some good special effects and a lot of stunning large-scale set designs. However, there are also a number of B-movie sci-fi effects to put a smile on your face with throwbacks to the earlier days of Doctor Who.
The look of Series 10 is rounded off by yet more great costumes from the team behind the show. We've had futuristic spacesuits, incredible Regency-era costumes and hilarious 19th-century diving suits. With plenty more episode to go to go or expecting a lot from the costume department.
Overall Doctor Who Series 10 is a lot a lot of fun to watch with a few great adventures already in the bag, however, the fact that there's a sense that it's holding back on something big is probably the most exciting element of the show. Fingers crossed it lives up to expectations.
Doctor Who Series 10 review: 4/5
Share our review of Doctor Who Series 10 with: