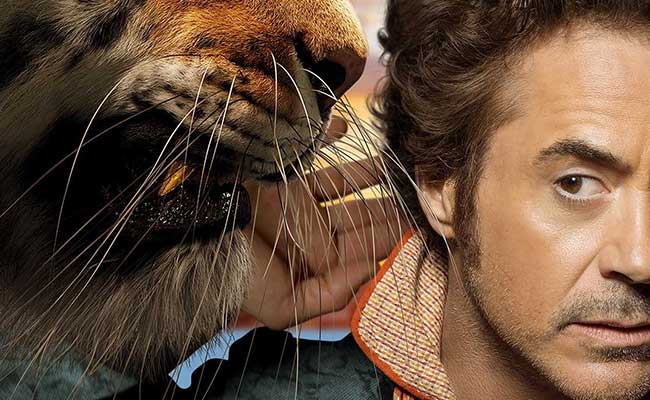 To start things off in our Dolittle DVD, Blu-ray, digital and 4K Ultra HD review it's worth acknowledging the fact that the film has already struggled in terms of the critical response. Review scores haven't been kind to the film following its slightly earlier release in the US, but having recently seen the film it seems like the vast majority of them may well have been a little unfair.
The reason for this is that they tend to review all films by the very same yardstick, instead of reviewing them for what they are or what they have set out to be. In the case of Dolittle, it's a fun family adventure that aims to put a smile on young and young-at-heart faces and in that it achieves its goal. Reviewing it in any other context is an exercise in the ridiculous, so hopefully enough people get to read this review to counterbalance the po-faced absurdity of the others.
The reality is that Dolittle has its minor faults, but they are no reason not to see it if you're looking for a family friendly adventure, or to get it on DVD, Blu-ray, digital or 4K. In the very least, it's wholeheartedly worth catching on rental when it comes out. However, if you don't fit into that catchment and you're a Marvel fanboy that just wants a little more Tony Stark charisma following Avengers Endgame then you're barking up the wrong Eden Tree.
Robert Downey Jr. does a solid enough job of embodying the animal chatting Doctor Dolittle in his own quirky way and while the accent isn't really bang on the money for anywhere all of the time it's a unique take that adds to the fun of the film. There's only really one scene that doesn't work in the context of the film and it's when the Doctor hurls one of his beloved animals overboard. It's kind of meant within the spirit of the unreality that the film sets itself, but it really doesn't feel in keeping with the animal-loving nature of the Dolittle name.
The rest of the ensemble cast add their own little dusting of fun to the film with Emma Thomson (Men In Black International) grounding things as the Doctor's Macaw 2nd/1st in command Poly and Rami Malek (Die Another Day) bringing a lot of heart to anxious gorilla Chee-Chee.
Tom Holland (Spider-Man Far From Home), Selena Gomez and Marion Cotillard are a bit missing as lurcher Jip, giraffe Betsy and Fox Tutu. However, John Cena (Fast & Furious 9) is pretty good as go-to polar bear Yoshi, Kumail Nanjiani has some good lines as ostrich Plimpton and it's a similar story for Jason Mantzoukas as dragonfly James.
The best of the voice cast are Octavia Spencer as off-kilter duck Dab-dab, who seems to be obsessed with vegetables and Craig Robinson as hilarious squirrel Kevin, who has this brilliant Star Trek ships log bit. Ralph Fiennes is well-frayed as temperamental tiger Barry and Frances de la Tour is quality as the more mythical contingent in Dolittle.
Antonio Banderas is pretty mean as king of the pirates Rassouli and both Michael Sheen and Jim Broadbent are ridiculously over-the-top adversaries for the Doctor, adding to the tongue-in-cheek nature of the setup.
To address one of the more prominent review publications, the point of the film is that if you put your mind to it, try really hard, trust in your friends and have a good tail wind then anything is possible. It's this sentiment, and the great special effects, that makes the DVD, Blu-ray, digital and 4K Ultra HD release such a good prospect for family viewing. It's definitely one that will be watched again and again, and there are enough good gags to keep the parents from going insane on the bajilionth play.
You can read more about the DVD, Blu-ray, digital and 4K release date at www.tuppencemagazine.co.uk/dolittle-dvd-blu-ray-digital-rental-4k-ultra-hd-release-date-uk/ or check out the official website at www.dolittlethemovie.com.
DVD, Blu-ray, 4K Ultra HD or rental?
While there's more to Dolittle than the CGI and special effects, this is the biggest point in your decision if you're looking to buy it for the family. To get the best out of this you're going to want to go for either the Blu-ray or HD digital version of the film, which will be the best value for money. The DVD option will still make for good family viewing, but it will be in standard definition, so some of the big moments won't have as much impact and it won't come with much of anything in the way of special features.
If you don't have any youngsters around then this might not one to add to your collection at all unless you're a big fan of family adventures, but if you're looking for some silly fun and nice sentiment then it's perfect for movie rental night when the home entertainment release date rolls around.
Review scores (with family viewing in mind):
DVD – 3/5
Blu-ray- 3.5/5
4K Ultra HD disk – 3/5
Digital (standard definition) – 3/5
Digital (HD) – 3.5/5
Digital (4K) – 3/5
You can follow us on Twitter to see more film news or check out the official Twitter page at https://twitter.com/DolittleMovie to see more on the home entertainment release.