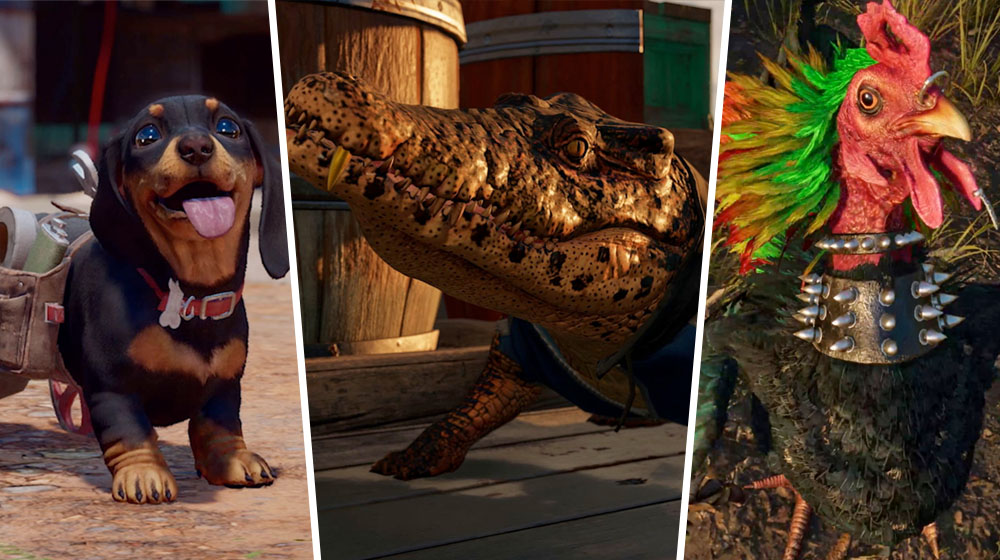 With the release it's time to start to go over the Far Cry 6 animals in a lot more details. It's still early days as of yet, but you can get more details on the critters in the game below, starting out with the very first animals that you run into before following it up with a rundown of the Amigos and the rest of the wild creatures that you can find throughout Yara.
This will include details on the locations for all of them, to help you find them in the open world setting. With hunting challenges to take on, there's a lot to get out of knowing how to pick up a particular type of creature. The list of Far Cry 6 fish at the bottom of the page will round things off, so that there's no stone unturned, no shallows unexplored and no skin un-skinned (erm… you get the gist).
Advertisement To begin with, Dani washes up on the shores of an island after Antón Castillo orders the ship she's on to be destroyed, taking away her escape to a new life in America. It doesn't take her/him (depending on your choice of lead character) to run into Yara's very first animals, which are the crabs scuttling across the beach.
There isn't much you can do with them, but soon after this you'll encounter dogs that you can pet and horses that you can ride to get you started on your wildlife odyssey.
Far Cry 6 Amigos – pets, fangs and claws for hire animals
Advertisement From what we can see, it looks like there are a total of five amigos that you can recruit in Far Cry 6. They're much the same as the pets for hire in Far Cry 5, which included Peaches the mountain lion, Cheeseburger the firendly grizzly bear and Boomer the throat ripping dog. It makes for a cool list of animals and it's nice to see it being build out a little more with cosmetics to change their appearance.
Guapo
This is the crocodile that befriends Dani after you meet Juan Cortez. Guapo is pretty full-on, so don't take him along with you if you're aim is stealth. However, he's pretty powerful, so does a lot of damage when you sick him on an enemy. He'll move around attacking enemies if you just let him tag along, so he's a good one for general crowd control.
Chorizo – Pet Chorizo at the Montero Farm in Mogote Foothills
Advertisement You'll need to get past the Isla Santuario blockade and head to meet up with Philly to start the process of unlocking Chorizo. You'll then need to help the Montero daughter Espada before you get to visit the farm. Once you're in you can find Chorizo, pet him and then there are two missions to complete for him, but the second is mostly him giving you lots of treats. If you get stuck on where to find crocodiles, you can see more detail in the section below.
The cute little sausage dog is pretty much the opposite of Guapo. Chorizo is all about stealth and can help to lure and distract enemies, so you can take-down to your heart's content. You can set him on an enemy, but this will be pure distraction as he doesn't actually do any damage by himself.
He's got some cool cosmetics to try, which look cool when you take a break to pet him.
Chicharron – Speak to Reinaldo at the Alvarez Farm in Vacia Coast
This is the mental rooster that you get from Reinaldo, which will start the Pecking Orders mission. You'll then need to protect Chicharron as he goes about doing mischief and then there's a second mission to protect him while he's destroying papers before you unlock him as one of your amigos.
He's even less quiet than Guapo, because he'll also destroy gasoline barrels at will, so if you're looking for total carnage then he's a good one to have along for the ride. He doesn't do as much enemy damage as Guapo though, so you might want to take that into account when deciding which animals to take on a mission.
Boom Boom – Read the shipping note at Camp Maximas in Cienaga Nublada National Park
We don't want to spoil the fun when it comes to Boom Boom, so all we'll say for now is that you can see from the shadow outline on the Amigos page it looks like this pet for hire will be similar to Boomer. To get him on your team, you'll need to make it to Camp Maximas to meet up with Talia and Paulo. Once you save them and open the camp, you'll be able to find the shipping note, but if you're struggling with the location you can see where to look in the video below.
The note will then direct you to Feroza, which is next to the zoo, and it's here that a weapons shipment has gotten combined with a doggy transfer. Head over to the location and you'll them need to search for light blue shipping containers until you get the right one.
This can be a little misleading, because they're not all in the yellow search area for some reason, so you'll need to search a little further afield. Aim to the west of town and you should find Boom Boom in the container in the large building on the outskirts. If you struggle with the location, you can see it on the map in the video below.
Oluso – Return the three Triada relics to the Oluwa Cave in Ventura Summit
Advertisement Oluso is by far the best amigo in Far Cry 6, and the shadow was right about it being a big cat. It's a black Jaguar with the South American setting and it's great for stealth with its shadow strike attack.
You'll start on the journey to unlock Oluso when you find and discover Oluwe Cave in Isla Santuaria, and you'll find out that there are three Triada relics scattered around Yara. Get them all and bring them back to the cave to unlock Oluso after a mini boss fight with her spirit form.
If you're struggling with the first relic you can find out how to complete Oku's Triada Relic with our walkthrough. The only other one that will cause you trouble is Ida's Triada Relic and you can see how to make it through the zipline and grapple course in the video below.
If you want to support us here at Tuppence Magazine, you can follow us on Twitter to see gaming news and reviews. You can also stay up to date with the Far Cry series with the official Twitter page at https://twitter.com/FarCrygame.
Other animals in Far Cry 6
This is a list that we'll be building out, but there are a couple of animals that you can hunt in Far Cry 6. Most of them will hunt you right back, so if you get too close to them they will start to do damage to Dani and you amigos. As a result, it's a good idea either to take them out quickly to pick up the materials or to run away if you're not interesting in hunting.
Mongoose – these dudes are fairly well dispersed throughout Yara and will attack savagely on sight. There's a hunting spot to the south of Bustamante Farm in Lozania, Monjas Valley, Madrugada.
Wild boar – these are found in the lush forest glades that dominate the countryside and will rush you if you get too close.
Vultures – you'll find these as soon as you walk up the beach on Isla Santuario.
Pelicans – these fish gulpers are located along the coastline wherever there is an abundance supply of fish for them to catch.
Yaran Crocodile – in addition to Guapo, the islands of Yara are inhabited by a fair few other wild crocs. You can find a good hunting ground for Yaran crocodile in Madrugada to the south of the Montero Farm in the wetlands of the Serpentino Park.
American Crocodile – the Yaran cousin can be found to the south east of Segunda in Cruz Del Salvador, Valle De Oro.
Advertisement Alpha crocodile – you can find these in the sewer system in Esperanza. Fast travel to the San Cayetano Orphanage Guerrilla Hideout in the south of the city and head north east to where the river goes under the city. Head in and smash up crocs to get the alpha.
Coyote – there's a hunting spot to the East of Montero Farm.
Alpha coyote – unlike the alpha crocodile, you don't naturally encounter the alpha dogs during mission progression. However, the clue comes from the croc's presence in Esperanza. If you follow a similar concept and look for the coyote hunting spot to the south west of the capital city, just west of El Presidente Square, you'll be able to find alpha coyote in the mix as you hunt.
Jaguar – these are among the most illusive of Far Cry 6 animals, but you can find a hunting spot to the west of Verde River, close to the coast of Sierra Perdida.
Deer – the hunting spot is located between Verdera and Palma Forest in Lozania, Madrugada.
Hutia – these little dudes have a hunting spot to the east of the Bolero Hideout, north of Torrero Beach in Sierra Perdida, El Este.
Hare – you'll need a decent amount of stealth to sneak up on hares, but you can find the hunting spots to the east of Mt. Liani in Lapida Mogote, Sierra Perdida, El Este, and to the west of F.I Escudo Steel Plant in Aguas Lindas, Madrugada.
Duck – it's time for duck hunt baby! All the time on the NES is finally paying off… Anyways, you can find the hunting spots to the south of Ventosa Peninsula in Barrial, Valle De Oro, and on the westward tip of Serpetino Park in Costa Del Mar, Madrugada.
Mythical animals
In addition to the standard animals above and the fish below, there are also a number of mythical hunting spots where you can get resources to trade for special gear. Check out the list below for the locations:
Mamutito – this big beast boar is located in the North of Isla Santuaria to the east of the blockade and north of Cayo Segura Peninsula. Try to snipe it in the head from afar to pick it off without giving away your location.
Venodiente – find this killer croc in the middle of the inland island between Punta Grata and Crocodrilo Swamps in Cienaga Nublada National Park, Balaceras, far to the west of Camp Maximas.
Black and White Demoniaco – to find the location for this duo, head south, south west of Ida's Refuge in Aguas Lindas, Madrugada.
Sanguinario – this turbo jaguar can be found on the coast to the south of the Bolero Hideout, to the west of Torrero Beach in Sierra Perdida, El Este.
Far Cry 6 fish
As with the other animals listed above, the Far Cry 6 fish rundown below is a work in progress, but we'll fill it out to include everything that we find along the way. This will include tips on how to get them and where to find their locations.
Snook – these evasive fish can be found at a fishing spot to the north of Prado Meadows on Isla Santuaria.
French Grunt – these bif fellows are tough to reel in, but if you're up for a challenge you can find the fishing spot to the east of Corto Bay on Isla Santuaria's south east coastline.
Carp – fast, but relatively easy to catch, you can find the carp fishing spot in the lake north east of Tobacco Valley in Madrugada.
Angelfish – these beauties can be found North of Oasis Plains in Aguas Lindas, Madrugada. Head past the airfield towards the norther coast to hunt for them.
Barracuda – these are the long, fast fish that will attack you with extreme prejudice out in the shallows surrounding the island. Take them out quickly if you don't want to take too much damage. You can find Barracuda hunting spots to the east of Liberdad Island, near the jagged rocks out in the water of the south coast of El Este, west of Torreno Beach, and in the bay to the south of Oku Creek in Barrial.
Advertisement Tilapia – these are hard to catch and chomp down bate. There's a good Tilapia fishing spot in Roja Bay, Oasis Plains, Aguas Lindas to the west of Esperanza.
Biajaca – these evasive fish can be found to the south of Castillo Senorial Tobacco Factory in Tobacco Valley, Madrugada.
Tench – this high speed fish can be found between Palma Forest and Almendras Hills, south west of Esperanza.
Lion fish – these look very cool and for the most part they'll stay away from you, but if you go looking for trouble you will find it with their poisonous barbs.
Reef Sharks – get a little further out in the water and you're bound to run into a few sharks along the way and yes they bite like hell. There are hunting spots south of Tobacco Valley in Madrugada, north of Lapida Mogote in Sierra Perdida El Este, and north of Bobre Shores in Aguas Lindas Madrugada.
Bull Shark – the hunting spot for these is north, north west of Duende Island in Barrial, Valle De Oro.
Parrotfish – another fast fish, these can be found in between the two islands north of Ida's Refuge in Aguas Lindas, Madrugada, and also off the coast of Bellenada Peninsula, south of Muerte Point in Barrial, Valle De Oro.
Permit – you'll need to fish deep for these low lying flat nose chunks. There's a fishing spot for them north of Muerte Point in Barrial, Valle De Oro.
Catfish – another bate gobbler, this ugly monster is located in the estuary west of Chivito Mogote in Aguas Lindas, Madrugada. You can also find a fishing spot close to the little town of Maldito south of Sombreado Gorge in Conuco, El Este.
Gar – this is a predator fish and you can find it in the inlet under the bridge closest to the see at the Anguila Strait leading out into the Anguja Bay in La Joya, El Este.
You can check out how to take a photo in Far Cry 6 to get some tips on the photo mode or check out the Far Cry website for more details at https://far-cry.ubisoft.com/game/en-gb/home.