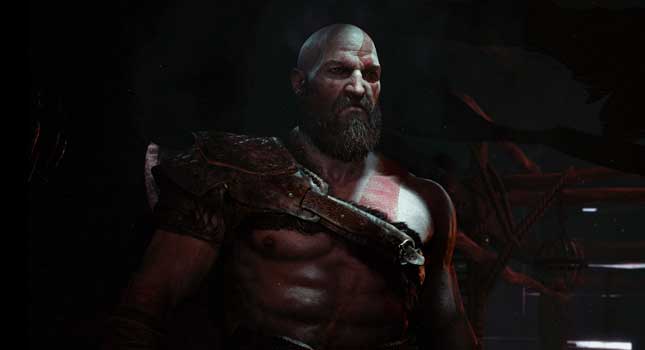 The ground shook at the PlayStation reveal of God Of War at E3 2016 with fans of the Greek mythology epic getting pretty excited at the prospect of mashing monsters, gods and kings in the latest twist in the story. The biggest news from the event was that change is afoot for God of War Kratos with a whole new location, the inclusion of a son and a very different main attack weapon to get to grips with and you can see it all in action in the gameplay trailer video below.
Developed once again by Sony International Entertainment's Santa Monica Studios, it should have all of the hallmarks of the incredibly popular series, but with the added firepower of the PS4 behind it. It's the eighth outing for the game, but the first made specifically for the eighth generation games console, bringing Kratos up-to-date in impressive detail, so it should be on course to live up to fan's expectations.
Release date
God Of War hasn't been given an official release date as of yet, which is pretty standard for a game that has only recently been announced at E3 2026. However, it's very, very doubtful that it'll arrive this year, so you might be wise to pin your hopes on Autumn/Winter 2017. There's a small outside chance it could land a little earlier than that, but with such a big-name release it doesn't really make sense to launch it outside the tinsel and mince pies time frame.
Story
Having had eight games set within Greek mythology, the next installment will see Kratos battling it out with the Norse powers that be, so expect trolls, ogres, and the Norse gods to be his challengers this time around. If that isn't enough of a complete change of direction to get your head around, he's also managed to sprog up, with his son featuring heavily in both the story and the gameplay from the look of the reveal trailer, which you can see below.
It's set a fair few years after the events of God Of War III with revenge stamped well and truly on the gods of Olympus, Kratos has taken up residence in the lands of the Norse gods with his adolescent son. Acting as his mentor and teaching him how to hunt and battle the beasts that roam the realms that they live in, he's decided to attempt to master his rage and leave a more positive legacy for his son.
He's also described as "living as a man", so we're assuming from this that he's left his deity mantle behind him. However, we'll be very surprised if he doesn't reconnect with his God of War title before the end credits roll on the main campaign, and if that's the case he'll have Odin to face up against, along with his son Thor, so it could go on to be slightly at odds with the Marvel Cinematic Universe that we've all come to know and love.
Gameplay
The single-player only, third person action adventure game will switch things up a little from the gameplay of previous titles in the series. The gameplay trailer below provides a pretty solid run through of some of the main differences in practice, but the most significant news is that there be a number of role playing concepts added to the gameplay. This will range from earning knowledge points to the ability to unleash Spartan Rage at certain times throughout a battle.
It's added to by the inclusion of Kratos' son during battle, who can be used to attack opponents as he learns to fight alongside his dear old dad. His skills will develop as you progress and teach him new skills and abilities, as he tries to win your respect, so he'll be a big part of the gameplay in this new direction for the series.
Kratos himself will fight a little differently than in previous games, as Santa Monica Studios attempt to inject new life into the legendary character. With his chain blades gone, he now fights with a magical axe, which he can use to hack down enemies with combination moves, as well as using it as a projectile to kill baddies from afar. He can also call the axe back to him, which looks very similar to the same trait that Thor has in his Marvel guise.
The axe isn't just a weapon of destruction though, as it will also be used as a tool as a part of the exploration side of the game. This gives a fairly good indication that crafting and scavenging for loot will be part of the gameplay too, giving it comparisons to games like Tomb Raider.
The action in the game is delivered through a new, more fluid gameplay perspective with the camera angle progressing from the cinematic approach of previous releases to an over-the-shoulder, free camera. This is designed to put you as close as possible to the action as you dish out the punishment in the Norse realms, while also giving you more freedom to choose your gameplay viewing angle.
There will be no multiplayer gameplay in God Of War, so if you liked the approach taken in Ascension, you'll need to move on pretty quickly, because this is going to be a single-player-only title. It does, however, mean that Santa Monica Studios have been able to dedicate all of its efforts on the story and gameplay of the campaign, so it should be large and sprawling.
Graphics
Visually, the game is strong from the look of the trailer below, without necessarily doing much new, or pushing the boundaries beyond what we've seen from other big 8th gen games over the year. The environmental features like the footprints in the snow are nice and the monsters look epic, especially the giant ogre Kratos and his son have to face half way through the trailer.
The facial rendering is good, in particular for Kratos, but there's just enough clunk about his son to make him look a little too sprite-like. Movements appear to be the main chink in the armour, despite Santa Monica Studios' obvious good intentions, and his face looks a little too much like it's made from constituent, loosely connected parts to feel like a real boy's face.
First impressions
God Of War looks like it's going to be an incredible adventure and with the new beginning reboot of the series in the realms of Norse mythology works very well for the bearded, older and wiser Kratos. Giving him a son, who features so heavily in the story and gameplay, is a potential stroke of genius, so this could be a major coup for Sony when the release date finally rolls around.
Share the God Of War release details, story and gameplay trailer with:
God Of War trailer: