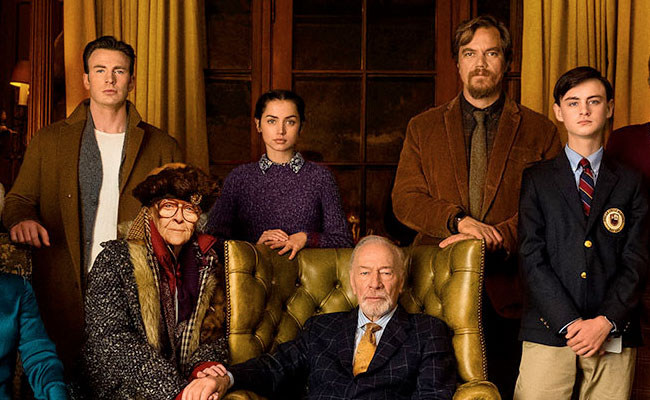 The sleeper hit of winter 2019 was Rian Johnson murder mystery Knives Out, which looks like it will continue to be on sharp form for its DVD, Blu-ray, digital, rental and 4K Ultra HD UK release date (details below) in 2020. With an impressive ensemble cast and a wet stone polished screen play written by director Rian Johnson, it's got a lot of rewatch potential as the subtle details of the piece come out of the woodwork of the big old mansion that plays stage to the show.
While Johnson's name and reputation precedes him, he hasn't had that many films out on the big screen. Obviously there was Star Wars The Last Jedi, but other than that big fish to fry there has only been the new-noire mystery Brick, which was his movie debut, comedy caper The Brothers Bloom and time-bending sci-fi flick Looper.
Advertisement As a result, he hasn't had too many opportunities for DVD, Blu-ray and digital success, but everything that he has done has a good amount of rewatch value. The Last Jedi may not be the best Star Wars film, but has its good intentions and Looper is such a head flip that it calls for run through after run through if you really want to untangle it and Knives Out is on a similar pedestal of what the…
Reviews have been ridiculously kind to the film with strong performances from Daniel Craig (No Time To Die) as the private detective Benoit Blanc and Christopher Plummer as the wealthy mystery novelists Harlan Thrombey whose murder is at the centre of the plot. The cast also includes Chris Evans (Avengers Endgame), Ana de Armas (No Time To Die), Jamie Lee Curtis (True Lies), Michael Shannon (Take Shelter), Don Johnson (Miami Vice), Toni Collette (Hereditary) and Lakeith Stanfield (Straight Outta Compton) and they all put in their own excellent acting efforts making this a release that shouldn't be missed.
Advertisement DVD, Blu-ray, 4K, iTunes or digital rental in the UK?
The Knives Out UK DVD and Blu-ray release date is expected in mid March 2020, which is a little earlier than the latest Star Wats film, Rise Of Skywalker, which will be in April. We suspect the similarities come from the release window lessons Johnson learned when he directed Star Wars The Last Jedi, but whatever the case it's definitely helped the film to make the most of its success.
The impressive cinematography of Steve Yedlin, who worked with Johnson on Brick, The Brothers Bloom, Looper and The Last Jedi, should look cool with the 4K release, which will be out on the same date as DVD and Blu-Ray.
You'll be able to own the film first on digital which has a UK release date expected a couple weeks earlier than the DVD, Blu-ray and 4K options. It'll be available from iTunes, Amazon Video, PS4, Xbox ONE, Google Play and YouTube in the and the HD versions of the digital release should include the same special features as physical release, but we'll update you with more details as they're confirmed.
Advertisement However, the digital rental will be out on the same date as the DVD and Blu-ray with none of the bonus content.
Knives Out runtime and digital file size
Knives Out has a runtime of 2 hours and 10 minutes, so buckle up for a lengthy mystery to unfold. This will give it a digital file size of around 5.15 Gb at 1080p HD, and 2.2 GB in standard definition.
You can follow us on Twitter to see more film news or check out the official movie Twitter page at https://twitter.com/KnivesOut to see more on the home entertainment release.
Age rating and parents guide
The British Board of Film Classification has given Knives Out an age rating of 12A in the UK. This is pretty good, as you can see from the trailer below it could have easily pushed up to a 15.
The parents guide notes are pretty intense though with brief bloody images, moderate sex and suicide references, plus strong language, so there are a few things to consider in terms family viewing.
Cinema release date
Knives Out had a UK release date in cinemas on Wednesday 27th November 2019, which gave it a good window at the box office before Star Wars The Rise Of Skywalker cake out to dominate the holiday period.
You can check out our UK DVD and Blu-ray release dates page for more on upcoming films for home entertainment and see more on Knives Out at https://knivesout.movie, which is one of the cleverest movie websites in film history.
Trailer
The trailer above is easily one of the best of 2019 and set the film up for a big release. The cool cast and storyline is teased just enough without giving too much away and pace of the clips work well to string you along for the murder mystery ride, leaving you clueless and incredibly intrigued.