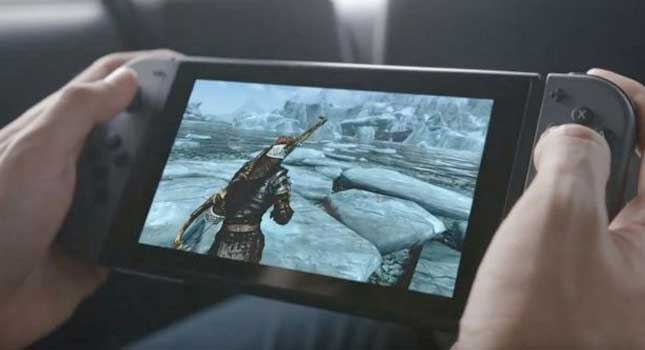 It might only feel like yesterday when you headed out in the middle of the night in November 2011, some four years ago, to pick up your highly coveted Wii U, but it's already time to move on, because the big N has officially announced its next gen console, the Nintendo Switch. Previously referred to as the Nintendo NX, it was was initially confirmed at a questions and answers session for Nintendo investors, as president Satoru Iwata stamped the company's mark on the future of games console development, despite the sad state of affairs for Wii U sales. With the recent arrival of the Nintendo Switch trailer (see below), we got a glimpse the home console / hand-held hybrid system that we'll be getting and with the Nintendo Switch presentation we now know the UK release date, price and games that we'll be getting too..
For any gamers out there predicting the demise of Nintendo as a result of its lack of competitive edge against the Xbox ONE and PlayStation 4, you shouldn't be fooled by the short timescales that you're looking at. Nintendo has been around since the very early days of gaming and it's seen off other contenders over the years, ranging from its 1990s battle with Sega and its more recent mega-success with the Nintendo Wii and DS. Essentially, the Japanese games giant has had as many troughs as it has had peaks, but it has always managed to bounce back, as it did with the Wii following the tamer release of the Gamecube and we'll be surprised if it doesn't do it again with the Switch.
Release date
We found out back in October that the Nintendo Switch UK release date was planned for March 2017, and with the presentation from Nintendo last night (12th January 2016) it has been confirmed that it will be in shops in just seven weeks time on the 3rd March 2017. That's the same date as it arrives in the US and Japan, which feels like a positive new development for Nintendo – it normally releases in Japan first – so it's good to see it coming out everywhere on the same launch date.
The epic duel console should be on a lot of gamers' wish list and we're expecting pre-orders to wrack up quickly, so you might want to get in on the action as soon as possible to secure one on day one. You can also follow Nintendo UK on Twitter to keep track of all the latest.
What is the Nintendo Switch?

While we only had rumours, speculation and the initial patent docs to go on previously, the reveal trailer and full announcement from Nintendo has gone on to confirm a lot of what we previously suspected. The Switch is essentially a dual home console and hand held device that will allow you to keep on playing no matter where you go. It comes with two detachable mini controllers, called Joy-Cons, as well as being compatible with more standard home controllers, like the Nintendo Pro Controller, so you'll be able to play versus and co-op wherever you are.
Nintento came out really early with confirmation about the release of its next games console, but the fact that it didn't feature at E3 3016 meant that gamers had been waiting with baited breath for all the details to arrive.
During the investor chat earlier in 2016 there were a few micro nuggets of additional information about the console, and the most telling of what we now know of the system is that it was being developed as a whole new concept of gaming, which has definitely gone on to be the case. It was a statement that ties in with the history of innovation that Nintendo has in its back catalogue with everything from the Light Gun on the NES, Bazooka for the Super Nintendo and the three legged controller on the N64 to the more recent Wii controller and nun-chucks and the touch screen tablet game pad for the Wii U. If you take all of this into account, it's no surprise that the Nintendo Switch has turned gaming on its head by delivering ultimate portability.
A big part of the Wii U's plight has been due to a lack of third-pary games developers to produce titles for the touch screen gamepad, so it's interesting that it's still in the kit for the Nintendo Switch. We've always been big fans of it and now the ability to take it beyond the home makes it even more exiting.
However, perhaps a bigger stumbling block for Nintendo's gaming catalogue in the last few years is the gulf in gaming power, which has meant that fewer and fewer next gen titles have made it on to Nintendo consoles. The spec's not out yet, so it's going to be interesting to see just how much fire power is under the hood and whether it will be able to port games still when the Xbox Project Scorpio gets its release date later in 2017.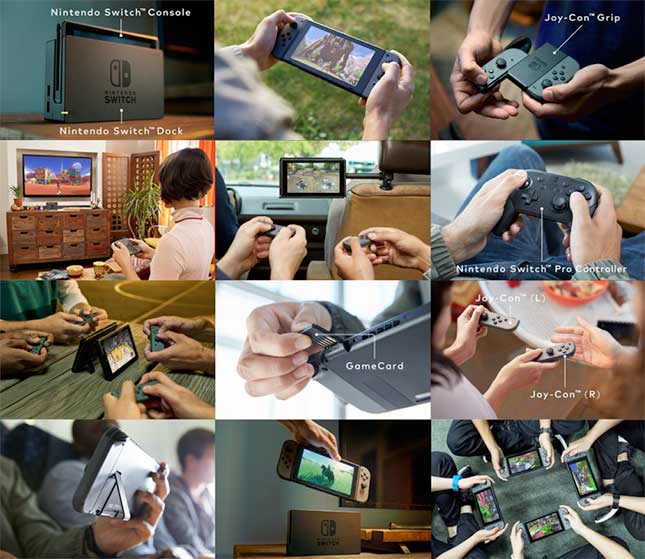 Image above: Nintendo Switch gameplay options
Nintendo Switch games
Nintendo has finally released a roster of games planned for the Nintendo Switch, following on from the lead game that we already knew about, Zelda: Breath Of The Wind in the launch trailer below. Perhaps the most exciting of these is Super Mario Odyssey and Super Mario Kart 8 Deluxe, so despite the fact that the plumber will be took his bow on mobile gaming with Super Mario Run last year, he's clearly got his main focus on the glory of the console.
The new Super Mario game looks like a welcome return for more of a sturdier approach of to 3D action, bringing back the much-loved style of Super Mario 64 and Super Mario Sunshine. However, with the addition of next gen graphics it looks even more impressive, so it's bound to be one of the big contenders for day one release.
There's also the prospect of Splatoon 2, along with multiplayer basketball action in NBA 2k18 and The Elder Scrolls V: Skyrim, so there are a fair few positives in the mix.
If that isn't enough good news, Nintendo has confirmed a raft of third party developers committed to the console, which has previously been one of its Achilles heels, especially on the Wii U. Devs announced include Ubisoft, Activision, Bandai Namco, Capcom, EA, Telltale Games, Konami, Sega, Square Enix, Warner Bros. Games, Bethesda Softworks and THQ Nordic.
As crazy as it might sound, cartridges are back in play for Nintendo's flagship console, leaving the larger discs behind. The cartridges are similar in size and shape to those of the 3DS, which leads us to wonder whether or not backwards compatibility will go on to be one of the Japanese gaming giant's next big announcements.
What we initially wanted to see from the Nintendo Switch
We were hoping that the big N would throw the kitchen sink at the next games console. We're talking bring back the power glove and make them for both hands with augmented reality gaming and a Virtual Boy/Google Glass/Oculus Rift style headset, maybe even with Power Boots for good measure. We're thinking power the thing up with the biggest, fastest and most powerful chipsets and memory to make sure that when game developers start looking at porting across platforms they're not constrained out of including it from their roster.
If that's not enough, we'd also suggest universal gaming, so that you can literally play all of your main console titles wherever you are or on any device you have available to you. Imagine being able to whip out your gloves, boots and headset and play Mario Kart 9 by tethering up to your smartphone, tablet, PC or Mac, as well as on the Switch thundering away at home.
All of this may sound like a pipe dream (get it!!!) at the moment, but if Nintendo dare to dream and had taken a risk on something as crazy brilliant as this, then maybe, just maybe, it has got a shot at taking down the big boys at Sony and Microsoft. While universal gaming isn't quite what the Switch delivers, it certainly gets close with the play anywhere concept it has gone on to include.
Share the Nintendo Switch UK release date, games details and trailer with:
Nintendo Switch trailer: