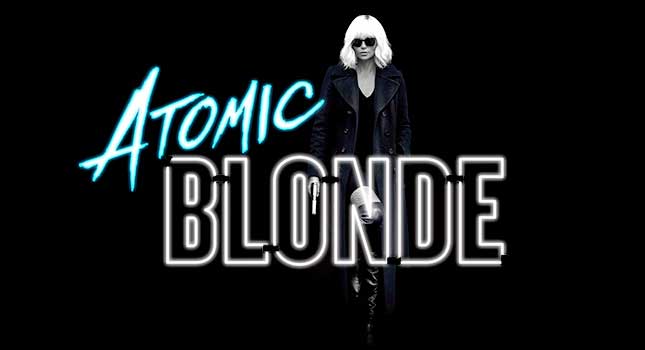 Are you having John Wick withdrawals already? Atomic Blonde looks like the new action thriller that is going to be able to fill that void, until John Wick 3 comes out, of course.
John Wick co-director David Leitch, who has recently been announced to direct the highly anticipated sequel to Deadpool, has directed Atomic Blonde. It stars Charlize Theron (Prometheus, Monster) as an undercover MI6 agent who is given the task of going to Berlin during the Cold War to recover files that show the identities of double agents within the agency. Whilst there, she also investigates the murder of a fellow agent of hers, a man who it seems had a personal connection to Theron's character.
With David Leitch at the helm, who has shown pedigree in delivering high-octane action sequences, Atomic Blonde has real potential to be another movie sensation that will follow in the footsteps of John Wick and Taken and create a brand new action franchise.
Rounding out the cast is versatile actor James McAvoy (X-Men: Apocalypse, Split) and also the in demand rising star Sofia Boutella (The Mummy, Kingsman: The Secret Service), who will both play major supporting roles in the film.
UK release Date
Cinema:
Atomic Blonde had its release date in the UK on the 11th August 2017 and it arrived on the same day as indie drama film Ghost Story that stars Oscar winning actor Casey Affleck (Manchester by the Sea) and his talented counterpart Rooney Mara (The Girl with the Dragon Tattoo, Carol).
DVD, Blu-ray and digital download:
The film has been confirmed for a DVD release date of the 11th December 2017, when it will also be available to buy on Blu-ray and 4K Ultra HD and rent on digital download.
Story
The film is based on the Oni Press graphic novel, The Coldest City, which was written by Antony Johnston. It revolves around undercover MI6 agent Lorraine Broughton (Charlize Theron) as she tries to infiltrate Berlin during the Cold War. Her mission is to investigate the murder of a fellow agent of hers and also to discover a list of other double agents that if released could be trouble for MI6.
That sort of plot has already been told with Mission Impossible 2 and Skyfall, but Theron's mission is to take down a ruthless espionage ring in Cold War Berlin, in a time where the city was at it's most dangerous. She partners up with Berlin Station Chief David Percival (McAvoy) to pursue this enemy, combining both of their skills to solve the threat that jeopardizes the Western world.
Atomic Blonde film posters:
Cast
Charlize Theron leads the cast as the Atomic Blonde, who looks comfortable in the action thriller role. Reliving her days as Aeon Flux perhaps? As previously mentioned, James McAvoy plays the Watson to Theron's Holmes and from the trailer their chemistry looks interesting and engaging.
Sofia Boutella, fresh from The Mummy, plays an important supporting role from what the trailer suggests and could possibly be given more screen time after her newfound stardom. Rounding out the cast in supporting roles are the ever-talented actors, John Goodman (10 Cloverfield Lane, The Big Lebowski, Kong: Skull Island), Toby Jones (Captain America: The Winter Soldier), Til Schweiger (Charlie Countryman) and Eddie Marsan (Sherlock Holmes).
Age rating
Atomic Blonde has been given an age rating of 15 by the BBFC in the UK with strong violence and very strong language.
Production
The film has been adapted into a script by Kurt Johnstad, the same man who wrote 300 and it's sequel. Jonathan Sela (Law Abiding Citizen) continues his partnership with director David Leitch and provides his expertise as the cinematographer to Atomic Blonde. They both previously worked on John Wick together and are due to team up for a third time again on Deadpool 2.
Rounding out the production cast is Elisabet Ronaldsdottir (Contraband) as the film's editor. Tyler Bates (Guardians of the Galaxy) has created the musical score to the Cold War thriller and the production design by David Scheunemann (Deadpool 2). More on the production for Atomic Blonde can be found the official Twitter page.
First Impressions
Atomic Blonde looks like an action packed thriller that has all the hallmarks of a classic espionage film. It's got talented and proven action director David Leitch who knows how to choreograph a fight sequence on camera. Although, the story does sound basic and the whole list of double agents that could find itself in the wrong hands is a story that has been done a bit to often.
However, with the talents of Theron and McAvoy and from the clips they share together in the trailer, we should be in for a gritty buddy cop-type film release between these two versatile actors that will deliver the thrills we crave.
Following it's box office release, it has picked up mostly positive review scores averaging out at around 3.5/5. Read our full review to see how the film turned out.
Atomic Blonde trailer:
Share the Atomic Blonde UK DVD release date, cast, trailer and age rating: