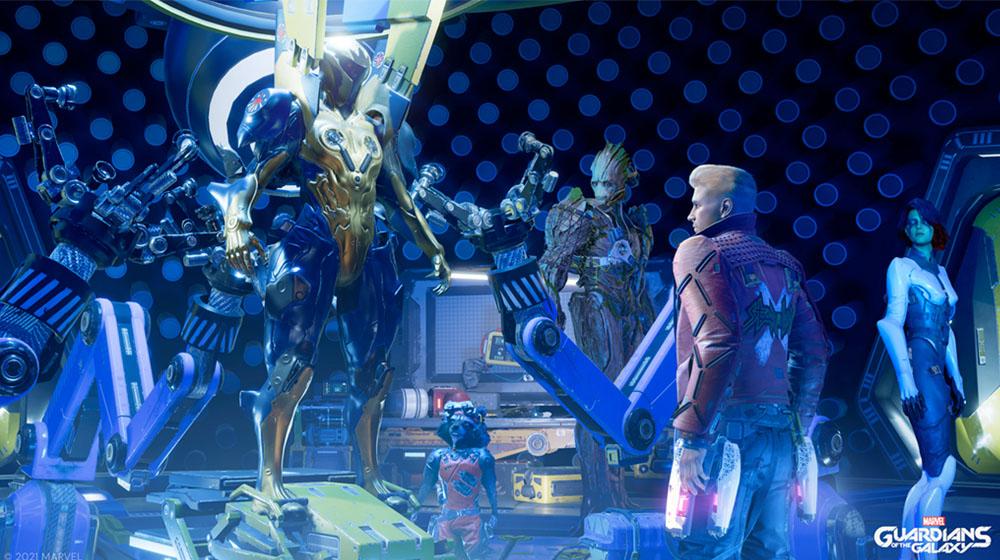 The countdown is on for Marvel's Guardians of the Galaxy game, so here's a rundown of the outfits confirmed so far. It looks like costumes are going to be a big part of the experience as you get to change up the look of Star Lord and the rest of the team as you unlock more clobber as you progress through the action.
For the time being, the list of outfits below is taken from the gameplay and trailers that developers Eidos Montreal and publisher Square Enix have put out already. However, with the release date planned for the 26th October 2021, we'll start to build out the details for each of them and add in the rest that you can get from progression in-game.
Advertisement You might be expecting the cosmetics to only impact Peter, Gamora, Drax and Rocket, but as you can see in the list below, even Groot gets in on the action. Who knew a living tree would need a pants suit and tunic? It's all set to be a blast when the game comes out in a few days time and if the boss fights, story and combat can live up to the comedy of the trailers then it should be one of the big games out in time for Christmas 2021.
Outfits list
Not all of the outfits listed below for Marvel's Guardians of the Galaxy have been officially named as of yet, but we wanted to include them to give you an idea about what to expect when the game comes out. There's obviously going to be specific unlock criteria for a number of them, so we'll update the details to include the details for this when we get it.
Advertisement It continues where Marvel's Avengers left off in terms of the massive range of costumes you could change the team into. That game had a micro-transactions system for cosmetics, though, so it's going to be interesting to see whether or not MGOTG goes down a similar route.
Throwback Guardians – pre-order to unlock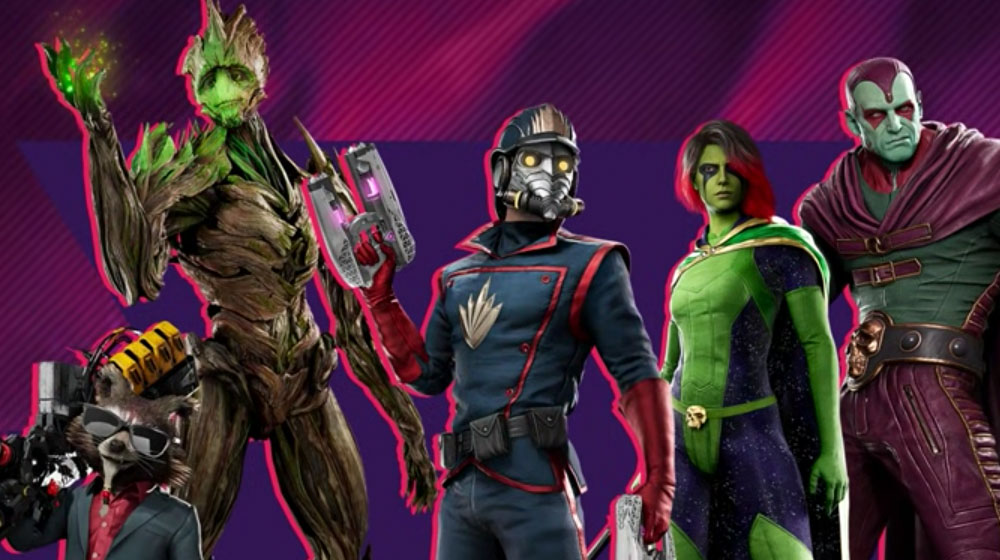 As the name implies, this is an outfit that is based on the visual style of the 2008 reboot Guardians of the Galaxy, which featured Star-Lord, Rocket Raccoon, Groot, Phyla-Vell, Gamora, Drax the Destroyer, and Adam Warlock. Obviously, Phyla-Vell and Adam Warlock aren't a part of the current resoter, but their influence can be seen in this collection of costumes for the team.
Advertisement As you can see above, you can unlock the Throwback Guardians outfit early by pre-ordering the game, but it will be obtainable without this if you pick it up after the release date.
Standard Guardians
This is the setup you start with the Guardian (pictured above) and includes Peter in a very cool crimson leather Star Lord jacket, drax going topless with red body tattoo on his chest, Gamora sporting epic red-tipped hair with a black and white body suit and Rocket opting for the kind of pockets heavy flight suit that Yelena from Black Widow would be jealous of. Groot is billy bauble naked, but seeing as he's a walking tree it isn't that big a deal.
Sci-fi love outfits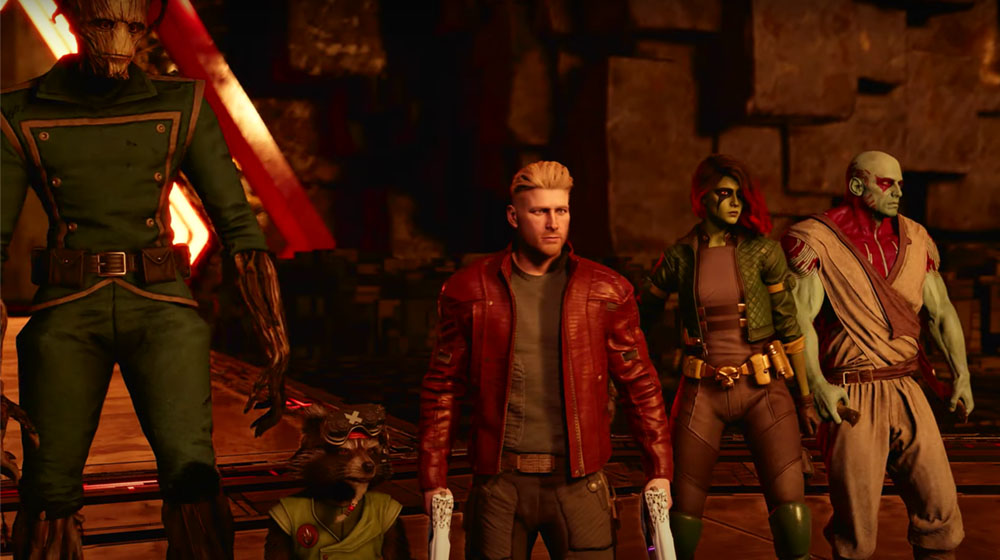 We're not 100% sure what the real name of this one is, but it looks like it has been inspired by a number of sci-fi classics. Peter looks like he's based on Captain Kirk, Drax is rocking the Luke Skywalker look, Rocket looks like he might be an extra from Battlestar Gallactica and Groot is old-school Star Trek. We're still working on the origins for Gamora, but she looks very cool, nonetheless.
Dark Star outfits
This is a proper dark look boy band makeover with all of the characters getting glowing eyes to go with their black and red outfits. They're space demons from another dimension for this one and it's probably going to be tough to tell them apart when you're in the middle of battle. Luckily, you only play as Peter, so it probably won't be that much of an issue.
Futura outfits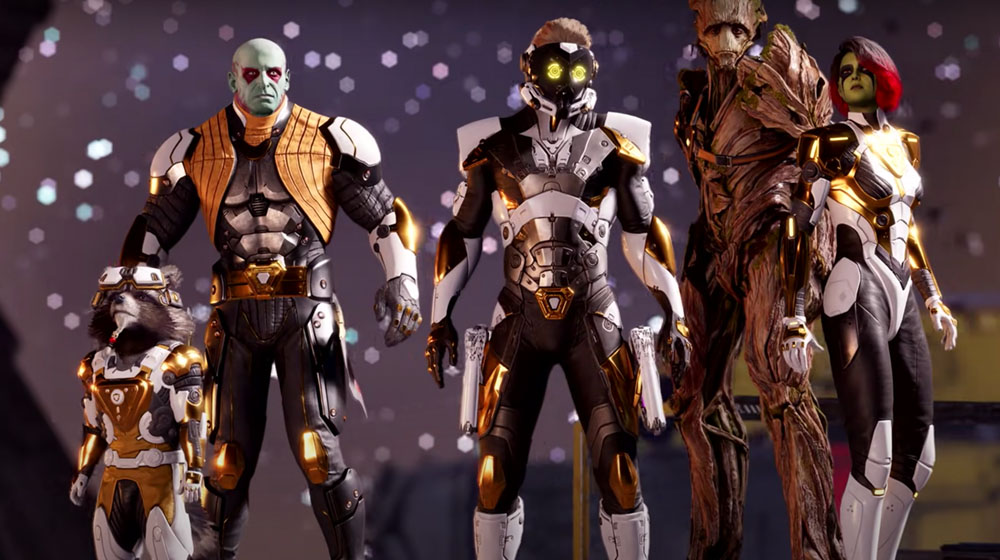 Black, white an gold is a pretty punchy combination for these futuristic costumes. It's probably the sharpest of all of the Marvel's Guardians of the Galaxy outfits with Gamora, Quill and Rocket looking particularly epic with one of the most heroic poses ever. There's either too much, or too little gold on Drax for it to be as impressive and it's a shame that Groot doesn't have any style variation here, but it's still a good addition.
Freestyler outfits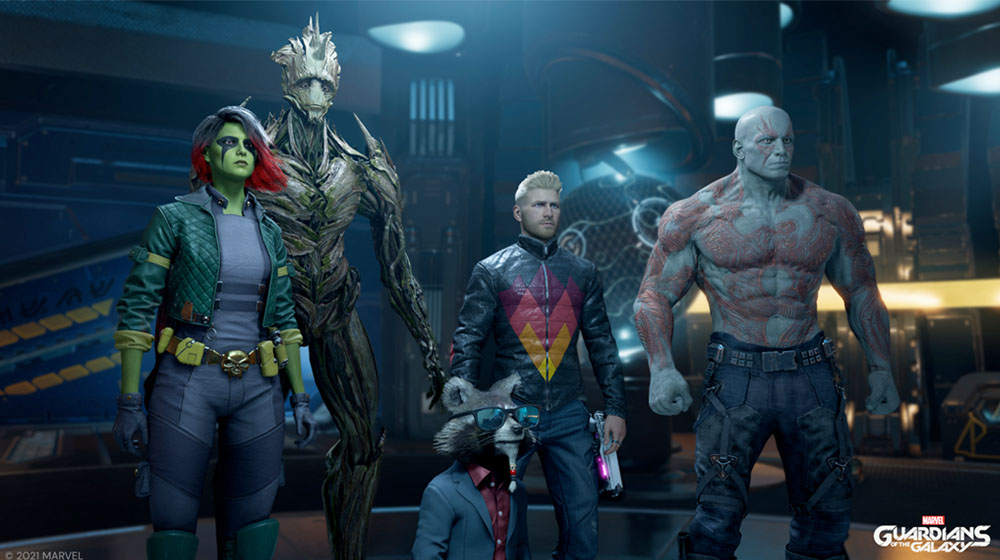 This collection features Quill in a triangle pattern leather jacket, Drax with James Gunn's Guardians of the Galaxy tattoos, Gamora styling out a small leather jacket and Rocket looking about as cool as he ever has in a suit and big shades, taken from the Throwback costume mentioned above. Groot only has a minor cosmetic change here, though, with flecks on his chest.
If you want to support us here at Tuppence Mgazine, you can follow us on Twitter to see more on the latest video games releases. You can see more on Marvel's GOTG with the official Square Enix Twitter page at https://twitter.com/SquareEnix.
More costume options
Looking at the collection of footage for the game, it looks like you'll be able to mix and match the outfits throughout the game. What this means is that you should be able to have Gamora, Peter and Rocket in the Futura, but Groot in the sci-fi style and Drax going all Skywalker. We'll confirm if and how this works in the game when it comes out next week.
Don't forget to check out our computer games section to keep tabs on the game, or visit the Square Enix website at https://guardiansofthegalaxy.square-enix-games.com/en-gb/.
More Marvel's Guardians of the Galaxy game news, hints and tips: