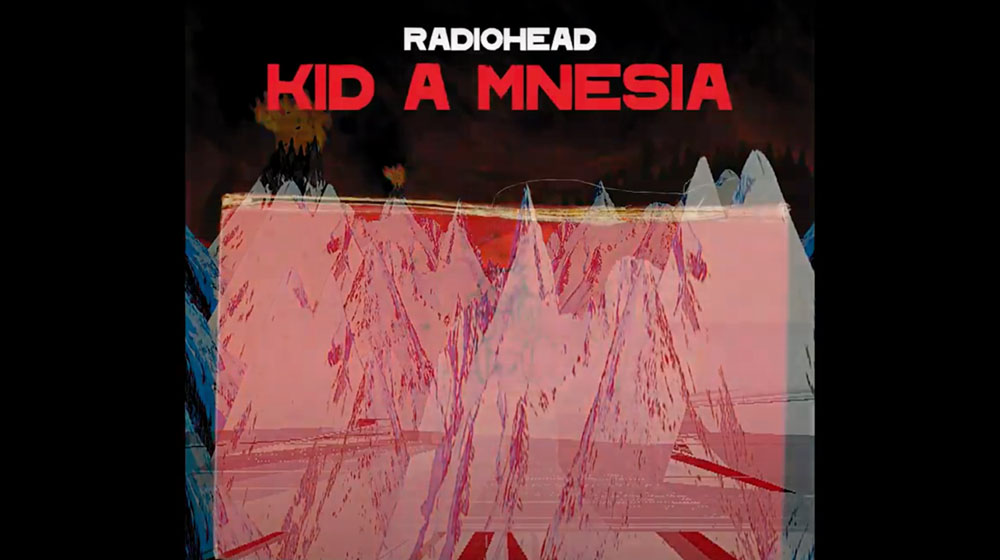 Out of the musical darkness of time itself, Radiohead dropped details for new(-ish) album Kid Amnesiae on the world, so here's our take of the best songs that Thom Yorke and company describe as half forgotten, half remembered. It comes with reissues of their incredible albums Kid A and Amnesia and you can see the full track list and details for all of them below.
Kid Amnesae is essentially a collection of songs that span back to sessions and unreleased material created when the band was working on Kid A and Amnesiac back in 1999. The culmination of the recording sessions were initially going to be released together as a double album, but went on to be split with Kid A arriving in 2000 and Amnesiac just eight months later. Whatever songs didn't make it on to the two albums has now found their way onto Kid Amnesiae.
Advertisement The two albums marked a turning point for Yorke and Radiohead, coming on the back of the intensity of OK, Computer, which had propelled them to the highs and lows of international acclaim. Burnt out and moving away from the guitar music that had been their mainstay since Creep landed in 1992, the recording sessions introduced electronic, ambient, classical and jazz music into the mix.
Kid Amnesiae best songs
The unreleased materials album has arrived followign its release on the 5th November 2021, so here's our pick of the best songs from Kid Amnesiae itself. The 34 song collection also includes the previously released albums Kid A and Amnesiac, but we'll be focusing on the newer material for our selection. Obviously, it's a subjective assembly, so tweet us to let us know if you see things differently.
Advertisement
If You Say the Word

Radiohead announced Kid Amnesiae on YouTube with the arrival of this slow-paced jazz, ambient and classically influenced song. It's got a simple, but entrancing percussive beat with Thom Yorke's iconic vocals spinning out the lyrics over a stark landscape. It's adorned with occasional synth copse and quiet ringing piano/guitar melodies that have their peak in the mid-section of the song. You can listen to it for yourself with the audio video below.
Follow Me Around

This is an acoustic taste of an alternative reality with vague tendrils in our own where Radiohead sticks to its guitar routes and only plays with the new directions it took after Ok, Computer. Tom Yorke's vocals are a little Americana with the addition of electro-distorted backing echos. It's a much-appreciated slice of paths never took from the band.
Advertisement
How To Disappear Into Strings

An orchestral version of the Kid A song with a slow and eerie ramp up that's a real beaut.
It would have been cool to get to hear a Knives Out version with strings, but sadly that was never recorded.
If you're looking to support Tuppence, you can follow us on Twitter for more of our news and reviews. You can also see more on the album in the run up to the release with the official Ed Sheeran Twitter page at https://twitter.com/Warnerbros/.
Kid Amnesiae track list
The lost and found material that has been compiled on Kid Amnesiae totals twelve tracks, which you can see below. You'll recognise a number of them as songs from either Kid A or Amnesiac, but obviously these are alternative recordings or versions of them, so should give you a new take on tracks you might already know and love. If you opt for the tape cassette version of the album compendium then you'll also be treated with the addition of five B-Sides, so we've thrown those in underneath for good measure.
Like Spinning Plates ('Why Us?' versions)
Untitled V1
Fog (Again Again version)
If You Say The Word
Follow Me Around
Pulk/Pull (True Love Awaits version)
Untitled V2
The Morning Bell (Into The Dark version)
Pyramid Strings
Alt. Fast Track
Untitled V3
How To Disappear Into Strings
Some B-Sides:
Kinetic
Fast-Track
Cuttooth
The Amazing Sounds of Orgy
Trans-Atlantic Drawl
Kid A Mnesia track list
You probably know the track lists for Kid A and Amnesia, but seeing as they're all bundled up together for the Kid Amnesiae Kid A Mnesia release, here they are again.
Kid A
Everything In Its Right Place
Kid A
The National Anthem
How To Disappear Completely
Treefingers
Optimistic
In Limbo
Idioteque
Morning Bell
Motion Picture Soundtrack
Amnesiac
Packt Like Sardines In A Crushd Tin Box
Pyramid Song
Pulk/Pull Revolving Doors
You And Whose Army?
I Might Be Wrong
Knives Out
Morning Bell/Amnesiac
Dollars & Cents
Hunting Bears
Like Spinning Plates
Life In A Glasshouse
We'll update you with more details on the album as they get confirmed. You can also check out our movie news section to keep tabs on the latest upcoming films, or visit the Radiohead website at https://radiohead.co.uk.