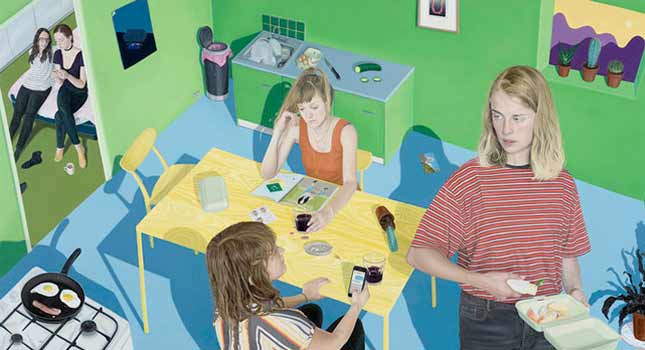 Marika Hackman is about to return with her second album, I'm Not Your Man, which follows up on the 2015 debut record, We Slept At Last. Bringing back yet more alternative and folk rock with the new material, the album release should see her picking up even more critical acclaim, which started off with 2003's EP, Free Covers.
In addition to putting out I'm Not Your Man this year Marika will also be accompanying the record with a series of UK tour dates, kicking off at the end of May at Mama Roux's in Birmingham. You can check out the videos to new singles Boyfriend and My Lover Cindy below to get an idea of what to expect for yourself.
Release date
I'm Not Your Man has been confirmed for a release date of Friday the 2nd June 2017, so the album will be out in a week and a day at the time of writing. It will be available as a limited edition gatefold orange LP, CD and digital download, along with a number of bundles available from the Marika Hackman shop. This includes signed LPs, cover art printed T-shirts, litho prints and, slightly randomly, a mini cactus.
Singles
Four tracks have been released from the upcoming album already with lead single Boyfriend picking up a fair amount of radio plays. It's an alt-rock twister with psych fringes and a grunge spirit. The video below is pretty funny with an alternative all male version of the band and Marika combining with the real thing to add to the gender disenfranchised lyrics.
The rest of the tracks include the laid-back bitter-sweet romance of My Lover Cindy (video below), the alt-folk orchestrations of Violet and the old school folk guitar song Cigarette, which has bluesy lyrics and lilting vocals.
I'm Not Your Man tracklist:
Boyfriend
Good Intentions
Gina's World
My Lover Cindy
Round We Go
Violet
Cigarette
Time's Been Reckless
Apple Tree
So Long
Eastbound Train
Blahblahblah
I'd Rather Be With Them
UK tour dates
Marika Hackman will be heading out on tour in May and June with four core dates and five in-store shows before a number of summer festival gigs. This will culminate at the By The Sea festival in late September to close out what looks like it's going to be a big summer for the band. There will then be another stint of gigs in November. All of the 2017 UK tour dates are below:
29th May – Mama Roux's in Birmingham, UK
30th May – King Tut's Wah Wah Hut in Glasgow, UK
31st May – The Deaf Institute in Manchester, UK
1st June – Heaven in London, UK
13th November – The Haunt in Brighton, UK
14th November – The Bullingdon in Oxford, UK
15th November – The Cookie in Leicester, UK
16th November – Manchester Gorilla in Manchester, UK
17th November – The Wardrobe in Leeds, UK
19th November – King Tut's Wah Wah Hut in Glasgow, UK
20th November – Think Tank? in Newcastle Upon Tyne, UK
21st November – The Bodega Social Club in Nottingham, UK
22nd November – Thekla in Bristol, UK
23rd November – O2 Shepherd's Bush Empire in London, UK
In-store shows
2nd June – Rough Trade East (FULL BAND) in London, UK
3rd June – Rough Trade Nottingham (FULL BAND) in Nottingham, UK
5th June – Rise Store Bristol (ACOUSTIC) in Bristol, UK
6th June – Sound Knowledge (ACOUSTIC) in Marlborough, UK
8th June – New Slang (FULL BAND) in Kingston Upon Thames, UK
Festivals
13th July – Latitude Festival 2017 in Southwold, UK
25th August – Reading Festival 2017 in Reading, UK
25th August – Leeds Festival 2017 in Leeds, UK
31st August – End of the Road Festival 2017 in Salisbury, UK
29th September – By The Sea Festival 2017 in Margate, UK
First impressions
Listening to the opening four tracks from I'm Not Your Man, it's easy to see why Marika Hackman has picked up so much critical praise since her debut album two years ago. Lead single, Boyfriend, is definitely the strongest song from the album to-date, but hopefully the quality of the rest of the singles is a good indication for the upcoming studio album release. You can see more from Marika on her Twitter page.
Share the release details for Marika Hackman's I'm Not Your Man album: