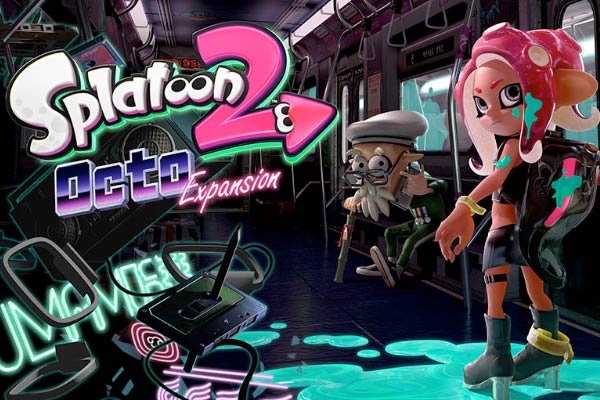 It's been nearly a year since the Splatfest arrived on the Nintendo Switch, but the much-loved multi-player will be getting another new extension to its remarkable shelf-life with the first paid Splatoon 2 DLC. Entitled Octo Expansion, it's a single player, story mode add-on that will see you battling your way out of the depths on a mission to get back to the surface of Inkopolis with all manner of obstacles and enemies standing in your way.
The announcement trailer arrived in Nintendo's recent Direct presentation and you can check it out for yourself below to see the unusual artistic direction behind the DLC. It'll be out for the Switch title in the summer, which gives Nintendo a wide berth in terms of a launch window, but we're expecting it to be early summer to be available for school summer holidays, so we're expecting the release date to be late July 2018.
The Octo Expansion will see you playing as an Octoling for the first time in the burgeoning series, and the setup sounds about as dark and dramatic as you can possibly get in the brightly coloured game. You'll play as Agent 8, who will be making her debut in the adventure as she wakes up on the floor of a subway platform with a completely blank memory.
You'll then have to battle your way through an underground labyrinth, which turns out to be some kind of mysterious test facility, as you try to get back to the surface and the safety of Inkopolis. Agent 8's back story and memory will surely be a big part of the DLC too, as you start to unpick the circumstances that you find yourself in and who or what might be behind it.
There will be 80 missions to make it through before Agent 8 gets to sit down for a slurpy on the flagstones of Inkopolis, so there's going to be a lot to get through. When you do eventually complete the Splatoon 2 DLC, you'll unlock the ability to play the multiplayer games as an Octoling, so the race will be on to complete all 80 missions to take Agent 8 for a spin around Manta Maria and Mako Mart.
The trailer for the Splatoon 2 DLC is pretty freaky, especially the setup elements with Agent 8 sauntering through the abandoned underground station and car with a bunch of crazy characters around her. However, when things get into the action, there's a lot of cool stuff going on as Agent 8 contends with big bosses, large platform challenges and all manner of enemies, including what looks a lot like a Splatoon take on a Bullet Bill.
If you're not up on your Splatoon 2 characters, Octolings are the Octavian equivalent of Inklings, and they behave much in the same way, except they take octopus form instead of ink form. As a result, playing as Agent 8 in the Octo Expansion DLC should feel a lot like playing the existing single player mode of the game, so you should be able to pick it up pretty easily when splashes down later this year.
Share the details for the Splatoon 2 DLC: Octo Expansion