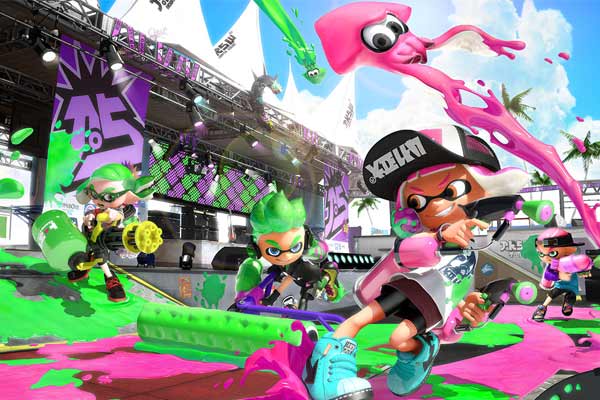 The Nintendo Switch got a huge shot in the arm last week with the release of Splatoon 2, the follow-up game to the 2015 breakout success for the Nintendo Wii U. While the overall experience is very similar to the original, you can't take anything away from the shear quality of the multi-player action, which does well to build on the exciting gameplay experience of the unconventional shooter.
What the single player campaign lacks in impact, the online multiplayer more than makes up for with one of the most exhilarating online experiences you can play today. There's a lot to be said for simplicity and that's exactly what Splatoon 2 has at its core, and though there are lots of new features, moves and maps, it's the simple intensity that makes it such an incredibly addictive game.
Splatoon 2 single player game review
There are a lot of similarities between the single player game for the original Splatoon and the sequel, so don't get your hopes up for a fully realised story mode. There just isn't enough narrative, interest or characterisation to make it anything other than a sort of side mission is to the main online paint blaster.
It's biggest saving grace is the massive bosses you face as you make your way through the Octarian masses. Rescuing snap fishes along the way, there are a few huge opposing bosses to take on and they're all pretty tough, which just about makes the single player campaign worth the effort.
However, it continues to be a missed opportunity for us to really explore the characters and to deliver some exciting new lands to battle through. It would have been great to see something like Super Mario Odyssey, but with the Splatoon gameplay style and characters to shake things up, but that's definitely not what you get in Splatoon 2. It doesn't detract from the main game, but it could have been so much more than a side note.
Splatoon 2 online multiplayer gameplay review
Now that we've got the negatives out of the way, it's time to focus on the incredibly positive experience that is the online multiplayer modes in the game. If you played Splatoon then you already know just how much fun it can be, and that continues with perfect delivery in the sequel, which throws in even more exciting gameplay action than the original.
When you start out, you'll have a certain amount of Regular Battles to swath your way through to level up and unlock new weapons, kit and the challenge of the Ranked Battles. The good news, though, is that you'll love every moment of it.
As you start to level up and get better at the game, the challenge intensifies with other gamers getting more skillful, so you'll need to put an increasing amount of effort into winning the Regular Battles. If you're already pretty good at Splatoon then you may well have started out in the sequel being able to top the team stats for your battles pretty easily, but now that its been a week since the game's release, things are starting to get a little more tasty. You'll still be up there at the top each game if you can grow with it, but it's getting more and more exciting with each game, which is an incredible experience to be a part of.
We had our reservations about Splatoon 2, especially following a few days playing the predecessor in preparation for the sequel, but it really doesn't disappoint. If you've got the original game and you're mulling over moving up to the sequel with the Nintendo switch, you can take it from us that you won't be disappointed in the long run.
When you make it to Level 10, the Ranked Battle becomes unlocked and you get a whole new slant on the paint splatting shooter. The three main modes – Rainmaker, Splat Zones and Tower Control – return from the previous game and they occur on random rotation to keep you on your toes. They come with their own type of intense competition and while they're not new, the new weapons and special moves add a slightly different dimension to each of them.
If that isn't enough, there's also the new addition of the League Battle, which doesn't unlock until you reach a rank of B- in the Ranked Battle mode. You then buddy up with friends to compete against other teams in 2-hour sessions. It's pretty heavy as a concept, but if you've got a strong bunch of fellow players that you can call on then it's a good laugh.
Graphics review
As you'd expect, Splatoon 2 is a Bright and colourful looking game and while the graphics aren't groundbreaking, they are pretty cool and take things up a notch from the previous game on the Wii U. The animation is super-slick, responding well to motion controls, and the new arenas have a lot of detail to take in if you want to, but the reality is that this is a game that is all about fast-paced action, which it has in bucket loads.
Overall review
Splatoon 2 is a phenomenally addictive shooter that ports the original concept onto the Nintendo Switch with some solid upgrades and new features. It's another great title to add to the roster of solid year 1 releases, Arms, Mario Kart 8 Deluxe and The Legend Of Zelda: Breath Of The Wild. It should keep us all pretty happy until Super Mario Odyssey lands later in the year, but the reality is that Splatoon 2 is the kind of simple adrenaline rush that will keep you coming back inking for years to come.
Splatoon 2 review: 4.5/5
Share our review of Splatoon 2 with: