If you laughed and cried as much as we did then you're going to be interested in the Thor Love and Thunder UK DVD, Blu-ray and digital release date. It's only just out on the big screen, so there's going to be a chunky wait, but it'll be out before the end of the year.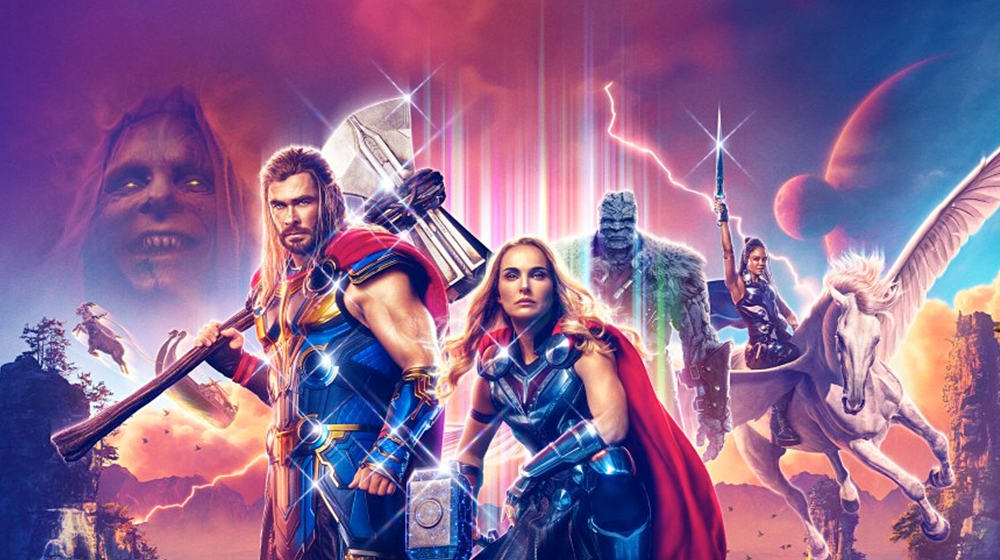 Thor 4 is the latest film in Phase 4 of the Marvel Cinematic Universe, which focuses on the after effects of Avengers Endgame. When Gorr is wronged by his gods and bonds with the Necrosword, he sets out to destroy the lot of them, putting him on a collision course with Thor.
Advertisement When Gorr shows up at Asgard, he finds that he has to face two of them with Jane being chosen by a reformed Mjolnir to become Mighty Thor. Even with king of Asgard, Valkyrie, on their side, they've still got thier work cut out for them as they set out to stop the god butcher.
Thor Love and Thunder UK Blu-ray, DVD and digital release date
With Thor Love and Thunder out on the big screen from the 7th July 2022 in the UK, which should mean that it will go on to get a digital release date around mid-October 2022. However, it's a Marvel film, which means it's also a Disney film, so it will undoubtedly arrive on Disney+ before then.
Advertisement The DVD, Blu-ray and 4k versions of the film will then come a couple of weeks after the standard digital release, so you're probably looking at late October or early November. This will give it plenty of time to ramp up sales ahead of Christmas and give the Thor 4 plenty of time at the box office.
The recent trend is for film companies to have far more freedom in terms of the gap they have between cinema and home entertainment. As a result, there's a little more to take into account. With Love and Thunder performing well in cinemas it will probably follow the Spider-Man No Way Home model and have a long run at the box office.
Advertisement The DVD, Blu-ray, digital and 4K release should have a little competition from the likes of
Minions The Rise of Gru
, Baz Luhrman's Elvis,
Lightyear
and
Jurassic World Dominion
. However, our money is on Thor Love and Thunder to take and hold onto the number one spot for home entertainment for the longest.
Don't forget to follow us on Twitter to see more news and updates on the MCU, plus the official Marvel Twitter page at https://twitter.com/Marvel.
North America release
If the North America release arrives as normal then the Blu-ray and 4K versions should come out in the US and Canada earlier in October at the very latest. Again, that will mean it's out in time for both Thanksgiving and holiday period.
The digital version could be even earlier, especially with the way that early access rental has changed things. A lot of films also have an early access digital purchase options, which is more expensive than the later digital release, so you might want to keep an eye out for that with Thor Love and Thunder.
DVD, Blu-ray and digital details
Age rating: 12A (UK) PG-13 (North America – US & Canada)
Runtime: 1 hour, 59 minutes
Director: Taika Wititi
Cast: Natalie Portman, Chris Hemsworth, Tessa Thomson, Christian Bale, Taika Waititi, Russell Crow, Chris Pratt, Dave Bautista, Pom Klementieff, Karen Gillan, Bradley Cooper, Vin Diesel, Jamie Alexander.
Review
Thor Love and Thunder may not be perfect, but it is a lot of fun and with so many funny moments, great fight sequences and interesting character dynamics it's one that will get a good amount of re-watch time if you're a fan of either the Thor films or Marvel in general. It's fairly ridiculous in places and Gorr goes from menacing maniac to silly sausage from one scene until the next, but it's easy to look beyond these aspects, especially if you like Taika Waititi's previous films.
That's not to say that it's without its serious intent and these come through well enough to build the emotional connection to the film. Just as the funny bits are hilarious, so the sad bits are tear-worthy and the darker elements are threatenting, especially with Gorr's surprising fight capabilities and his monstrous regiment of shadow beats.
It was a little tough to get too excited about the credits scene with Russell Crowe lacking much in the way of actual malevolence, but that's more a point for the review of the sequel than Love and Thunder.
Thor Love and Thunder DVD, Blu-ray and digital review: 4/5
Check out our film news section to keep tabs on the latest, or check out the Marvel movie news page to see more on the film at https://www.marvel.com/articles#promo-2.
More Thor Love and Thunder news and features: