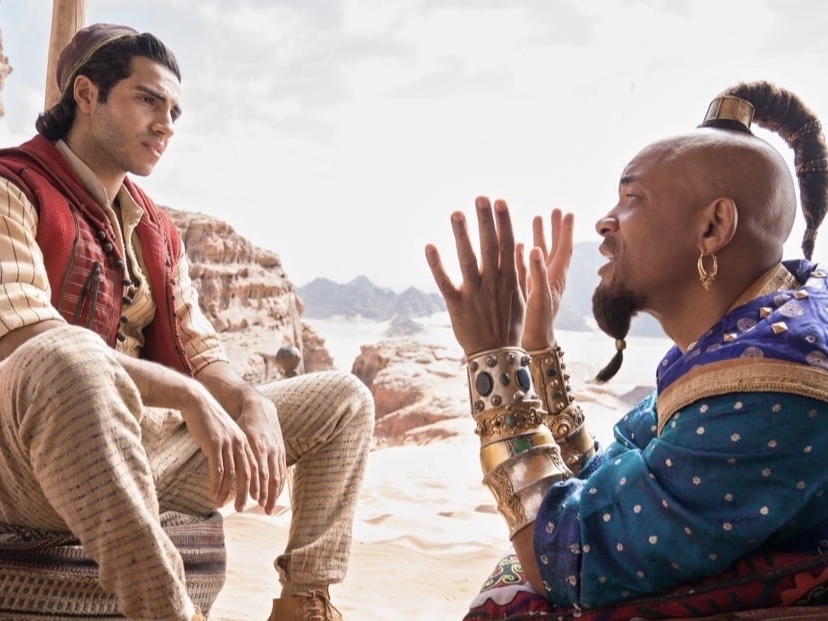 Disney continued to re-imagine it's classic movies this year with the Aladdin live action adaptation and fans will be counting down the Arabian nights for the DVD, Blu-ray and digital download release date later on in 2019 (details below). It was a huge hit the first time around in 1992 and the cinema release earlier this year proved just as popular, so it's bound to be on a lot of wish lists either with physical release or on iTunes, Xbox ONE, PS4 or Amazon digital.
A big part of the success of the live action adaptation was Will Smith in the role of Genie, which had the giant shoes of Robbin Williams to follow. While critical reviews have been mixed, Disney fans seem to have loved the new take on the animated classic and it's already one of the biggest films of the year.
This was the fourth Disney live action film with Jungle Book in 2016, Beauty And The Beast in 2018, and Dumbo in 2019. It was followed shortly afterwards with the release of The Lion King live action adaptation in July 2019 and the two are going to be big on DVD, Blu-Ray and digital release with some seriously cool special features with everything from behind the scenes to making of and CGI animation featurettes (details below).
Disney won't be stopping here either with many more live action adaptations planned for the next few years. Mulan will be the first next year and then there are a lot of untitled projects in the works after that. We've had three live action films this year, so it'll be interesting to see what 2020 brings in addition to Mulan. You can see more from Disney at https://www.waltdisneystudios.com/ for more info.
DVD, Blu-ray, iTunes, Xbox ONE, PS4, Amazon and digital download release date UK
The Aladdin live action DVD and Blu-ray release date (UK) has been confirmed for the 23rd September 2019, so it's going to be one to curl up on the sofa and watch while the Autumn weather kicks in. It will be coming out with a long lead-in time to Christmas, but it's bound to be on a lot of wanted lists, especially with the addition of both a 3D Blu-ray and 4K Ultra HD version to choose from too.
iTunes, Xbox ONE, PS4 and Amazon digital gets to release the digital download purchase a week earlier on the 16th September 2019. It'll then go on to be available on digital rental on the same date as on DVD and Blu-ray, 23.09.19.
The run time for the 2019 live action adaptation of Aladdin is a fairly hefty 2:08 long, and the download size will be 4.72Gb of storage space at 1080p HD and 2.18Gb in standard definition digital. As ever, it's a wise move to check your PC, Mac, PS4 or Xbox ONE free space ahead of the home entertainment release to make sure you've got room for it.
UK cinema release
Aladdin live action had a UK cinema release date of Wednesday the 22nd May 2019. It performed well at the big screen in the US and the UK, despite having picked up low-to-mixed reviews. It's biggest competition at the box office was Rocketman and The Secret Life Of Pets 2, which we're both out on the same weekend, but Aladdin managed to take the #1 spot.
You can follow Walt Disney Studios on its official Twitter page at twitter.com/DisneyStudios if you want to see more ahead of the home entertainment release.
Aladdin live action age rating
The cinema, DVD, Blu-ray and digital release for Aladdin live action has been given an age rating of PG from the British Board of Film Classification in the UK, which is very similar to The Lion King adaptation in that the original was a U, but when you throw in live actors the mild fantasy threat must seem a bit more intense. You can see in the trailer below that the Cave of Wonders might well be a bit on the scary side for younger viewers and then there's the giant eagle chase scene towards the end, but in general this is a family film.
We'll add in more details as they become available, but the information above should give you a good idea of what to expect from the home entertainment release when it rolls around in September 2019.
Trailer
Blu-ray, 3D Blu-ray and 4K Ultra HD special features
While the DVD doesn't come with any additional material other than the film itself, the Blu-ray, 3D Blu-ray and 4K Ultra HD special features are fairly substantial:
Aladdin's Video Journal: A New Fantastic Point Of View
Deleted Song – "Desert Moon"
Guy Ritchie: A Cinematic Genie
A Friend Like Genie
6 deleted scenes
"Speechless" music video – Performed by Naomi Scott
"A Whole New World" music video – Performed by ZAYN and Zhavia Ward
"A Whole New World" ("Un Mundo Ideal") music video – Performed by ZAYN and Becky G.
Bloopers reel