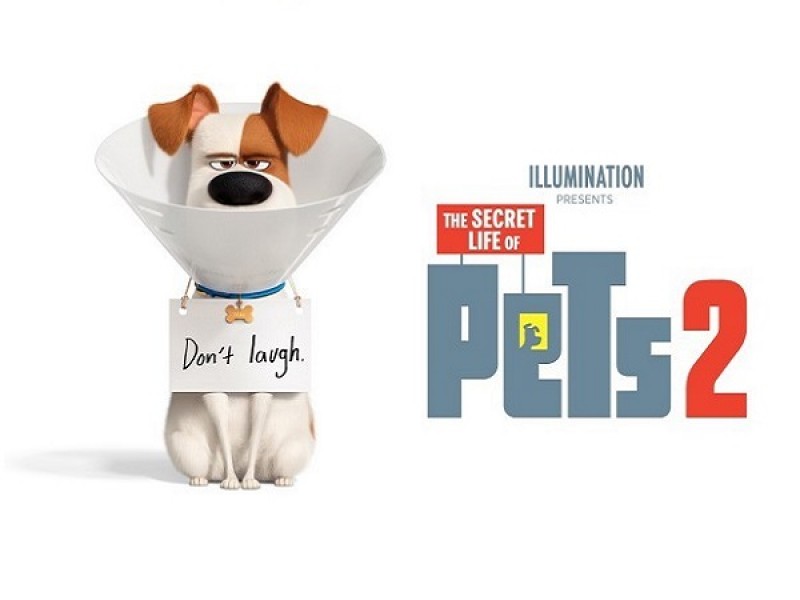 It's time to slip the leash again with The Secret Life Of Pets 2 DVD, Blu-ray and digital release date fast approaching (details below) like a wild-eyed and slathering Rottweiler with an It's Pennywise the Clown face paint riding on a skateboard. Okay, so it might not get as freaky as that, but it does have its own take on animated comedy, which worked well in the first film, so it's bound to be getting a lot of pre-order action on iTunes, Xbox ONE, PS4 and Amazon Video. Here's everything you need to know about its upcoming arrival for home entertainment, including the rental release details, age rating, runtime and digital file size.
The plot picks up with Max and Duke as they face new trials and tribulations with a now extended family after their owner Katie gets married and has a baby. The sequel sees a number of story arcs developing with so many characters crammed into the same film. There's a farm trip and sheep rescue mission after Max releases them, a cat infested apartment to sneak through and a white tiger cub to rescue, so the group of pets are going to be pretty busy.
Most of the characters from the first film will be back in action, so in addition to Max and Duke, there's Snowball, Gidget, Chloe, Pops and Norman the Guinea Pig. The DVD, Blu-ray and digital release will also feature a number of new characters including Daisy, a Shih Tzu played by Tiffany Haddish, and Welsh sheepdog Rooster, played by Harrison Ford.
The only big change in terms of the cast from the first film is that Patton Oswalt has replaced Louis C.K. as main character Max. Kevin Hart, Eric Stonehouse, Lake Bell and Dana Carvey return as Snowball, Duke, Chloe and Pops, which should be more than enough to keep continuity from the first film.
DVD, Blu-ray, iTunes, Xbox ONE, PS4, Amazon and digital rental release date UK
The Secret Life Of Pets 2 DVD and Blu-ray release date has been confirmed for the 7th October in the UK following its big screen run back in May and June 2019. There will be no 3D Blu-ray version of the film in the UK, but it will be coming out on 4K Ultra HD, so you'll get to see the pets in fine fur definition. 
The digital release on iTunes, Amazon Video, Xbox ONE and PS4 will be a couple of weeks earlier, so you can expect it to arrive on the 23rd of September 2019 to buy. However, the digital rental version won't be available until the same date as the DVD and Blu-ray.
Runtime and digital filesize
The Secret Life of Pets sequel had a fairly short runtime of just 1 hour 27 minutes, which works out as a digital download size of 3.64Gb at 1080p HD and 1.31Gb for standard definition. It may be small, but it's always good to check your PC, Mac, PS4 or Xbox ONE storage space before you download the digital release, although with iTunes there's always the option just to stream if you're low on space.
UK cinema release
The Secret Life of Pets 2 had a UK cinema release date of Friday the 24th May 2019, a little earlier than it came out in the US on the 7th June. It didn't have a clear run on the big screen with both Rocketman and the Aladdin live action film out on the same weekend, so it was a little overshadowed at the box office.
You can follow the official movie Twitter page to see more on the home entertainment release at https://twitter.com/PetsMovie.
The Secret Life of Pets 2 age rating
The British Board of Film Classification certified The Secret Life of Pets 2 age rating as U in the UK from across both physical and digital formats. It's about as tame, house trained and family friendly as it gets with mild threat, violence, and very mild bad language as the info to be aware of.
We'll add in more details as they become available, but the information above should give you a good idea of what to expect from the home entertainment release.
You can see more on The Secret Life of Pets films on their website at www.thesecretlifeofpets.com/.
DVD, Blu-ray, 4K Ultra HD and digital release special features
Mini Movies:

Minion Scouts
Super Gidget

The Making of the Mini Movies
Deleted scenes:

Wake Up
Duke Explores the Farm
Snowball Karate
Secret Confessions

A Tapestry of a Tail: The Making Of
How to Draw – Hosted by Head of Story, Eric Favela
Frame by Frame: How to Make a Flip Book
Character Pods
A Party Fit for a Pet
Pops' Puppy Training School with Kevin Hart
Pets Yule Log
Lyric Videos:

'It's Gonna Be A Lovely Day (The Secret Life of Pets 2)' Lyric Video
Exclusive to 4K Ultra HD and Blu-ray:
The Further Adventures of Captain Snowball (Interactive comic)
Exclusive to 4K Ultra HD, Blu-ray and digital:
My Buddy and Me – Illumination cast and crew interviews
Pets with Jobs: A Documentary
Relax the Cat: The Secret Life of Pets Massage
Production Pets
The Secret Life Of Pets 2 trailer
The trailer does a pretty good job of setting up the film with a lot of good gags thrown in. Hopefully Illumination have kept a few back for the full The Secret Life Of Pets 2 release.