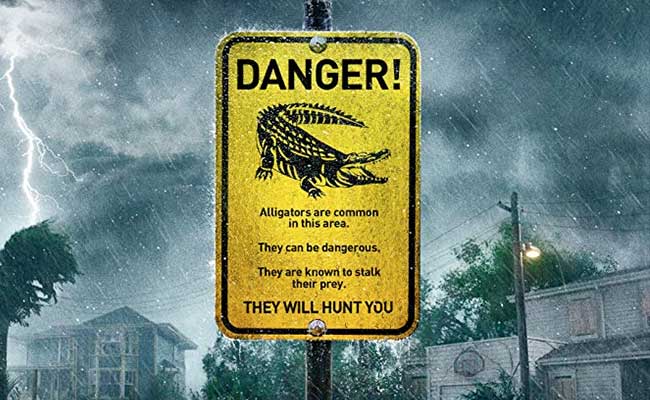 Great White sharks have ruled the film world in terms of scares, but with the Crawl DVD, Blu-ray and digital release date (UK details below) sneaking up behind you it might be time for aggressive alligators to sink their teeth into us. It combines a disaster movie concept with killer animal horror, and from the look of the trailer below it's going to be packed with scares, so it's going to get a meaty bite of attention when it comes out on iTunes, Xbox ONE, PS4 and Amazon Video, plus rental on all digital options.
Advertisement It stars British actress Kaya Scodelario in the lead role, who you might recognise in the trailer as Teresa from the Maze Runner series, or Carina Smyth in Pirates Of The Caribbean: Dead Men Tell No Tales. She started out in television as Effy in Skins and she still does the occasional TV acting part in the UK with
The Pale Horse
being her next. She's obviously not the biggest name to lead a horror film, but it looks like she's done a pretty good job with crawl, which is bound to be a popular DVD, Blu-ray and digital release with fright fans.
Reviews have been a little all over the place, so clearly Crawl is a bit of a marmite film for critics, so it could be one to catch on rental unless you're a big horror or Kaya fan. However, on balance there are more positives than the negatives with praise for the scares, performances, the emotional connection to the situation and combination of a natural disaster with jaw-bone snapping scares.
Kaya plays college swimmer Hayley Keller who tries to get to her father before a huge hurricane strikes Florida. As you can see from the trailer, things aren't great when she arrives and the pair get trapped in the storm with a very hungry large alligator in the house. Barry Pepper (Saving Private Ryan, The Green Mile, True Grit) plays her dad Dave in a tight cast with very little crawl space to manoeuvre, and the potential of more alligators on the outside, which you can see at the end of the trailer.
DVD, iTunes, Xbox ONE, PS4, Amazon and digital rental release date UK
The Crawl DVD and Blu-ray release date is expected mid-late December 2019 in the UK, but it would be a bit unusual for it to come out after Christmas, so it's bound to be before the 25th to catch at least a little of the gift prize. At the moment it won't be available on 3D Blu-ray or 4K Ultra HD in the UK, which is a bit of a shame because 3D or extra definition could add to the potential of the jump fest flick.
The digital release on iTunes, Xbox ONE, PS4 and Amazon Video will be a week or so earlier, so you could well be looking at early December 2019. However, the rental digital release will be on the same date as the DVD comes out towards the latter half of December.
Advertisement Crawl has a runtime is 1 hour 27 minutes, so it's a real short, sharp shocker of a film, and that should equate to somewhere in the region of 3.25Gb at 1080p HD and 1.31Gb of storage space for standard definition on digital. It may not take up too much disk space, but it's still a good idea to check your PC, Mac, PS4 or Xbox ONE hard drives for available space before you download it.
You can follow Kaya Scodelario on her Twitter page to see more on the home entertainment release at https://twitter.com/kscodders.
UK cinema release date
Crawl came out in cinemas in the UK on Friday the 23rd August 2019, well over a month later than its US release date on the 12th July 2019. There weren't any other films out on the same weekend, but it did have to content with another summer horror, Scary Stories To Tell In The Dark. However, the big screen is still being dominated by bigger blockbusters like Once Upon A Time In Hollywood and Fast & Furious: Hobbs & Shaw, so it didn't really have a clear run for the box office top spot.
That probably won't have too much impact on its performance on DVD, Blu-ray, digital and rental when it arrives at the end of the year. If anything, it could be one that people missed in the crush in cinemas, but will catch when the home entertainment release rolls around.
Crawl age rating
The Crawl age rating is a 15 with certification in the UK by the British Board of Film Classification. It's as low as you get for a horror flick, but the rating notes reference the strong bloody injury detail, threat and violence that feature in the film, so maybe the production didn't pull too many punches to pick up the 15.
We'll add in more details about the film as they become available, but the information above should give you a good idea of what to expect from the home entertainment release.
You can see the official Crawl webpage on the Paramount website at https://www.paramount.com/movies/crawl.
Crawl trailer