The aristocratic Crawleys had their second stint on the big screen recently, which means that the Downton Abbey 2 A New Era UK DVD, Blu-ray & digital release date should be arriving soon. It comes just three years after the first film in 2019, which is pretty impressive, but the TV series goes back to 2010.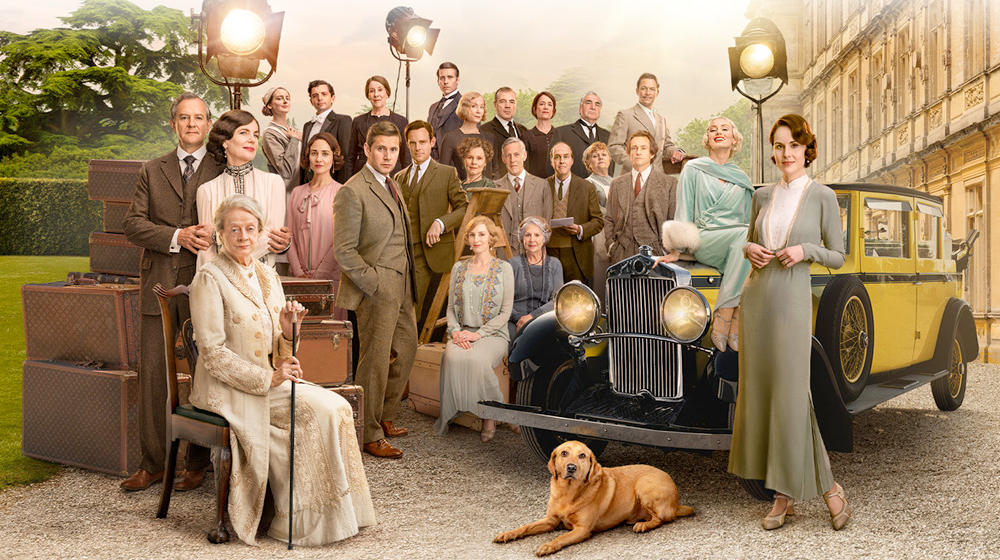 You don't really get many period films on the big screen, but Hugh Bonneville and gang have managed done it twice. Admittedly, there was Fantastic Beasts The Secrets of Dumbledore out this year, but that doesn't massively count.
Advertisement This time around, the Crawleys are going to be heading away from Downton Abbey as they all set out for the South of France. The Dowager Countess has inherited a villa under mysterious circumstances, so everyone decamps to the new place to try to get to the bottom of it all.
Downton Abbey A New Era UK Blu-ray, DVD and digital release date
Based on the current norm, the Downton Abbey 2 A New Era UK digital release date should be around early August 2022, so just in time for the end of summer. The historical drama kicked off its stint on the big screen on the 29th April 2022, but this was after a delay from its initial plan to come out in December 2021.
Advertisement It'll only be a week or so after digital for it to arrive on DVD, Blu-ray and possibly 4K in Britain if you're looking to buy it on a physical format. Looking ahead, this puts this portion of the home entertainment release to be around mid August 2022 as a good guide.
The time scales between cinema and home release is definitely getting back to pre-pandemic levels, so if you were hoping for a quick turnaround, that's probably not going to be the case here. That ship sailed with the success of Spider-Man No Way Home, which had a longer run at the box office at Christmas before coming out on DVD, Blu-ray and 4K in early April 2022.
Advertisement The trend has continued throughout the year, especially with other successful films like
The Batman
. It came out in cinemas in the UK in early March 2022 before it goes on to be available on DVD, Blu-ray and 4K in mid June 2022.
The home entertainment release for Downton Abbey 2 A New Era will have some residual competition from Sonic The Hedgehog 2, The Lost City and Fantastic Beasts The Secrets of Dumbledore, which are all out ahead if it. However, the biggest impediment to landing the number 1 spot in the UK will be Doctor Strange in the Multiverse of Madness, which will be out around the same time as it, although, maybe a little later in August.
We'll update you with more details on the digital, DVD, Blu-ray and 4K release as they get confirmed. Don't forget to follow us on Twitter to see news and updates on upcoming releases, and you can see more on the film with the official Downton movie Twitter page at https://twitter.com/DowntonAbbey.
North America release date
The release date for North America is often a few weeks prior to it coming out in the UK, but that might not be the case with the British production. If it does stay to form then the Downton Abbey A New Era Blu-ray and 4K could be out in the US and Canada towards the end of July.
Things appear to be changing slightly, though, North America as there's a new aspect of Home Premier digital rental that appears to add a higher priced purchase option around the same time. If you're looking at the rental as a home entertainment opportunity to catch the film instead of going to the cinema, then you might want to see if its also available to buy.
DVD and Blu-ray details
Age rating: PG (UK) PG (North America – US & Canada)
Runtime: 2 hours, 5 minutes
Director: Simon Curtis
Cast: Hugh Bonneville, Michelle, Dochery, Laura Carmichael, Samantha Bond, Jim Carter, Brendan Coyle, Maggie Smith, Laura Haddock, Imelda Staunton, Dominic West, Tuppence Middleton
You can also check out our movie news section to keep tabs on the latest upcoming films, or visit the Downton website at https://www.focusfeatures.com/downton-abbey-a-new-era/.
Downton Abbey A New Era review
Advertisement For fans of the series and 2019 opening film, Downton Abbey 2 A New Era is yet another gem and an obvious addition to the collection. For anybody else, you probably won't even find yourself on this page, let alone considering buying either the DVD, Blu-ray or digital release.
The only exception to this might be newcomer period drama lovers, but then you're better off heading back to the TV series first before you turn your attention to the first film. After this, you'll either find yourself in the first category or not.
Director, Simon Curtis (My Week With Marylin, Goodbye Christopher Robin) has done a good job of picking up the reigns from Michael Engler, who headed up the 2019 film. Although, with a cast as well versed in their respective roles and character progressions as this, he would have needed to do something significantly wrong to steer things in the wrong direction.
The cinematography is fairly beautiful with the initial time around Downton Abbey and then the stunning backdrop of the south of France to paint a picture with. This is probably the main debating point in terms of a decision between DVD and Blu-ray with the latter giving you better visuals, along with the special features for any serious fans out there.
DVD and Blu-ray review: 3.7/5