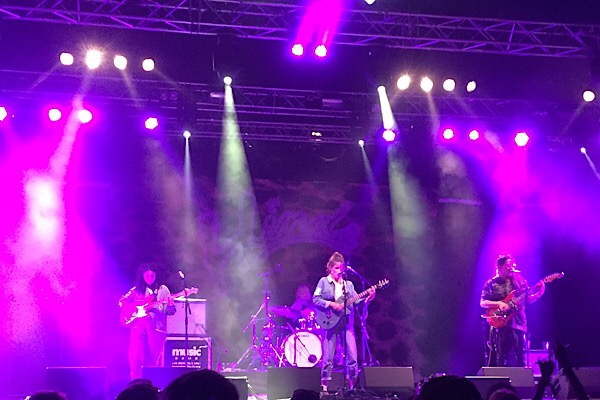 Following on from the success of the debut album Leave Me Alone, along with the excellent single Bamboo, Spanish indie quartet Hinds has done a fair amount of touring, but 2017 has been fairly quiet as they've been working on album #2. However, they managed to tear themselves away from the recording studio to head over to Wales for a short 45 minute set at Green Man 2017.
It's a relatively chilled out festival, but Hinds lit it up with their usual blitzkrieg pop style, firing out tunes from Leave Me Alone with a lot of impact on the crowd in the Far Out Stage. The tent usually only gets packed out when the rain came down, which it did on Sunday (a lot of wet and unfortunate souls were forced to watch the Sleaford Mods on the final day), but Hinds did it on a warm, clear night.
There's as much garage and indie rock as there is pop to their music, especially with the crunch of Ana Perotte's guitar, which ranges from Jimmy Page pick flicks to Sylvain Sylvain chainsaw rhythm. It's all wrapped up in an unrefined bow that has its own style of pop influence running through it. While it sometimes swings a little too close to the sugar spun sun, there's more than enough overdrive to compensate.
The vocals fly between Ana and Carlotta like Pete Dougherty and Carl Barât have been through sex reassignment surgery. The comparisons with The Libertines are pretty well founded and go back a fair way in the press response to the band, but there's a lot more to Hinds than indie rock revival.
There's a punk tinge with grunge flecks and a little sixties girl band flare, but somehow it all comes together with an unrefined balance that gets everyone in the crowd. However, it's their freewheeling delivery that really draws everyone in as they give the audience a return to the sheer fun of listening to live music.
As well as blasting their way through their excellent debut album, they also treated the audience to an unnamed song from their forthcoming second album. It was another fast-paced blast that they were keen to reiterate is a work in progress, but that it'll be much better next year. The follow up to Leave Me Alone was expected for later in 2017, but it sounds like it's going to be next year before we get new material from Hinds.
The track everyone in the Far Out tent at Green Man reacted to the most was Bamboo, the lead single from Leave Me Alone. It's always over too soon and that was the case live. It's a shame they don't do an extended version for the live set, but you can't have everything. Sadly, there are no more Hinds gigs left this side of a new year, but with a new album on the cards, we're expecting a lot more from Carlotta, Ana, Amber and Ade in 2018.
Share our review of Hinds at Green Man Festival 2017